http://www.blade-symphony.com/
This multiplayer swordfighting game began as a Source mod made by Puny Human, the developers of the Source mod Dystopia. However they decided to turn it into a commercial game after a successful Kickstarter, which was actually a while ago, but they just now opened pre-orders for the game, which gives you access to the beta. There is no official release date, so I guess it will be done whenever it's done.
Some of the early videos of the game on their YouTube channel (
http://www.youtube.com/user/punyhumangames
) show outdated features that have since been revised.
Most recent video showcasing the game:
http://youtu.be/B5UbxrYyau8?hd=1
You can see that the animations are still very rough around the edges, and I worry that this might never change. On the bright side, Puny Human has a history of patching games years and years after release, and anyway this game will probably be very moddable.
Guide explaining how the game works:
http://www.blade-symphony.com/guide/
So basically there are three different characters (so far) with completely different styles, and three sword types with different defensive maneuvers (e.g., block vs. parry) and different stats that make them ideal for certain styles. Then there are the three stances, modeled after
Jedi Outcast
/
Jedi Academy
's stances, plus some other attack types (throw, side swipe, air attack, and stab from downed position). Within the three main stances are different attacks which usually correspond to different angles. You can switch between stances after beginning an attack string to, for example if your goal is the third heavy attack, execute two fast attacks and then switch to heavy stance for your third attack. This is faster than doing three heavy attacks, since heavy is slower. Here's a shot of the string counter, which keeps track of where you are in your attack strings.
A lot of these attacks can be charged up by holding the mouse button to tier 2 or tier 3 attacks to increase the power (tier 3 attacks are unblockable and cause knockback, for instance). As for maneuvering, there is dashing, shuffling, wallrunning, backflipping, and rolling. (For reference,
Jedi Outcast
/
Jedi Academy
didn't have any kind of dashing or shuffling maneuvers, although jumping was much freer and JA even had a "strafe jumping" glitch that evolved into a normal technique.)
It looks much less bland than JO/JA too, although some of the character design is questionable, particularly the fencer.
I could only find one decent-sized screenshot.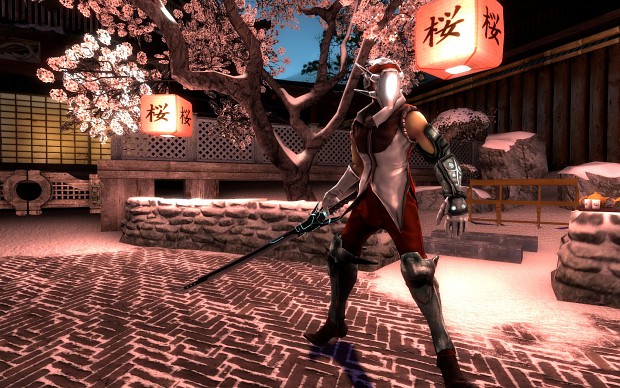 The blue curve on the right in the fifth screenshot tells you the vector of your next swing. That way, as long as you know your stances, you don't have to constantly check the string counter.