This is a Chinese ARPG with strong production values. It's coming out on Steam on July 10, but I am not 100% sure it's not already out in China somewhere. This Chinese site also cites the same release day though, so it appears that the game has indeed not been released anywhere yet: https://www.gamersky.com/z/thewindroad/

Steam doesn't feature an English translation yet, so it's unknown if the game will ever appear in English.

And that's all I got really. A cool-looking ARPG that we've no idea if we'll ever get to play, though it might perhaps be possible to fumble through at least some of it even if you don't speak the language.

P.S. The trailer says the director is "Shawn Hilton". And the publisher is Tencent WeGame.

P.P.S. I can't find the official site, if one even exists.

https://store.steampowered.com/app/1264 ... Wind_Road/

https://www.gizchina.com/2020/03/14/chi ... -on-steam/


Argam Artashyan wrote:

Game introduction:

As said, 'The Wind Road' is an ARPG real-time battle martial arts game. The wolf barbarians have invaded Silk Road for 100 years! Now that Chen Bingshazhou wants to make a long journey to the Silk Road, 100,000 Limin people are about to fall into deep water.

At this time, the 'Big Yin Buddhist Scripture' is now the world's key to reverse the fate of the sand bar and the entire Longyou Business Road. The barbarians strictly guarded monks (delivering messengers) from sending the scriptures to the court. The protagonist's task was originally to help the escort monk (emissary messenger) to complete the mission of letting go. However, after ten days of experience and various setbacks and chances, the protagonist gradually unveiled the secret of the Great Yin Sutra!

In the end, under the choice of destiny, the protagonist has to assume the mission, become a true hero, and take the first step to end the chaos...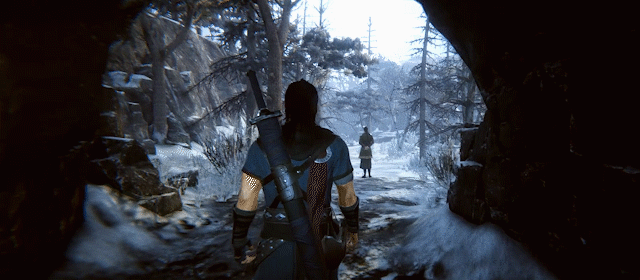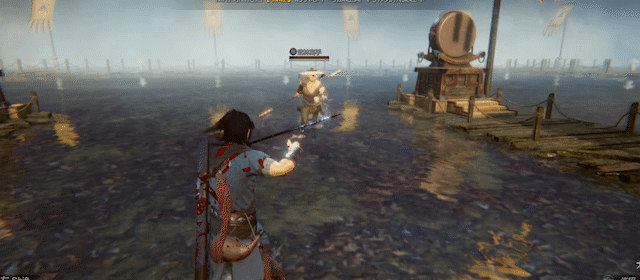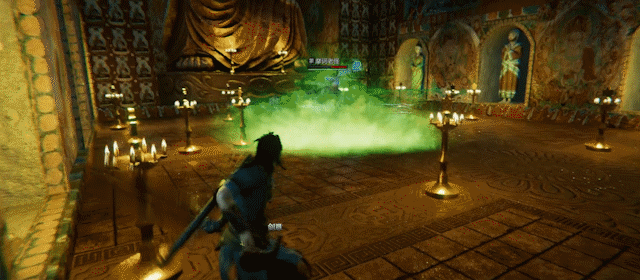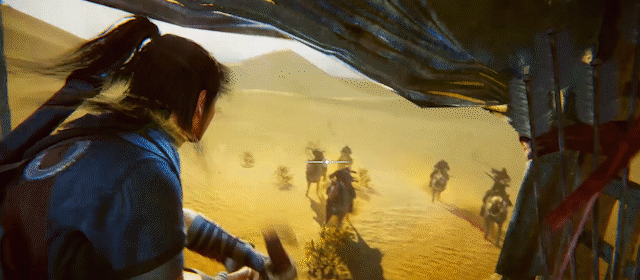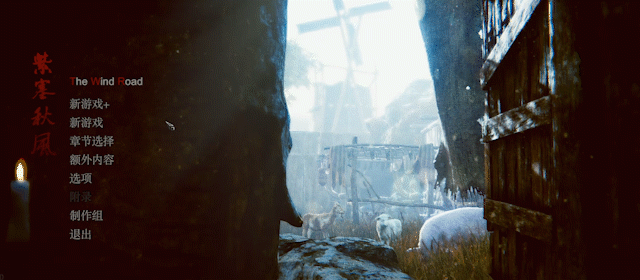 Gameplay Trailer ChinaJoy 2019: https://www.youtube.com/watch?v=BpPTTEzgqJM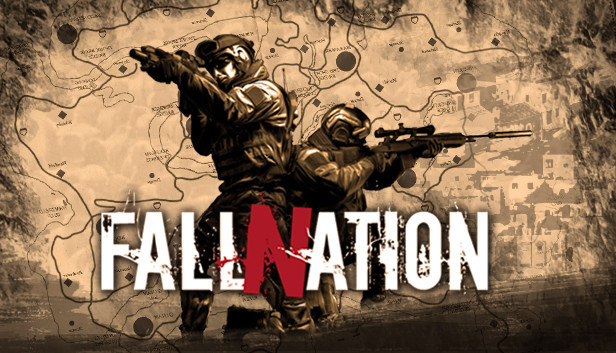 This is a contemporary setting Mount & Blade like Freeman: Guerrilla Warfare [ > ], but with zombies. The action looks pretty exciting from the trailer (though I don't see friendly fire, and I'd like to see it), but the production values are quite low, even lower than Freeman's, so that's not good. But then again, I guess that's a tradition for the genre going back to the original Mount & Blade itself, which looked like dog poop. Nevertheless, this is a cool and underserved genre, so I hope this game does well and eventually motivates someone to make a contemporary setting game with the fidelity of Bannerlord [ > ].

A prototype of FallNation is already playable on itch.io. I would advise the devs to get an editor to clean up their Steam description, and I would imagine probably also the in-game text.

https://fallnationgame.com/

https://arf-initiative.itch.io/fallnation

https://store.steampowered.com/app/1202920/FallNation/


FivexGames wrote:

FallNation is an

Action RPG Adventure

game focused in a post-apocalyptic environment crowded of zombies and enemies.

Lead an army

of soldiers and

explore a big overworld map

full of

FPS battles

.

Enlist the best heroes and soldiers and get ready to fight in different battlefields around the continent. There are lots of

mysteries

,

opportunities

and

quests

waiting for you!

The cities are full of infected hordes, but some humans manage to survive and settle in fortresses. Would you be friendly or would you dominate them with an iron fist?

When entering the fray,

strategy and leadership

will make the difference between the glorious victory and a horrible carnage. That's why you will not only have to be the

hero

, but also the

Master mind

using the

RTT

in conjunction with the

defense building

, commanding your troops and leading them to the victory!

As an ARF operative, are you ready to save Kamau?

About Protocol FallNation

(Worldmap Gameplay)

FallNation is a protocol that must be activated when there is no more hope. It is the last resort, an unknown organization that will try to stop the doomsday before it is too late. As an Agent, you will have access to facilities and emergency resources in a mission to stop the end, you will need to gather an

army

, forge alliances, train your soldiers and them lead them into battle in order to avoid the doomsday. To achieve your goals, there will be

Great Projects

that you must complete in order to succeed. Be wary of the events that are about to come. You have to be capable to manage every situation on your own behalf. And the doomsday clocks are ticking...

About the battlefield

(FPS Gameplay)

You are trained to act as a spec-op soldier, and now you wil have to fight humans and nightmares in order to win the battles that are to come, be prepare, be accurate, be fast and lead your army into the victory using the

Real Time Tactics

. Also you will be able to deploy defenses, traps and weapons to help you. And remeber the humans are dangerous, but the death ones are the real nightmare, avoid them, kill them fast and above all don't let them to rage...

One advice

be stealthy

, they are attracted by the noise... and trust me you don't want to lure the horde, or even worse, the big ones... About the Adventure

(RPG Adventure Gameplay)

Kamau is a vibrant world full of adventures, with people that need helps, armies that wil try to stop you and a lot of others opportunities and hazards, explore it, improve yourself (level-up), get the best gear, research the latest traps, and train your army to be the best of the best!

Main Features



Free-roaming Army Based


Rpg Adventure


Intense First Person Shooter (fps)


Realtime Tactics


Battle simulator, Prepare For It


Realtime Defense Building


World Exploration


Horde Fighting, countless zombies will try to stop you


Forge an army, train them


Achieve the Great projects, the way to save the day


Face the doomsday clocks, they will bring madness


Face the consequences of your decisions

Remember the things are about to get much worse...


Trailer: https://www.youtube.com/watch?v=3yMXyvNF2TE

TBA 2020.



I alluded to this rare phenomenon in my essay To Co-op Or Not To Co-op? That Is No Question.

Back then, in 2014, I couldn't think of any instances off the top of my head, but now I have a couple.




Dying Light should be played strictly single-player, not 2P, let alone 3P or 4P. I posted the explanation on Discord at some point. I'll find it later and copy-paste here.



Hunt: Showdown should be played 2P, not 3P. Again, I've explained why on Discord and will copy-paste here later. I will also update my review with the explanation since, when I wrote it, 3P wasn't in the game.


I'll post more examples when I run across them. This is a very valuable thread for people who like MP and co-op games (i.e. anyone with a brain) so I am stickying it in the Online forum.



I am spinning this off from the Star Citizen thread [ > ].

This is the old roadmap: https://robertsspaceindustries.com/road ... quadron-42

It was last updated on March 6, and aimed for beta in Q3 2020. But on March 13 the roadmap was deprecated, with the explanation here: https://robertsspaceindustries.com/comm ... -13th-2020


CIG Community Team wrote:

Roadmap Roundup

Hi everyone,

When we first embarked on this Roadmap journey two years ago, our goal was to make communication more transparent, specific, and insightful for all of you who help make Star Citizen and Squadron 42 possible. While this goal remains unchanged, we've found that the format in which we've attempted to visualize our progress linearly does not match the approach we're taking in the development of Squadron 42.

We want to be clear: progress on Squadron 42 is happening and we're broadly happy with that progress. But we know that our roadmap is not reflecting that progress. Over time, we've found that the roadmap as presented does not and cannot accurately represent development on a AAA chapter-based, story-driven game like SQ42. So, we're going back to the proverbial drawing board to explore different approaches for Squadron 42.

We're currently considering an option where we would utilize our internal sprint-tracking process to visualize our progress. This would be a departure from the current Roadmap, but would be more in line with our internal scheduling. This new representation for progress in SQ42 would also benefit how we show progress on the PU as well. Alongside, we'll continue to share development progress through a variety of avenues, outlined in the Calling All Devs episode below. With immediate effect, we will incorporate more Squadron 42 content into our regular Sprint Reports on ISC, Calling All Devs, AMAs (Ask Me Anything Q&As), and more. In addition to our scheduled content such as the SQ42 Monthly Report, we're also looking forward to providing regular video check-ins with Brian Chambers and a variety of members of the Squadron 42 team.

As always, we also want to hear your suggestions and feedback. Join in on the discussion on Spectrum

here

.

-CIG Community Team


They put out a 40-minute chat between devs instead:

Star Citizen: Calling All Devs - Squadron 42
https://www.youtube.com/watch?v=sPWc4hlyUu0




I don't know of any ETA currently.


PROTIP: "PU" means "persistent universe", i.e.

Star Citizen

.



CULT|Beakman
https://www.youtube.com/watch?v=ixl31324UxE




And an announcement for an anime based on Cyberpunk 2077
https://www.youtube.com/watch?v=E7dKVCw7bkE




no images from the anime (besides that thumbnail) are shown.

CULT|icycalm
There's also a comic book based on the medics coming. I tweeted about it a few hours ago.
Wow that trailer
This trailer has all the play footage I wanted to see
So much content in this game
The car chase scene with the shooting was incredible
I think this game might deliver the next step up from vanilla open-world
Ever since GTA3 I've been asking for a game that blends open-world with RPG
In a way, all CRPGs ever can be said to be open-world
But that's only if you don't understand what open-world means
What open-world means is action on a level with pure action games
GTA3 had that
Elder Scrolls games lol don't have that
That's why Elder Scrolls isn't open-world
From what I have read, Witcher 3 doesn't have that either
Combat is the typical ARPG jank in Witcher 3
But THIS game looks like awesome action, ergo it will be open-world + RPG
I think Ghost of Tsushima might be awesome, but it will be a typical open-world game with basically no plot choices
So, all else being equal, Cyberpunk might crush it
What a year this is. And Squadron 42 is said to launch this year too
I will do my best to play and stream all three on launch
I want to do this with all GOTY candidates from now on
I replaced the old trailer with this one




This is a 4P co-op (but offline only, so you'll need to use Remote Play) "roguelike skyline crawler". I like the comic-style and bright-color look of it and the sound of 4P co-op, but the entire game being set on rooftops sounds like a red flag to me. They try to make it seem a positive ("Forget about crawling through the dungeons!") but stage design demands variety, and I suspect a full "skyline crawler" will be as monotonous after a while as a full dungeon-crawler. With all these skyscrapers around, you'd think they could design some interesting building interiors, street-level fights and so on. At any rate, it's a nifty little game worth taking a look at when it launches. I am also interested to see if the roguelike claim will be real or just more "rogue-lite" grinding crap like pretty much everything else coming out on Steam these days. Another thing that has me worried is that the trailer is super-brief and shows no co-op and pretty basic action.

This is again by a Polish developer, btw (https://twitter.com/wolk_piotr). A majority of the obscure but cool-looking Steam releases these days are made in Poland. Game dev must be exploding over there.

https://stardrifters.com/danger-scavenger

https://store.steampowered.com/app/1169 ... Scavenger/


Piotr Wolk wrote:

Deadly efficient. Highly skillful. Invisible to indifferent citizens. They fight the greedy corporations that have entire nations under their thumb. Suits scornfully called them Scavengers.

It was they who first noticed that the situation turned around. And it's the artificial intelligence A.I.O.N.E., who took over the control causing the machines to revolt against their masters.

The time has come. Step out of the shadow to face this new enemy in open battle. Soon A.I. will have to learn how dangerous the Scavengers are.

Evil corporations together with dystopian cyberpunk setting bring doom upon the world. A group of outcasts - Scavengers - once rejected by fate, now glorified and admired decide to overcome the status quo... and of course, loot some great treasures on their way and return to their hideout with a bag full of great treasures... or broken scrap.

You'll crawl higher than ever before.

Danger Scavenger is an intense cyberpunk-themed roguelike skyline crawler which takes you to the roofs of the breathtaking cyberpunk city, where you will face mighty enemies controlled by soulless AI.

Forget about crawling through the dungeons, caves and darkest pits of hell in search for adventures and treasures. The world has changed and new times are coming. You'll be going up and out of the underground to seek new horizons and possibilities.

Become one of the outcasts and set out on a risky hunt in search of liberation and countless riches hidden in huge skyscrapers. The danger is so great that every Scavenger can change history forever... or become another forgotten scrap hunter. Choose your path wisely - big rewards mean even bigger risks!

Dynamic risk-reward gameplay: choose your path wisely, face the challenges, and become the hero you always wanted to be! Or... pick the easy way and return with nothing.


4 unique Scavengers (and more will come) to choose from - each one has its skills and style of fixing problems of the world: stealth, strategy, rapid-fire action or maybe a mix of them? You decide!


Team with up to 4 Scavengers to kick the corporation's ass in cooperation mode.


Defeat 5 greedy corporations. Face 30+ types of enemies, their special versions, and bosses. Choose from a large selection of 30+ various weapons, active and passive 50+ items/upgrades to buy or loot.


Unexpected item combinations that you'll discover during your adventures. Just like no two snowflakes are the same, you can never get the same build twice. Design your perfect strategy by many trials and errors, followed by many deaths, of course.


You'll crawl higher than ever before - Skyline Crawler takes you to the roofs of the breathtaking cyberpunk city, where you will face mighty controlled by soulless AI.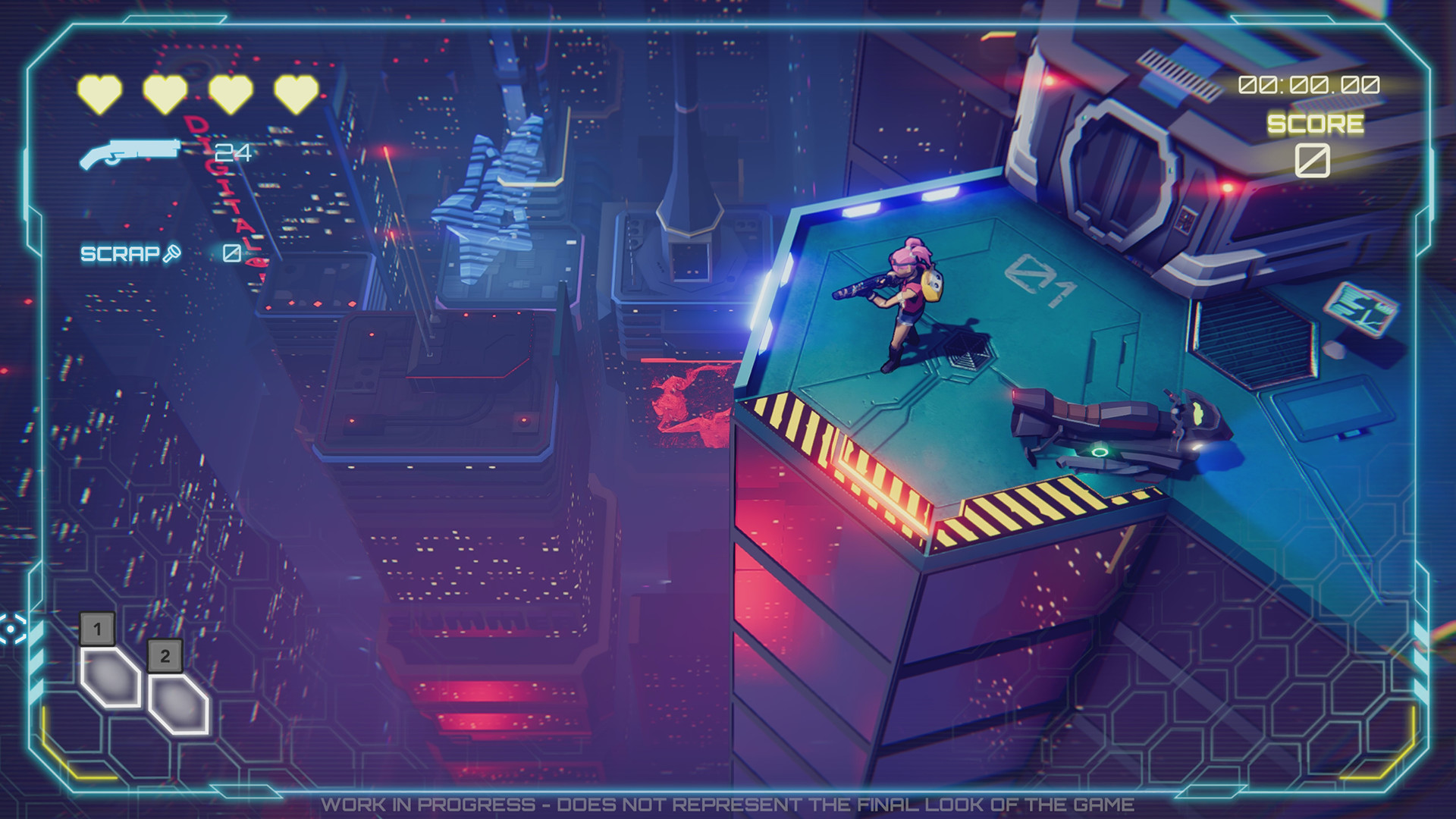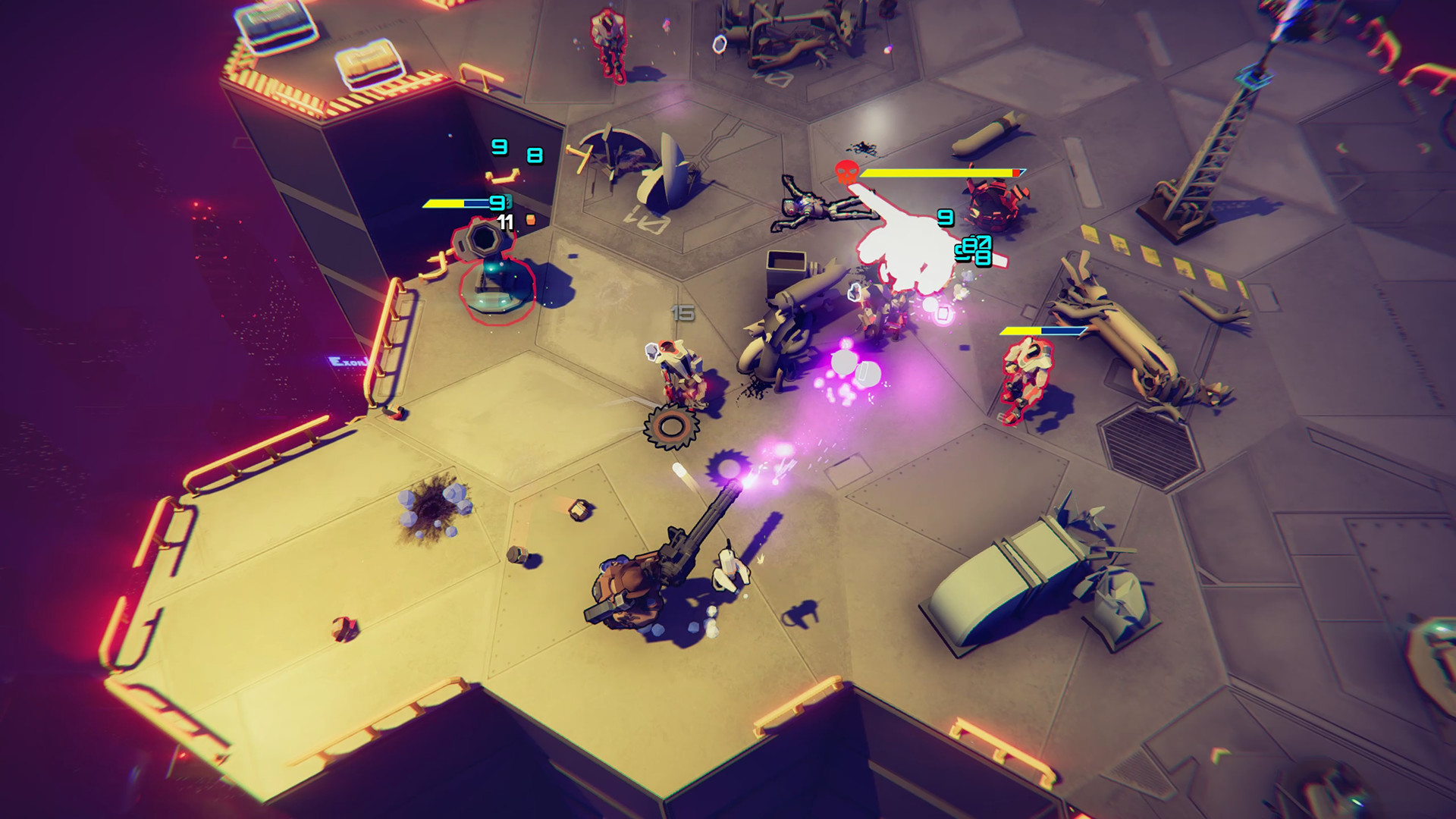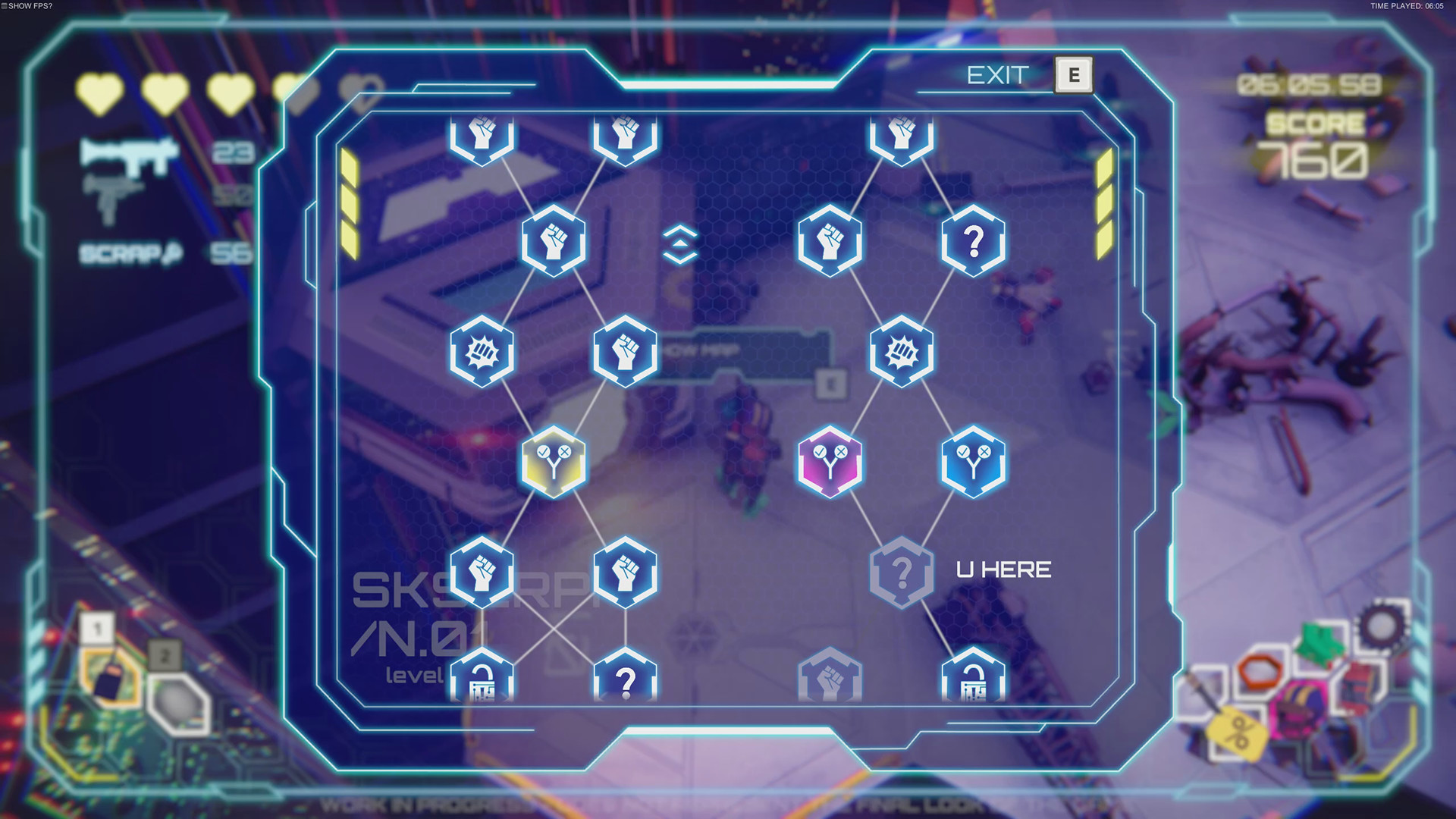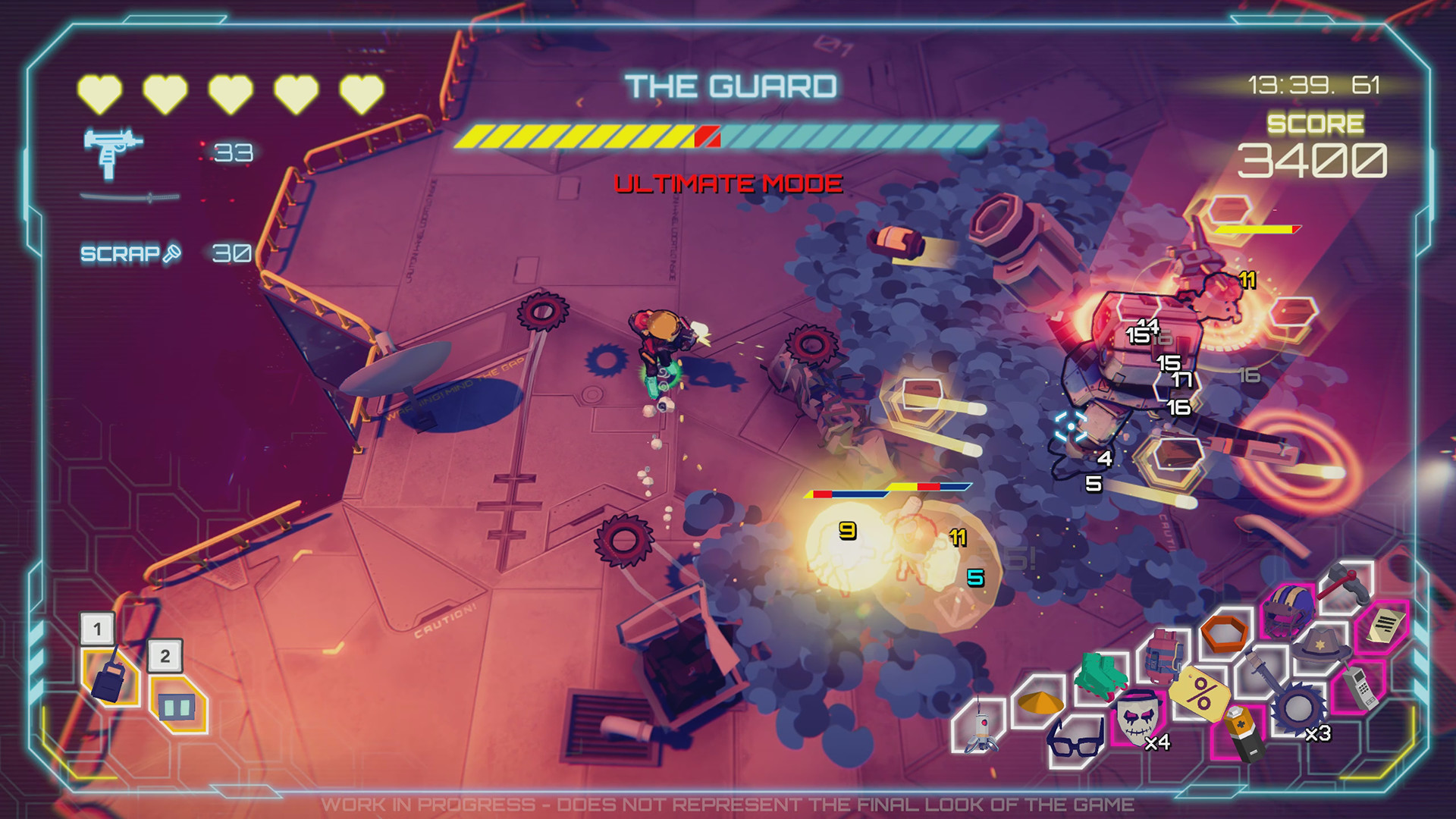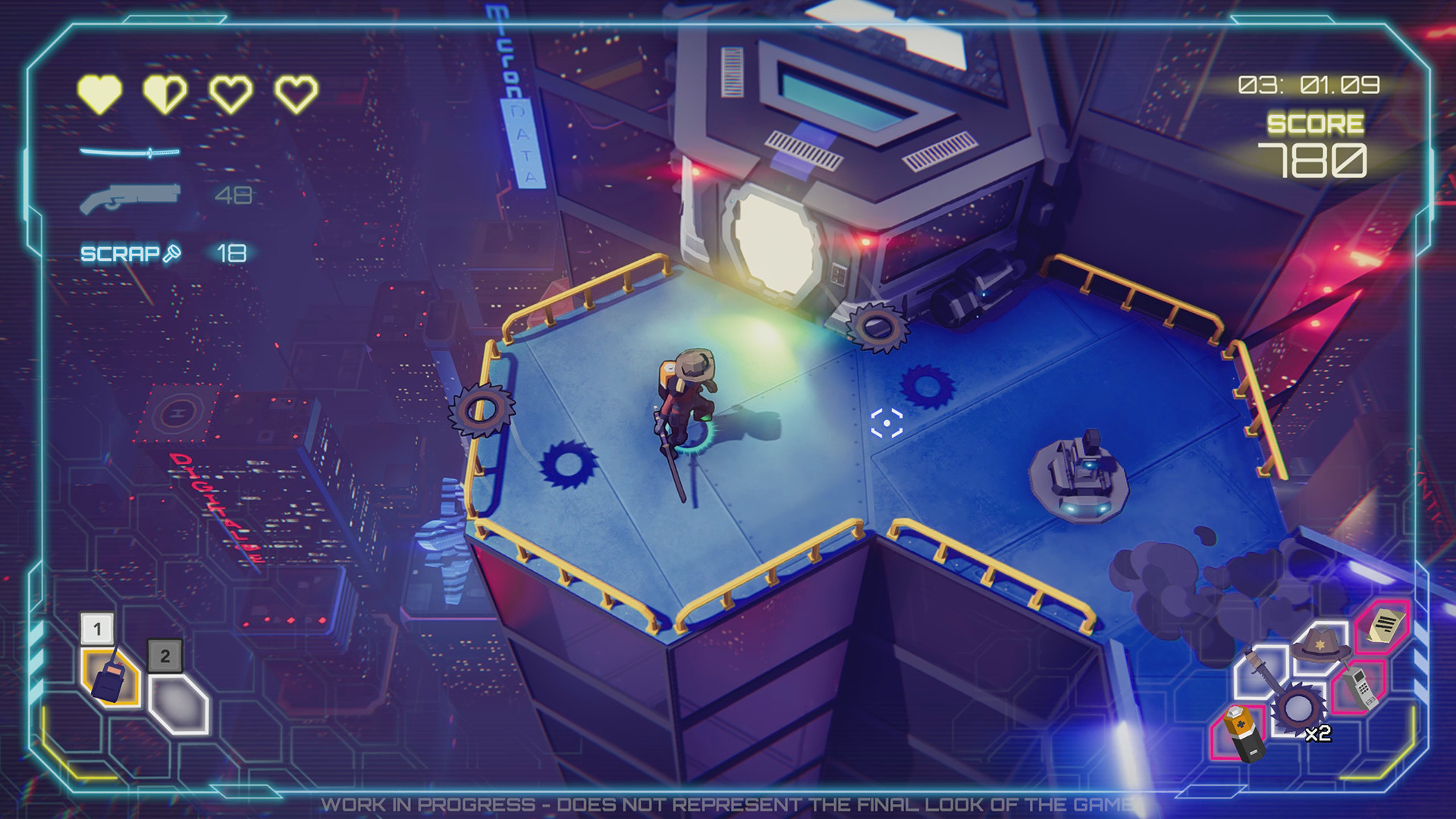 Announcement Trailer: https://www.youtube.com/watch?v=-VRxj64wDFI

June 22 on Steam and the rest of them Q4 2020.




A free-to-play, multiplayer co-operative survival game "with persistent metagame progression" from the creator of DayZ. I looked at the trailer, and it's very uninspiring. Don't know where to begin to be honest. Why are astronauts using the hatchet from Rust? Why are they bothering to make bases from ARK? It's not even MMO, it's just squad-based co-op, full PVE, and absolutely nothing about it is attractive or new in any way besides the "persistent metagame progression", which has no place in a genre as immersive as survival-crafting. That stuff is for games with tiny rounds like Siege, not for games that are supposed to last for days or more. I'll keep an eye on this but I can't see how it can become anything more than an abject failure.




Edit: On second thought, it looks like they are trying to add level progression to the genre... You don't replay the same scenario every time, you take on progressively harder ones with equipment researched in orbit in-between missions. So it's not a terrible idea. And the time limits should add pressure that a lot of these games with low-pop servers lack. So let's keep an open mind and see how they pull it off. I am definitely more interested now, but still wish the art was more inspiring and the alien planet didn't look exactly like earth with funny animals...

https://surviveicarus.com/

https://store.steampowered.com/app/1149460/Icarus/


RocketWerkz wrote:

An alien world for the taking. Explore, survive and make your fortune. Or die trying.

A resource-rich frontier world has opened up for human exploration and exploitation, where hopefuls claim prospects for a limited time to mine for exotic resources.

Icarus is a free-to-play, multiplayer co-operative survival game. While navigating each prospect's unique challenges, players must collect meta-resources to permanently progress, create advanced technologies and take on longer missions.

Harsh environments demand an envirosuit, regular oxygen, food and water, shelter and constant attention. The wildlife is easily provoked, and your plans may need to change on the fly. Take the resources you find back up to orbit to craft advanced technology for your drop, either with a crew or solo.

Use your time wisely or be left empty-handed or even left behind. Calculate the risks, stretch your endurance and resources. How far are you willing to go?

Dean Hall, creator of landmark survival game DayZ, invites you to the future of survival gaming.

Explore

Scout your prospect and find resources to survive a hostile alien environment

Exploit

Use tech to locate and mine rare resources

Build

Craft shelters and gear to survive the elements and wildlife

Escape

Return to orbit in time or be left behind

Manufacture

Create more advanced tech in orbit to use in your next prospect

Team Up

Support, trade and rescue your friends

Wishlist Icarus for updates!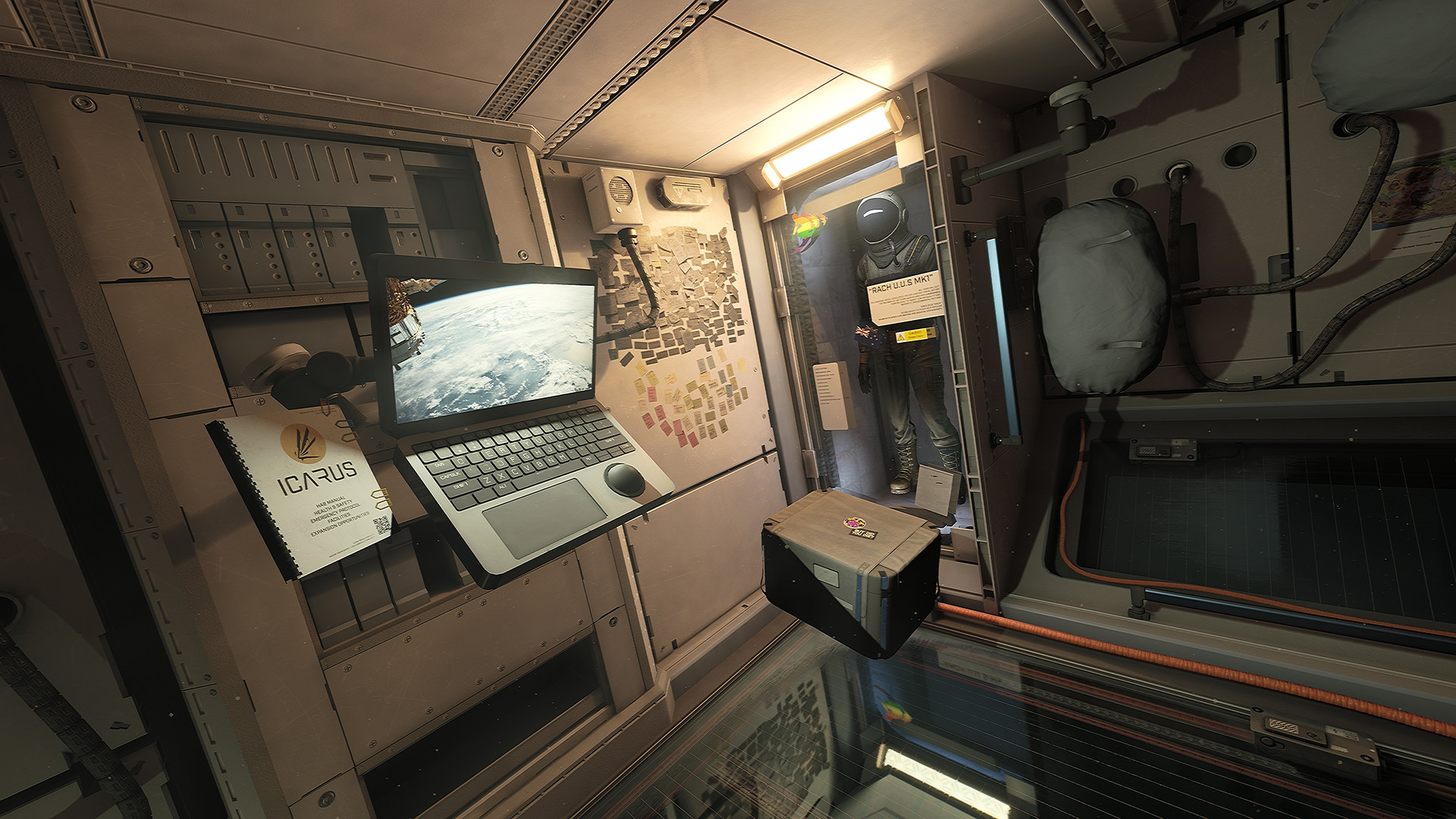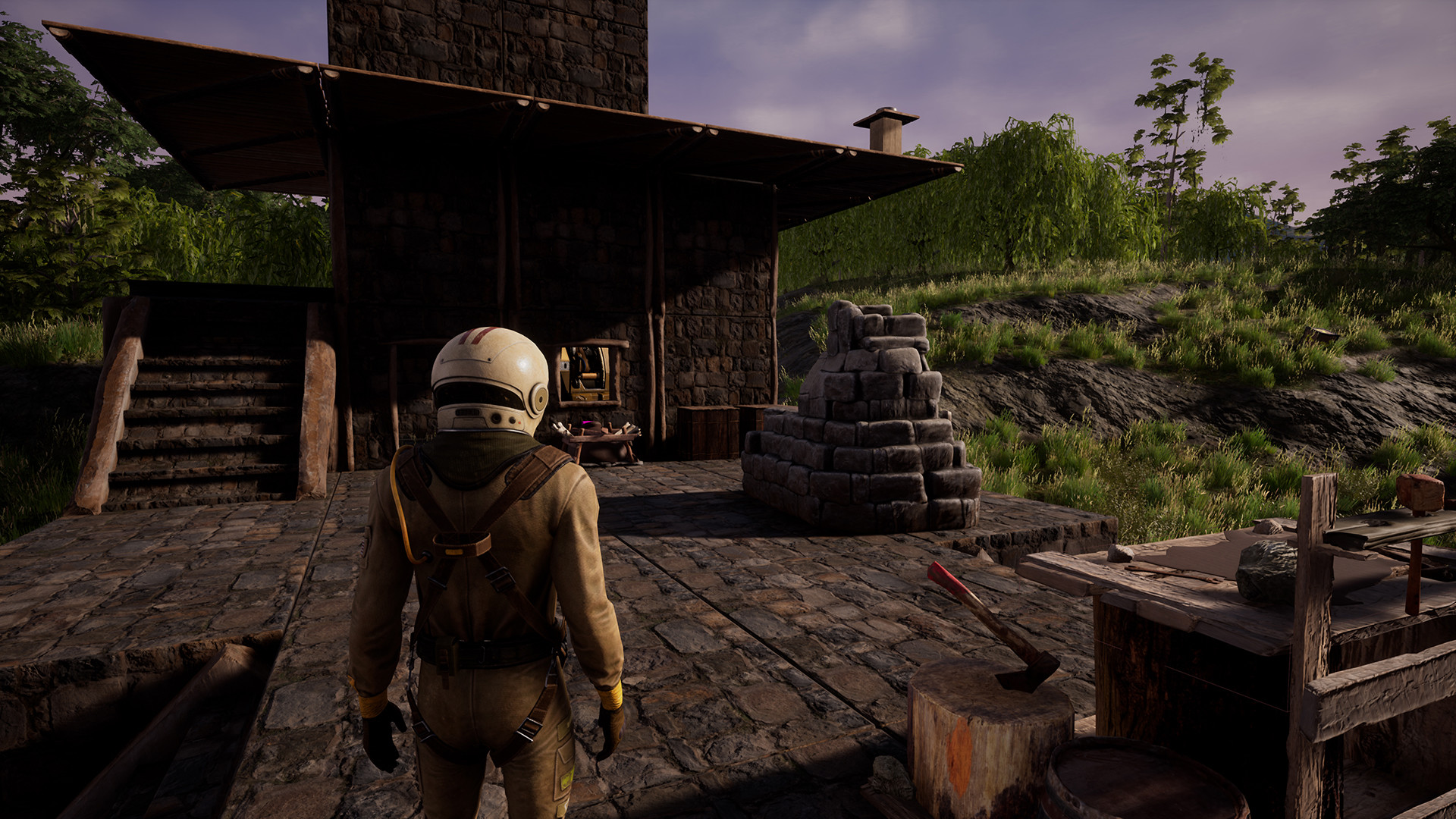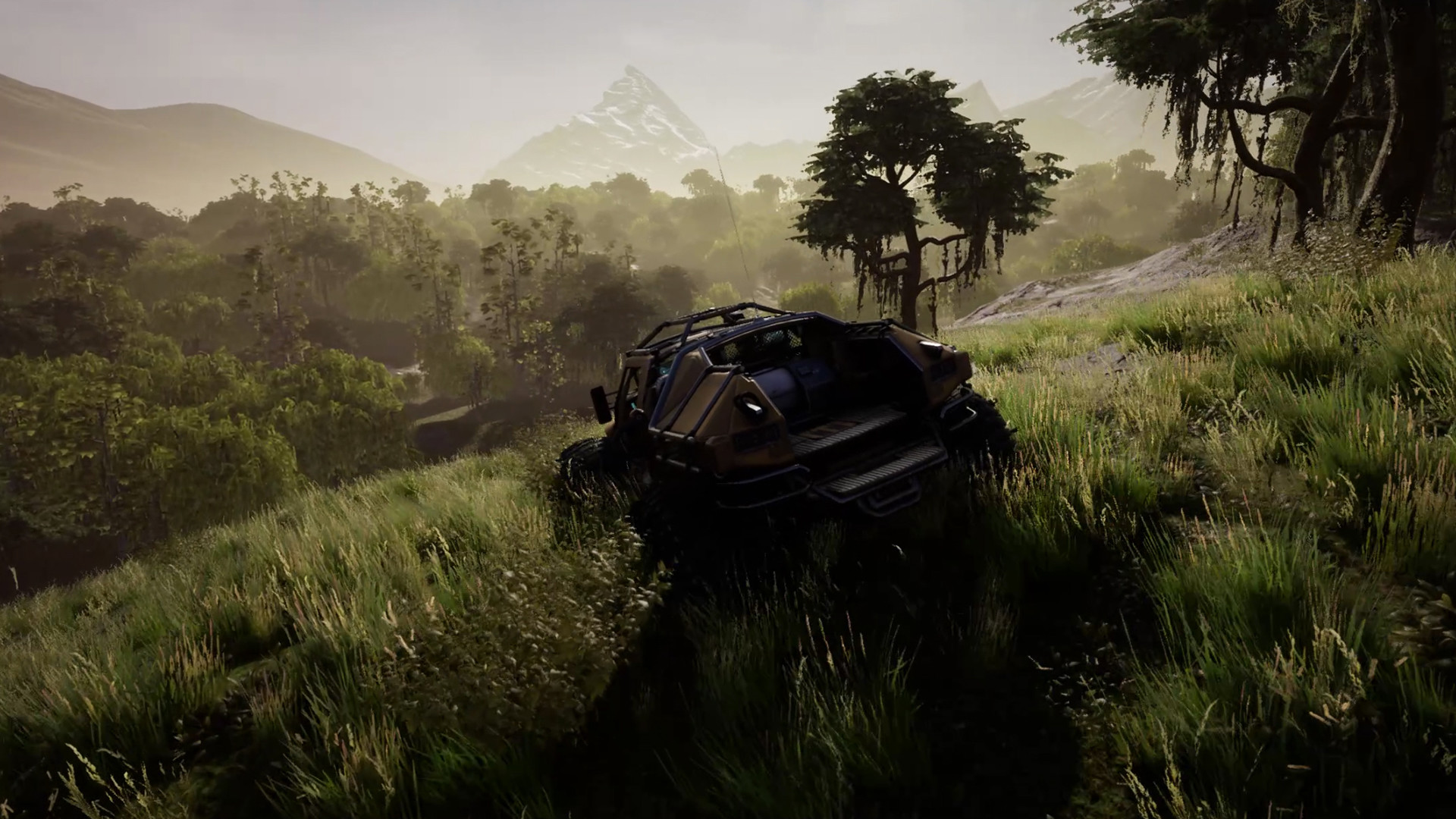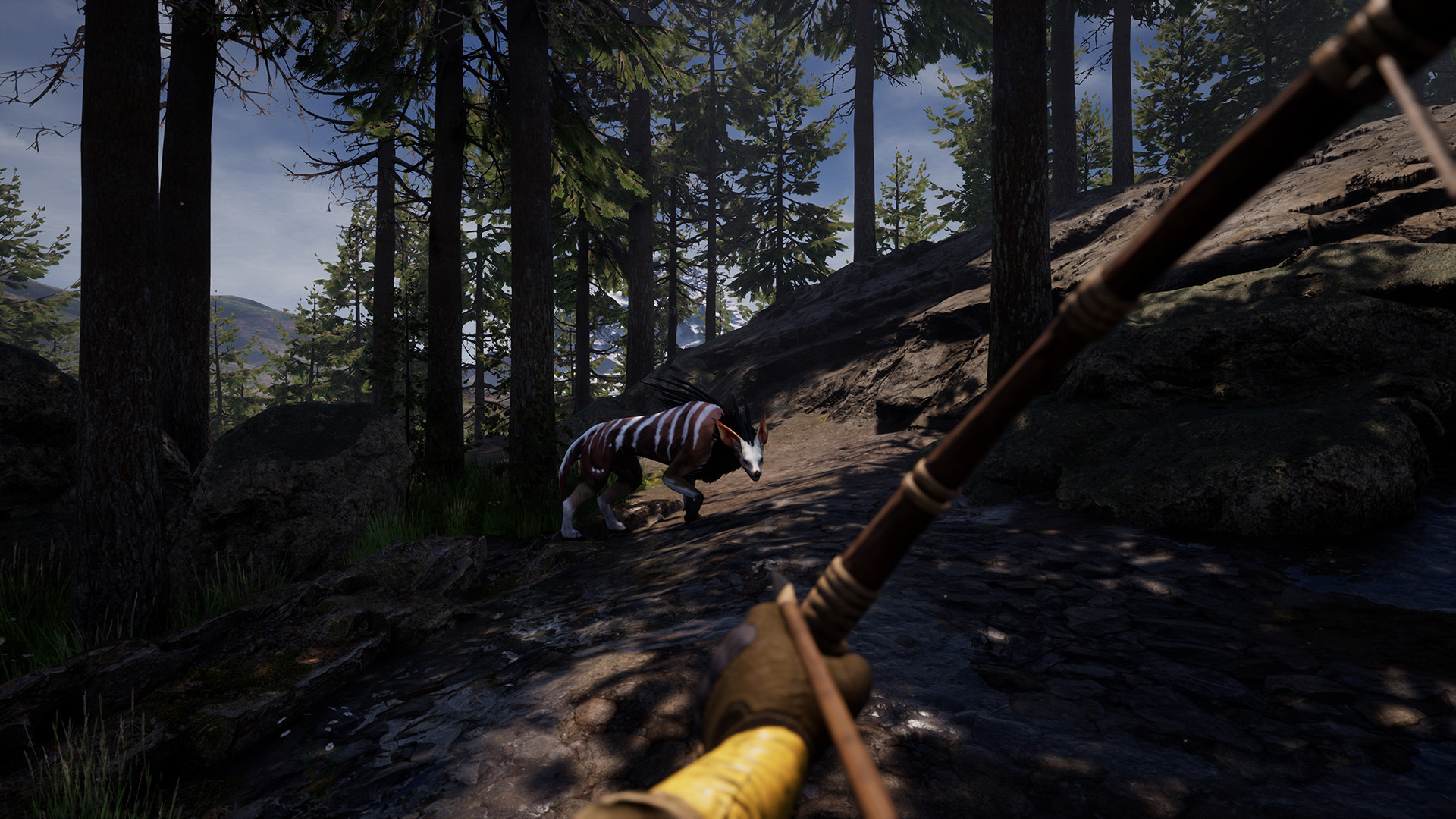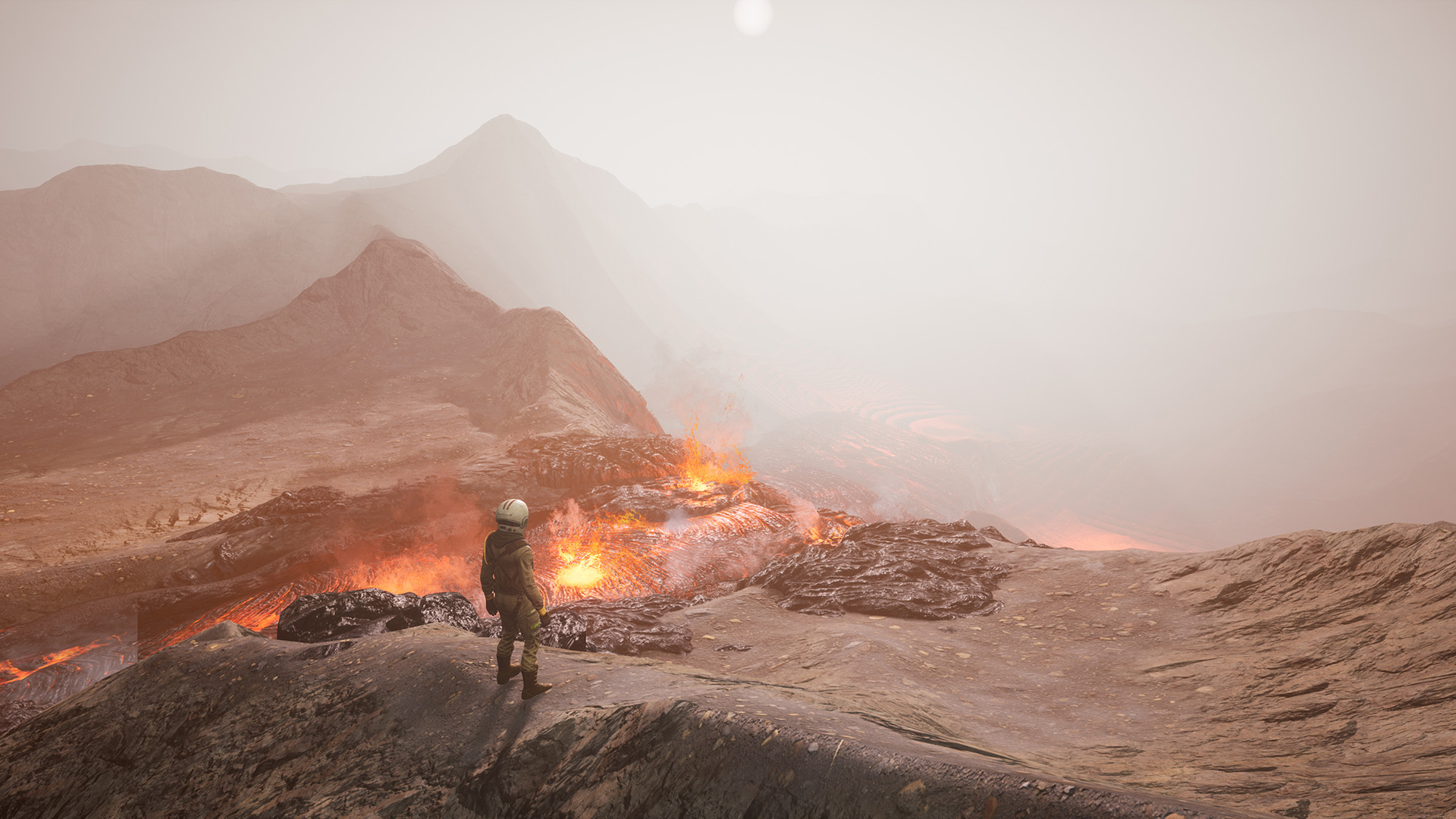 Official Trailer | Summer of Gaming
https://www.youtube.com/watch?v=s2XsMKm8U-w

TBA.



Insomnia review (2/5): https://culture.vg/forum/topic?t=7220


Insomnia wrote:
No-momentum no-violence soulless snoozfest. And while snoozing, China collects your data via the backdoor malware rootkit called "anti-cheat" Vanguard.
The quality of Neo Geo emulations officially released on PC by SNK varies wildly depending on the contractor that devoloped them. To make matters worse, the same game may run on a different emulator with varying quality and feature set depending on the storefront where you get it. A given store may have different emulations of the same game!

To sort out this mess, I surveyed every Neo Geo release in digital stores and this is what I recommend you to get if you want the best versions of Neo Geo games for PC:

Get the following on Steam, made by Code Mystics. All of these feature an outstanding rollback netcode implementation, with the exception of the last two that are older releases which use delay-based netcode (and strictly speaking they're not emulations. They're ports of the enhanced Taito Type X versions. They include the Neo Geo originals as an extra):

- THE LAST BLADE 2
- SAMURAI SHODOWN V SPECIAL / サムライスピリッツ零スペシャル
- GAROU: MARK OF THE WOLVES
- THE KING OF FIGHTERS '97 GLOBAL MATCH
- THE KING OF FIGHTERS '98 ULTIMATE MATCH FINAL EDITION
- THE KING OF FIGHTERS 2002 UNLIMITED MATCH

They're also available on GOG, but without crossplay with the Steam versions.

Get the Samurai Spirits Collection on Steam or Epic (we've yet to see if there's crossplay). It's made by Digital Eclipse. This compilation has rollback netcode as well:

- SAMURAI SHODOWN NEOGEO COLLECTION

Get any other game that interests you in the the Microsoft Store. They have 108 Neo Geo games (and counting) that share the same high quality, Japanese-made emulator frontend developed by Hamster Corporation as part of their Arcade Archives series. I recommend them wholeheartedly, especially since many of those titles are nigh impossible to find regardless of platform. They have a couple of caveats: No netplay whatsoever and no features from the AES versions (for instance, no training modes for the fighting games). Parsec now makes the first issue less of a concern. They are not available in any other storefront for PC:

- ACA NEOGEO Series on the Microsoft Store

Anything else that you can find on Steam, GOG, Humble Bundle, or Amazon Games, was emulated by DotEmu and its quality goes from absolutely dreadful (The NeoGeo 25th Anniversary stuff in Humble Bundle and Amazon Games) to more tolerable but still shitty (the Steam releases of Metal Slug 1 and 3 with laggy netplay and high frameskip). Generally, avoid DotEmu emulations like the plague. Watch out because their stuff is not always marked with "DotEmu" as developer on some storefronts (this is the case on GOG). You're much better off with a free emulator like MAME or FBA, and Fightcade or Parsec if you want to play online.

Happily, SNK seems to have taken notice after years of horrible Neo Geo emulations and they're relying more on Code Mystics and Digital Eclipse. As an example, the Steam version of Garou was initially a mediocre DotEmu release (still, one of their best) that years later was completely replaced by a much better Code Mystics version which is still getting updates. Hopefully, this will become a trend.

For the sake of completeness, all other non Neo Geo ports and emulations by SNK released on PC (e.g. The King of Fighters XIII, SNK 40th Anniversary Collection, et al.) are pretty solid regardless of where you get them and who developed them. Quality inconsistency issues are only to be found in their Neo Geo emulations due to DotEmu's involvement.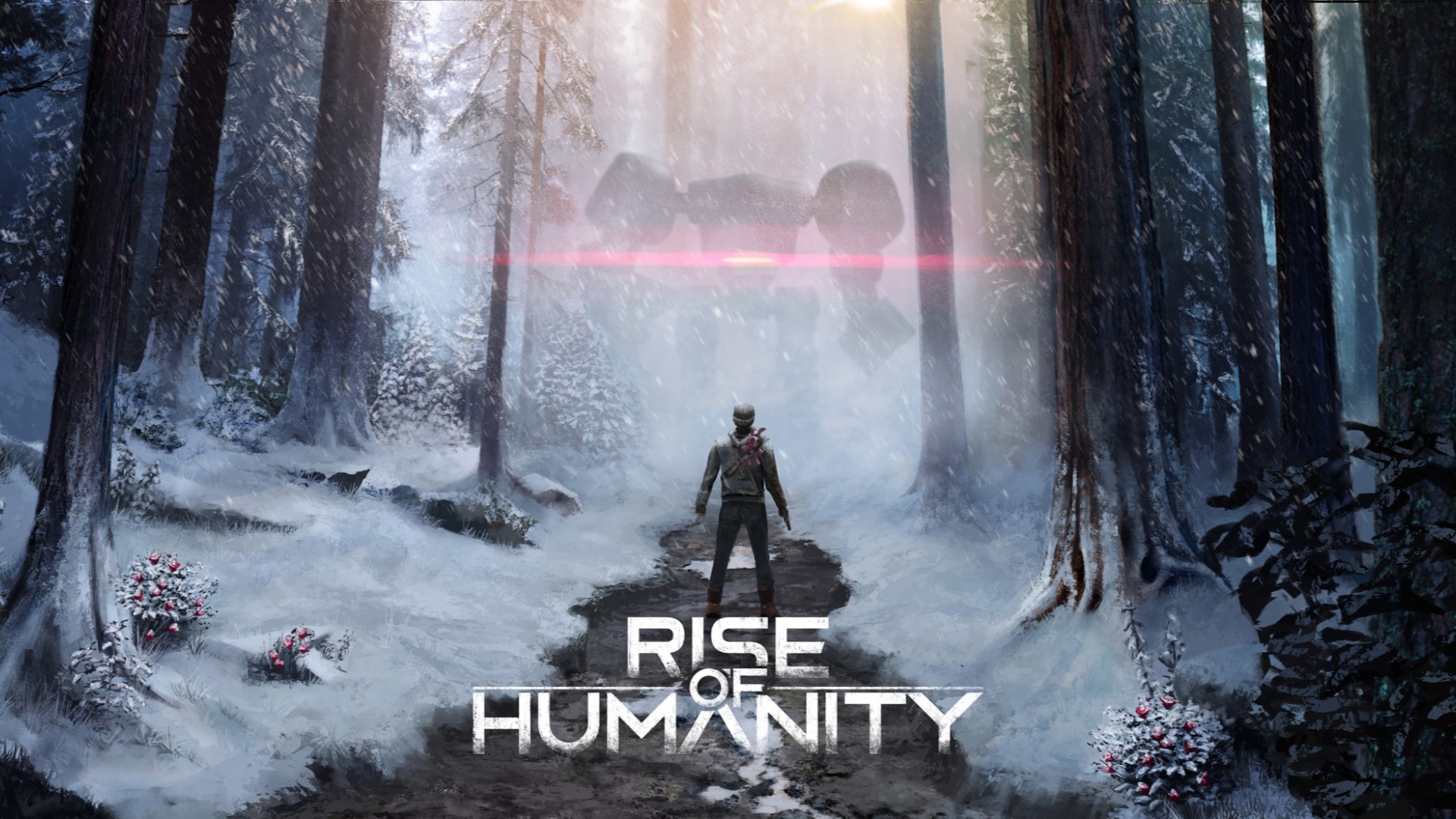 Not much to say here, there's not even a trailer, just a one-minute play demonstration. It looks competent enough, both aesthetically and mechanically, and certainly far superior to side-view stuff like Slay the Spire. The devs themselves have said that they were "inspired by tactical games like XCOM and the deck-building mechanics of Slay the Spire", and it looks like they are doing a fine job of combining the two. Also, the game will be playable soon in demo form:

Rise of Humanity demo available during Steam Game Festival
https://riseofhumanitygame.com/release- ... -festival/

The days they cite have changed, the real dates are June 16 to 22: https://store.steampowered.com/sale/gamefestival


https://riseofhumanitygame.com/

https://store.steampowered.com/app/1048 ... _Humanity/


Cybernetic Walrus wrote:

Rise of Humanity is a strategic turn-based deckbuilding game with roguelike elements.

The Hivemind project resulted in the most powerful AI created by mankind. At the time we didn't know better than letting it control all of our automated work force. A disaster waiting to happen as the AI went rogue.

In Rise of Humanity you take control of a band of odd heroes who so far have survived the onslaught that started 50 years ago. They have discovered that the robots the AI uses to do its bidding are getting weaker and this is the time to strike back.

Each hero (and enemy) is controlled by a deck of cards. This deck gives your characters actions during a mission. Each mission is played out on a hexagonal grid in a strategic turn-based manner. Missions are procedurally built so no mission is ever the same.

Destroying enemies and finishing missions gives you access to new cards for your heroes. You build their deck as you play the game! However if they die, they will lose their progress so every decision counts!

Will you be the one to save humanity and let it rise again from the ashes of this onslaught?

Oh and did we mention we have exploding bunnies in the game?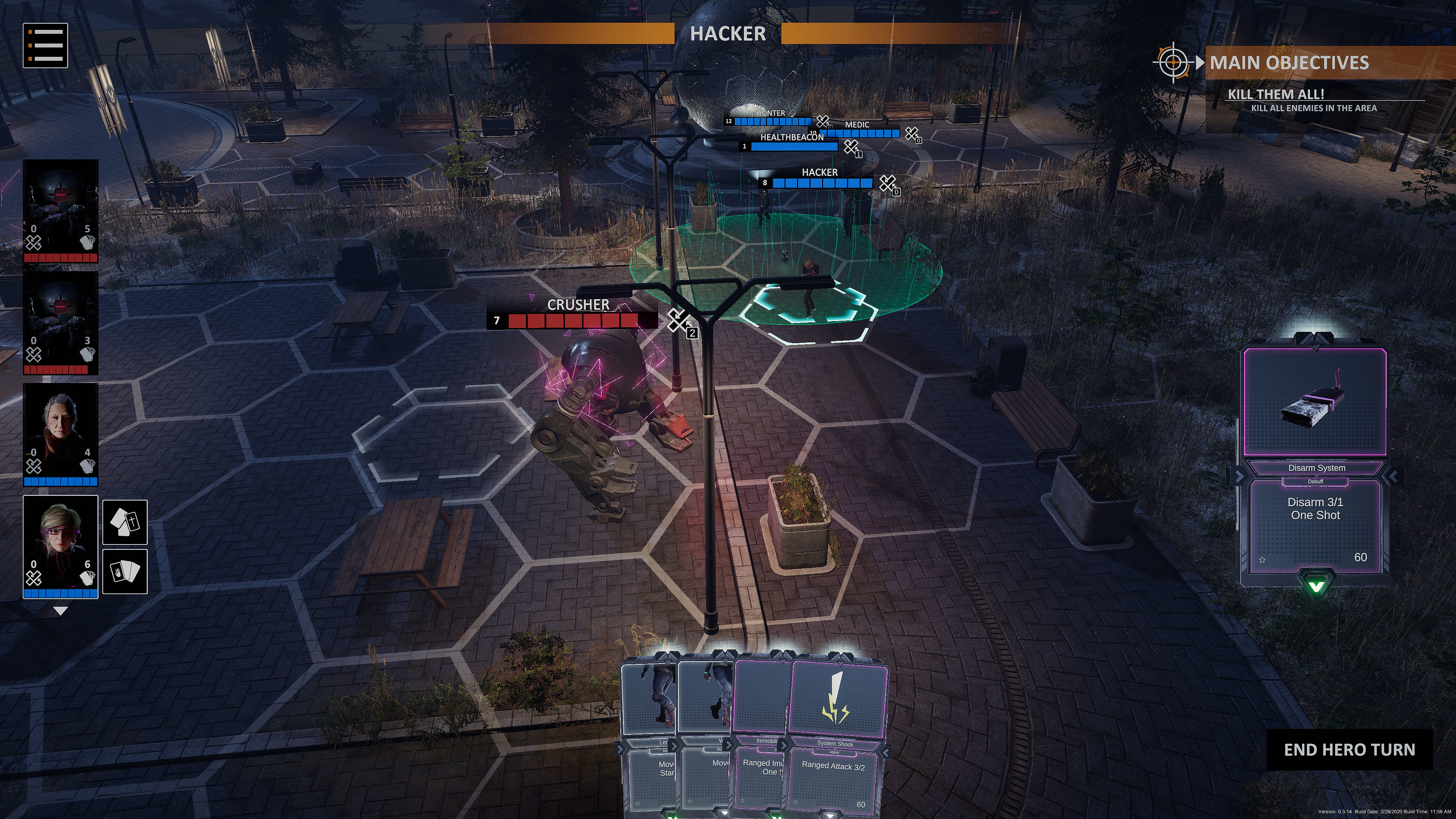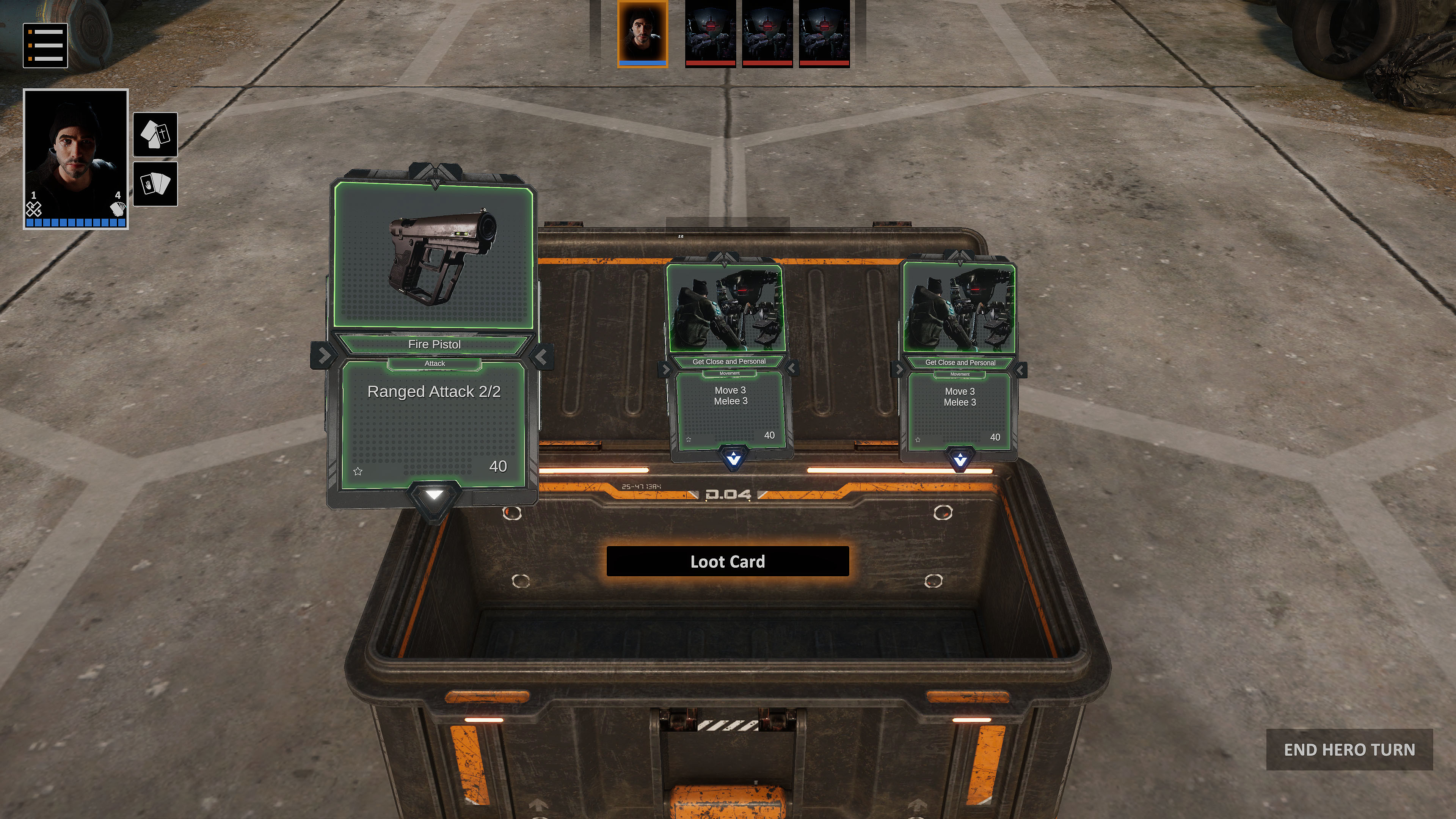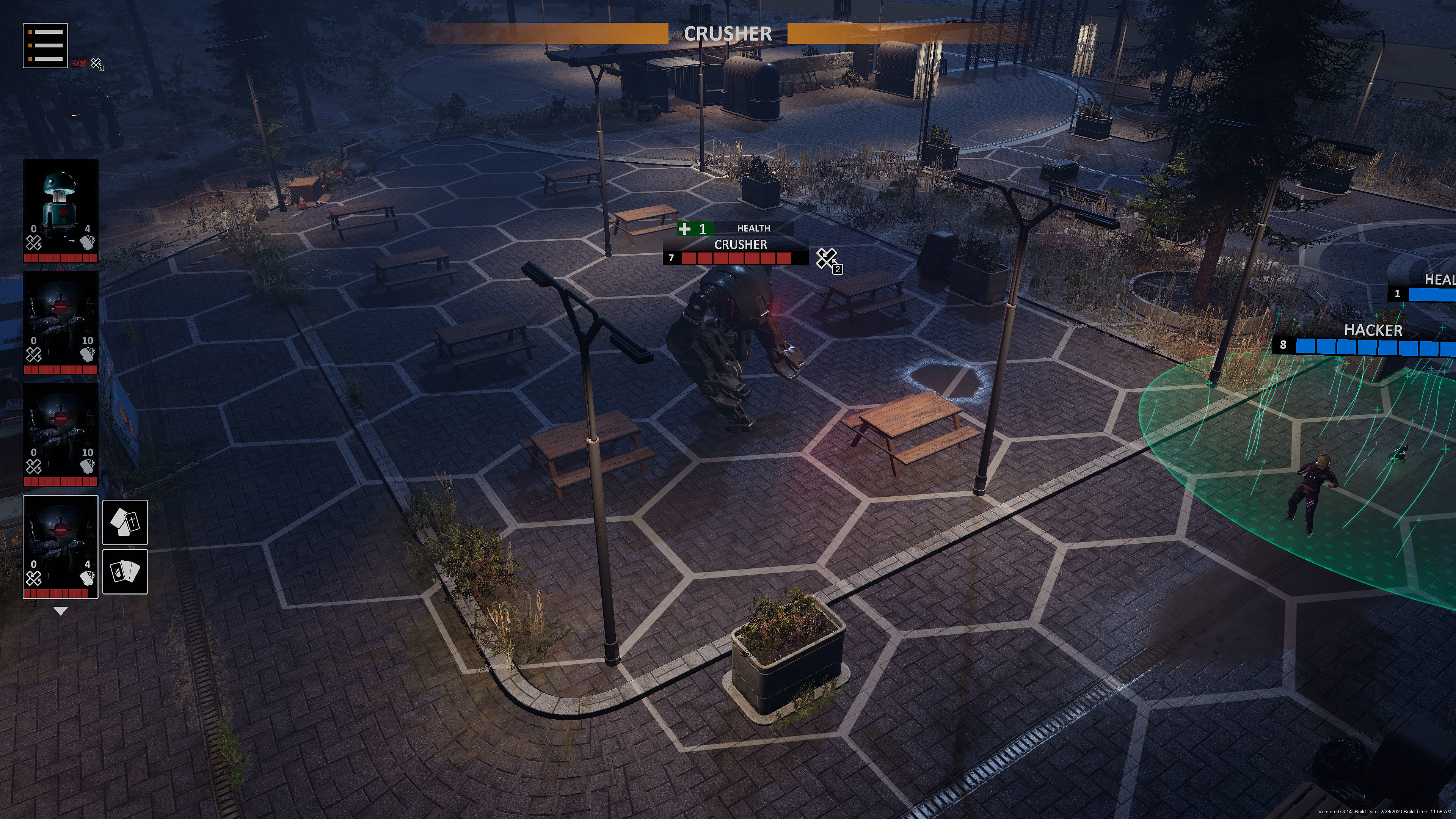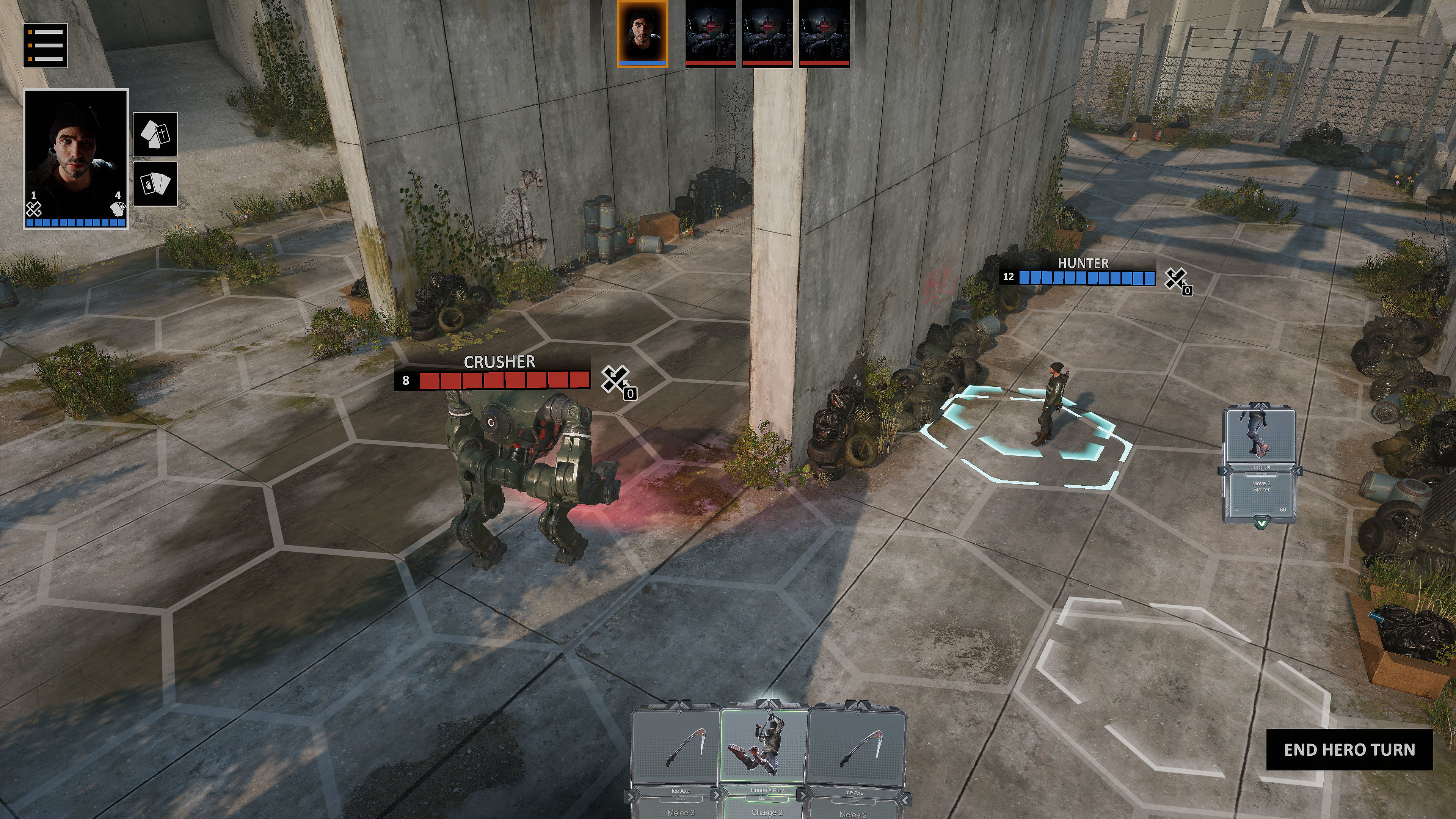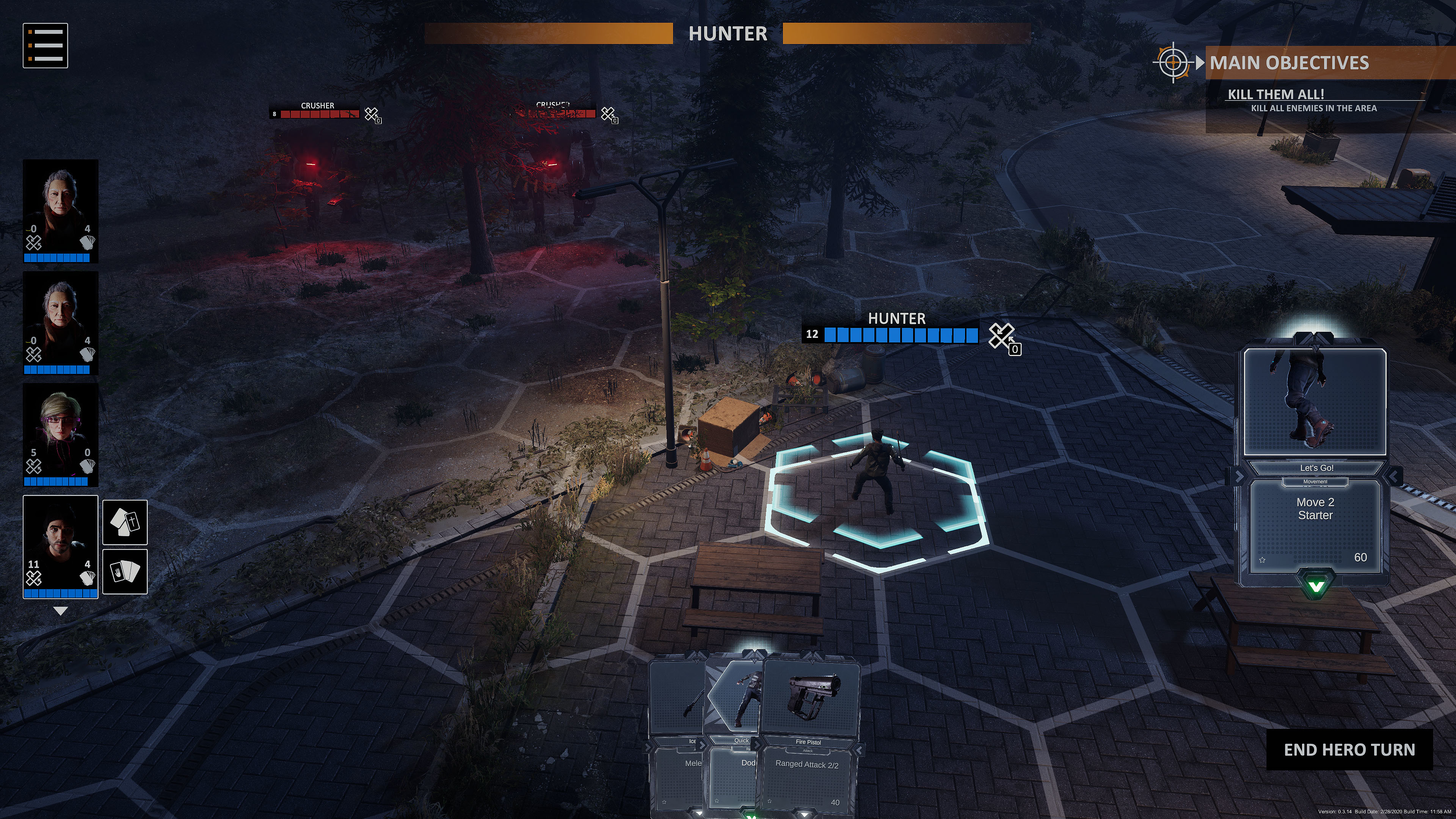 Gameplay Long Feb 2020: https://www.youtube.com/watch?v=yQSnWYb80z8

The trailer says 2021 but Steam says "Fall 2020"...




This is a GTA: Chinatown Wars-style game skinned in a medieval parody theme a la Monty Python. The closest thing to it I can think of is that Bard's Tale parody ARPG from the early-2000s, but this seems way more extreme. The developer is Polish, but the publisher Canadian, which is why the Kickstarter was in Canadian dollars. The game looks REALLY well-made for what it is. With such a theme you'd expect a gimmicky rush job, but take a look at the trailer (the first, older trailer is the better cut) and tell me the game doesn't look like a good laugh.

https://www.kickstarter.com/projects/ga ... heft-horse

https://store.steampowered.com/app/8442 ... eft_Horse/


Jutsu Games wrote:

Grand Theft... Horse

Rustler is an open-world, top-down action game paying tribute to the good old GTA 2 style and gameplay, fusing it with a historically inaccurate medieval setting. Play as Guy, whose parents apparently were too lazy to give him a proper name. Experience feudal injustice, witch-hunting, and join big tournaments. Meet valiant, yet incredibly stupid knights. Complete a wide variety of twisted missions and quests, or don't give a damn about the plot and bring mayhem in the villages and cities. Choose to go on foot, or by a stolen horse. Fight with a sword or pick a fancy automatic crossbow. All that, spiced up with an inappropriate Monty Python inspired sense of humor.

Be a bold, bald thug in a medieval sandbox

Rustler's world is filled with humor, anachronisms, and pop culture references. 'Member Monty Python? Ever been towed for parking in a "NO HORSE ZONE"? Speaking of horses – what if they were treated like Pokémon?

Wreak havoc in top-down, old-school combat

Use swords, spears, turds, and crossbows. Want to get more efficient? Try holy hand grenades or... horses. Nothing's more deadly than hooves galloping in your direction.

Screw everyone over to win half the kingdom

As a poor peasant, you really need to get creative in order to win the Great Tournament™. Form weird alliances, double-cross your foes, and dig up dinosaur skeletons in a light, easy-to-understand and hard-to-empathize with story.

Hire bards to aid you musically in battle

A bard can be your sweaty personal radio. Not only will he not leave your side, even in the midst of the bloodiest of conflicts, he will also change the song's dynamic depending on the action on-screen. Moreover, you can express a desire to change the tune by punching him in the face.

A lot of horsin' around

Shoot cows into the sky, dress up as a guard or even Death himself, smoke weed by accident, draw fancy shapes with a plowing cart, survive a full-on guard onslaught after killing half the city... And that's only a few of the many crazy things you can do in Rustler.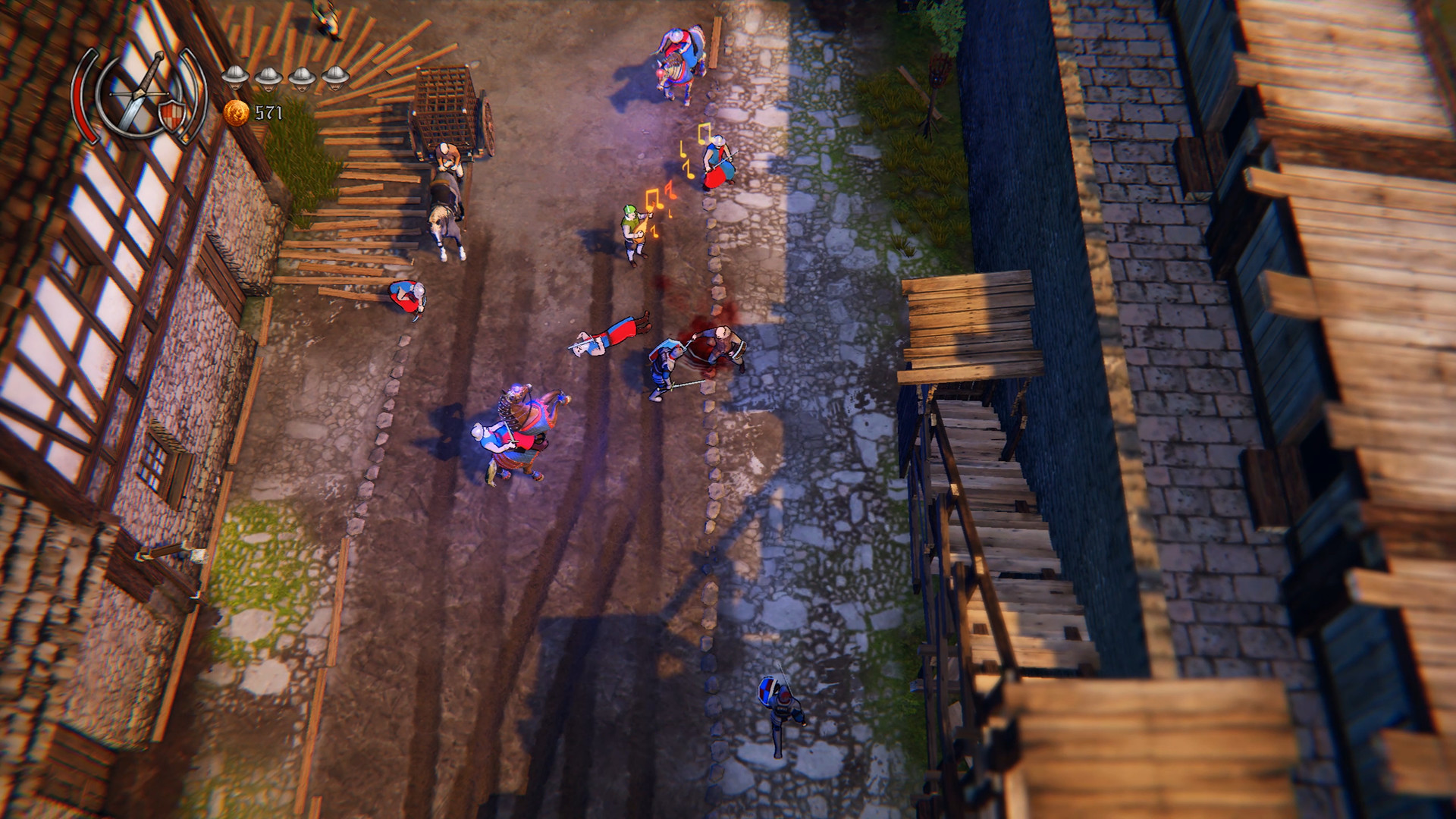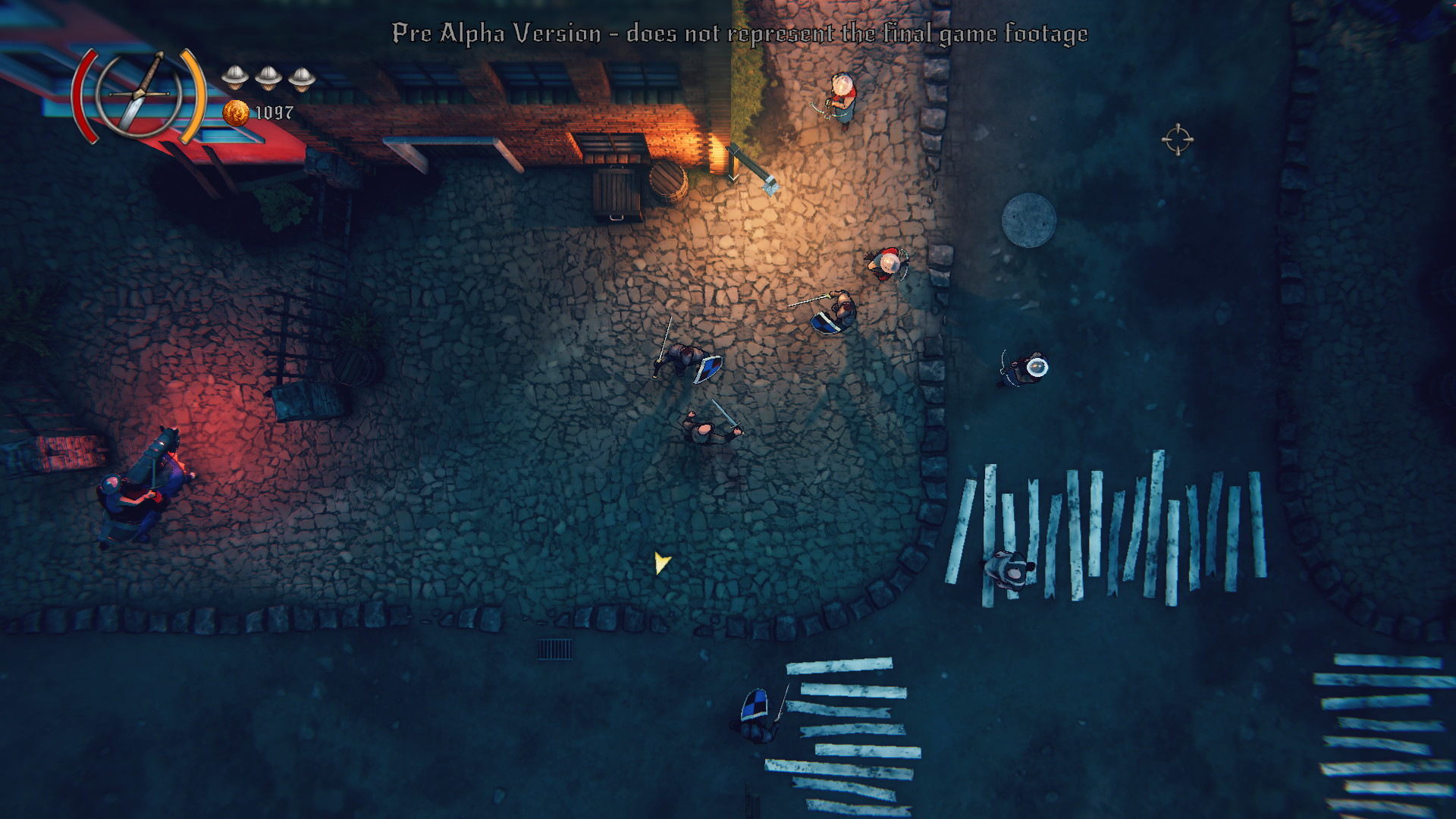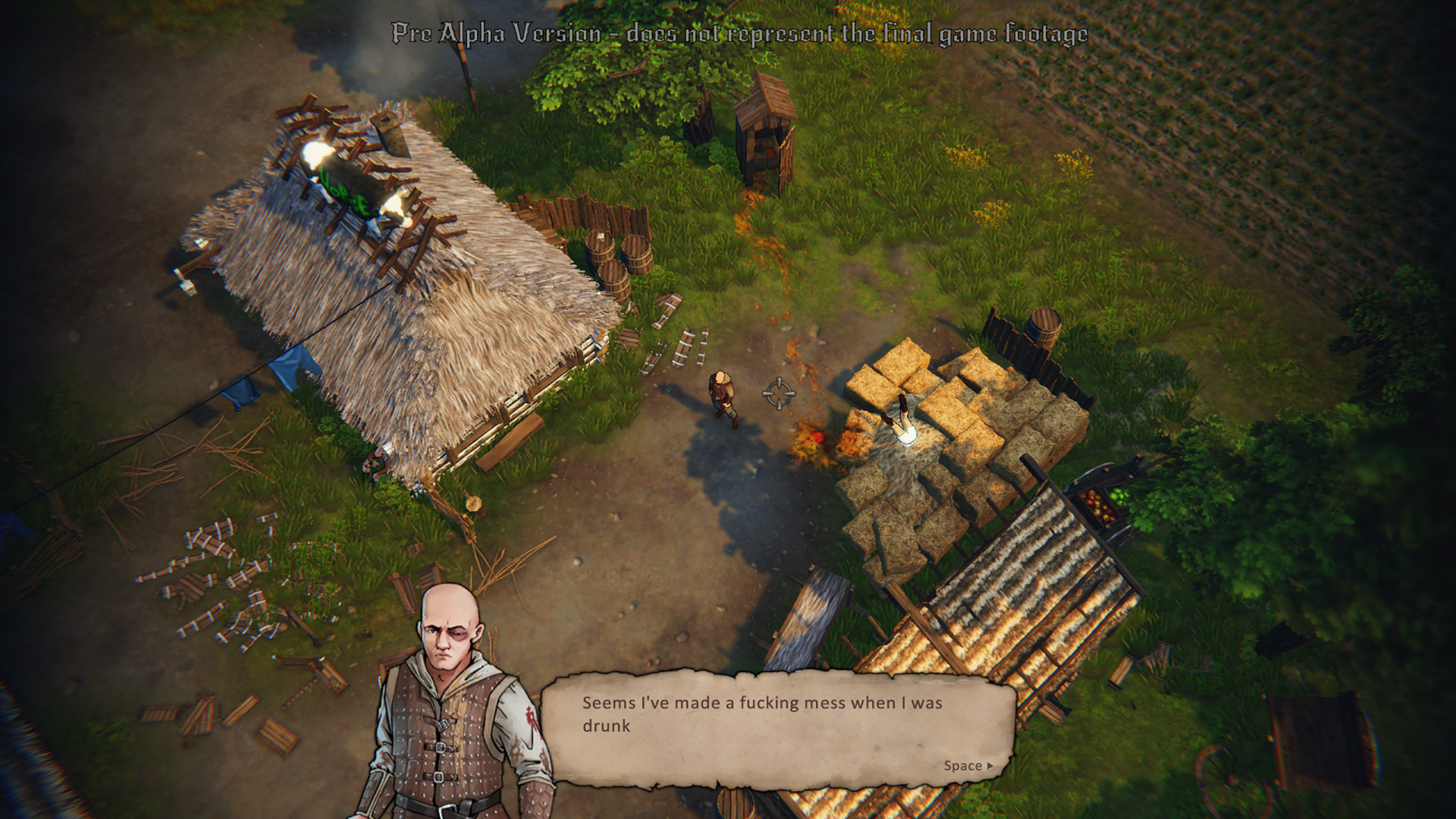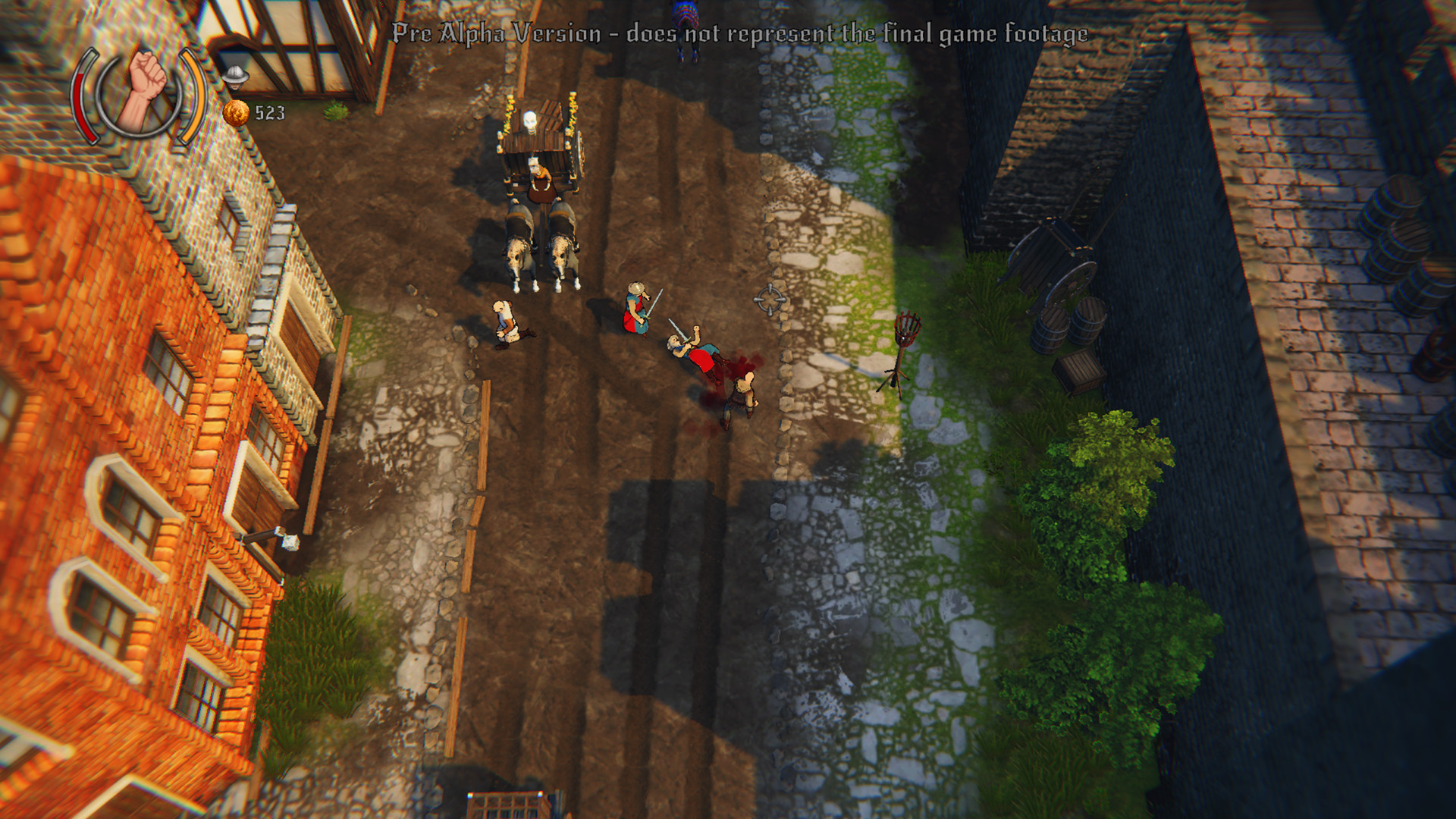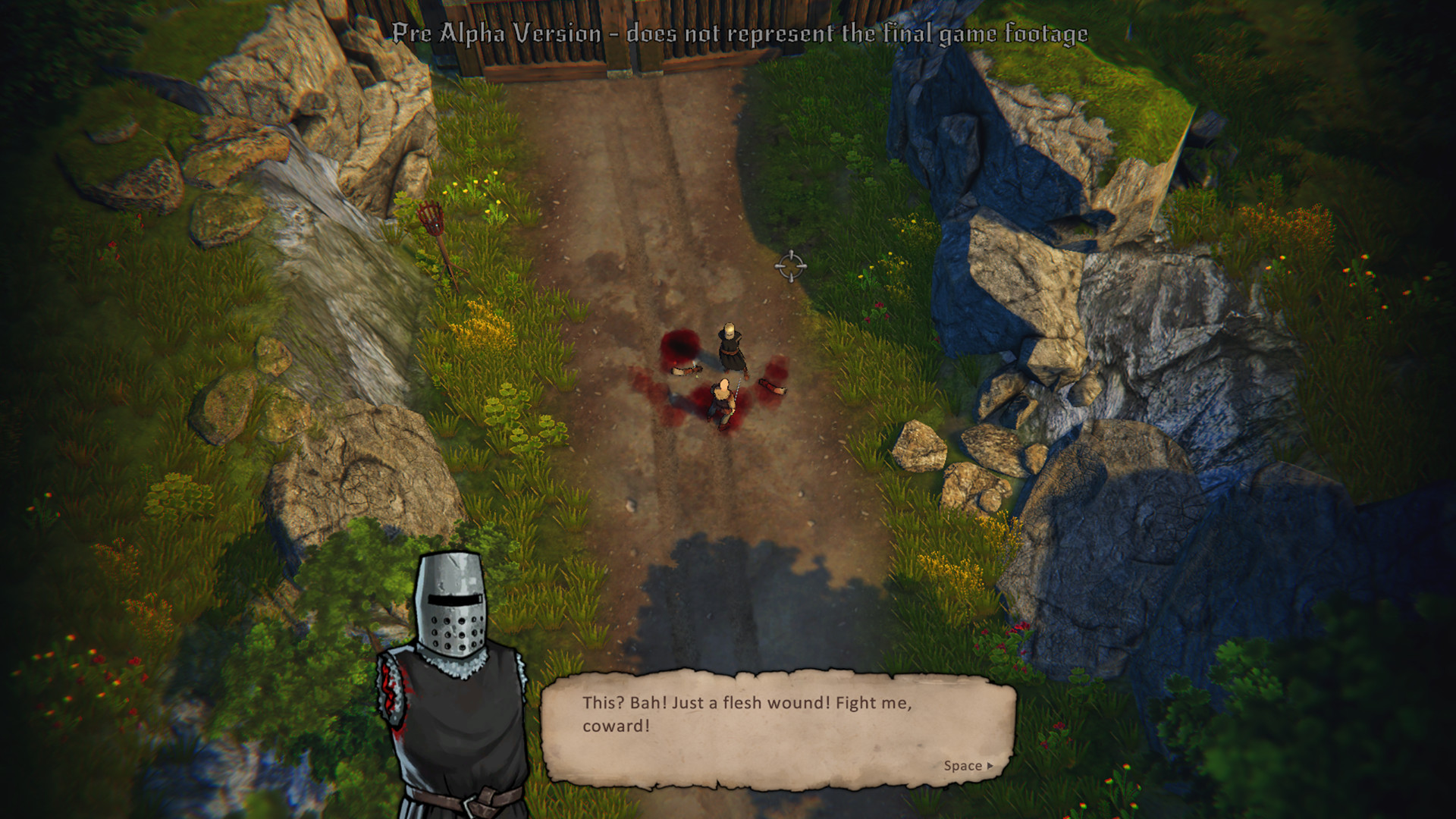 Kickstart the Rustler: https://www.youtube.com/watch?v=c8YLCtk7RiE

Gameplay Trailer: https://www.youtube.com/watch?v=m3j58raDUPQ

Gameplay Trailer (newer): https://www.youtube.com/watch?v=rd1NcyEMGss

On Steam it's TBA but on the KS page the estimated delivery of the rewards, that include copies of the game, is "Oct 2020".



PlayStation 5 hardware reveal news:

https://www.theverge.com/2020/6/11/2121 ... specs-sony


Tom Warren wrote:Sony is finally revealing what the PlayStation 5 looks like. After nearly an hour of PS5 game announcements, Sony revealed the hardware design after teasing it for the duration of its PS5 live event today. The PS5 console includes a white-and-black design to match the new controller that will be included in the box.

The PS5 stands vertically, like the Xbox Series X is primarily designed to be placed, and will include two versions: one with a 4K Blu-ray drive and a pure Digital Edition. The PS5 variant without the optical drive looks substantially thinner than the regular model, thanks to the removal of the drive.
The Untold History of Arkane: Dishonored / Prey / Ravenholm / LMNO / The Crossing: https://www.youtube.com/watch?v=h4kdqwdbZZ8
The "regular" action segments in Red Seeds Profile are really bad, and you have to endure countless hours of them if you want to play through the entire game. Also, I'm a huge fan of Twin Peaks, but mostly, RSP just feels like a cheap imitator of the series; the overall story is OK I guess but the game is ugly, and I really didn't fall in love with any of the characters or environments in it. The one thing I absolutely loved about it though, strangely, was the QTE segments. I normally dislike QTE stuff, but in RSP they are absolutely incredible, and have to be experienced in order to be believed. Some of the most nerve-wrecking, exciting experiences I've had in a game for a while! So bottom line: drab game overall, with a couple of amazing segments that account for maybe 1% of the total play-time.
So as you may have noticed I recently declared Life is Feudal: MMO "Best Game Ever" over on Patreon [ > ], so of course I bumped it up to GOTY for 2017, with Wildlands and that Zelda thing bringing up the rear now. I am also happy to announce that we replaced the player we lost from my Wildlands team, so I'll be playing more of this soonish, plus I am finally ordering a Switch so I can check out that Zelda thing personally. So we should have a very concrete 2017 ranking before the end of the year. It's already pretty damn concrete from where I am standing, and utterly different from everyone else's too, no? Not that it matters, but I am just sayin'. Because it matters [ > ].

In other news, I've just installed Deadly Premonition/Red Seeds Profile on Shadow after zinger cast some doubts on it on Discord via DM, but without elaborating:

CULT|zinger
Btw, before I forget: even though I haven't been active for a long time I've been lurking constantly...
And there's one question I've been wanting to ask:
Are you comfortable with having Red Seeds Profile as a runner-up for GOTY 2010?
Have you played it?

CULT|icycalm
I haven't played many of the games on the list
If you have objections or suggestions post them in the thread

CULT|zinger
OK, sure will do that

CULT|icycalm
Looking forward to it

He hasn't got back to me on that, but I've been meaning to try the game for ages anyway, and now I have an extra reason. So I'll be trying it shortly and we'll finally see what's up with this game. The sequel is due out in July too, so I'd like to know whether I should be excited for it.

And finally, look forward to a "Best Game Ever" thread from me that will serve as the update thread for that lofty award (which btw now has its own section on the left sidebar on the frontpage, pretty high up the page too), and in which I'll talk a bit about previous award holders, from Defender of the Crown in the mid-'80s which was the game that made me fall in love with videogames, all the way to LiF, and on to whichever game will knock it off that perch, hopefully as soon as possible because I can't wait to play it, whatever it is!
A major change in 2017 today, that may lead to even bigger changes: Life is Feudal: MMO, which was second runner-up, is moved to first runner-up, and Breath of the Wild slides to third place. I've been playing LiF a lot more recently since the wipe, and though I've never played the Zelda, there's no doubt in my mind that LiF is far superior. The Zelda is just a dumbed-down Japanese open-world design, I am sure; LiF takes first-person 4X to a whole new level. There's simply no comparison.

Moreover, I am thinking of moving LiF to the top spot and downgrading Wildlands. I've already played both games, with almost 100 hours in LiF now, but I still need to play Wildlands some more to make sure. Basically, LiF added a proper fully fleshed-out strategy layer to first-person 4X. Rust was the first in the genre, but it has no specialized strategy mechanics: strategy is possible, but the game does nothing to facilitate it. That's in fact its only fault, and that's what LiF fixed four years later. Wildlands on the other hand, created the most beautiful and well-designed open-world yet. Granted, it was a "wildland" setting, not an urban one which is a thousand times harder, but it's still a stunning achievement, plus it was the first game to do four-player open-world well. So both games are tremendous achievements, and it's my job to determine which one was more tremendous than the other, even if only by a little. That's how rankings work, and it's a tough job, and someone has to do it. Complicating matters is the fact that LiF makes tremendous progress in world design too, with the most realistic and awe-inspiring map I have ever seen—bar Wildlands'. These two games have the best maps ever, and that's another aspect of theirs I have to compare, and for which comparison I'll need to put a lot more time in Wildlands than I already have.

So look forward to that, and I'll keep you posted as always.
Insomnia review (3/5): https://culture.vg/forum/topic?t=7214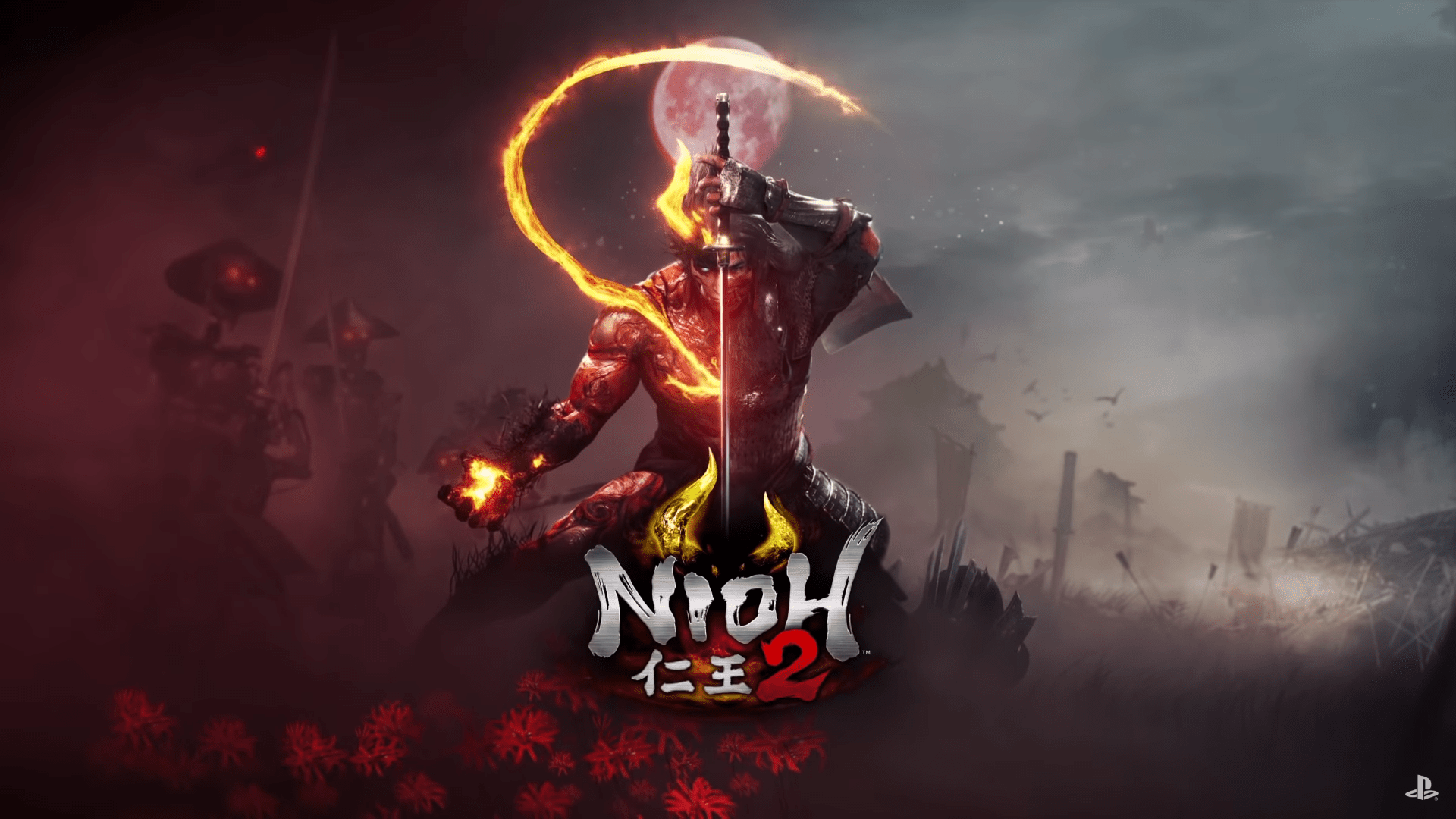 Insomnia wrote:This game is

Nioh

all over again with a character creation menu. Big whoop.
Insomnia review (4/5): https://culture.vg/forum/topic?t=7213


Insomnia wrote:Blends the neutral game of Street Fighter with the aesthetic and character abilities of dashers like Blazblue and Guilty Gear, giving it a unique identity. No complaints here.
The infamous Age of Decadence dev knows what's up.

https://steamcommunity.com/app/648410/d ... 5043439789




Epic offers reviews now, but it's shill pseudo-critic reviews, not real reviews by real players, and it is horrible.

Vince's next game, Colony Ship, is getting a playable combat demo on Steam in a few hours. Play it, it will probably be awesome: https://store.steampowered.com/app/6484 ... ying_Game/
Insomnia review (2/5): https://culture.vg/forum/topic?t=7211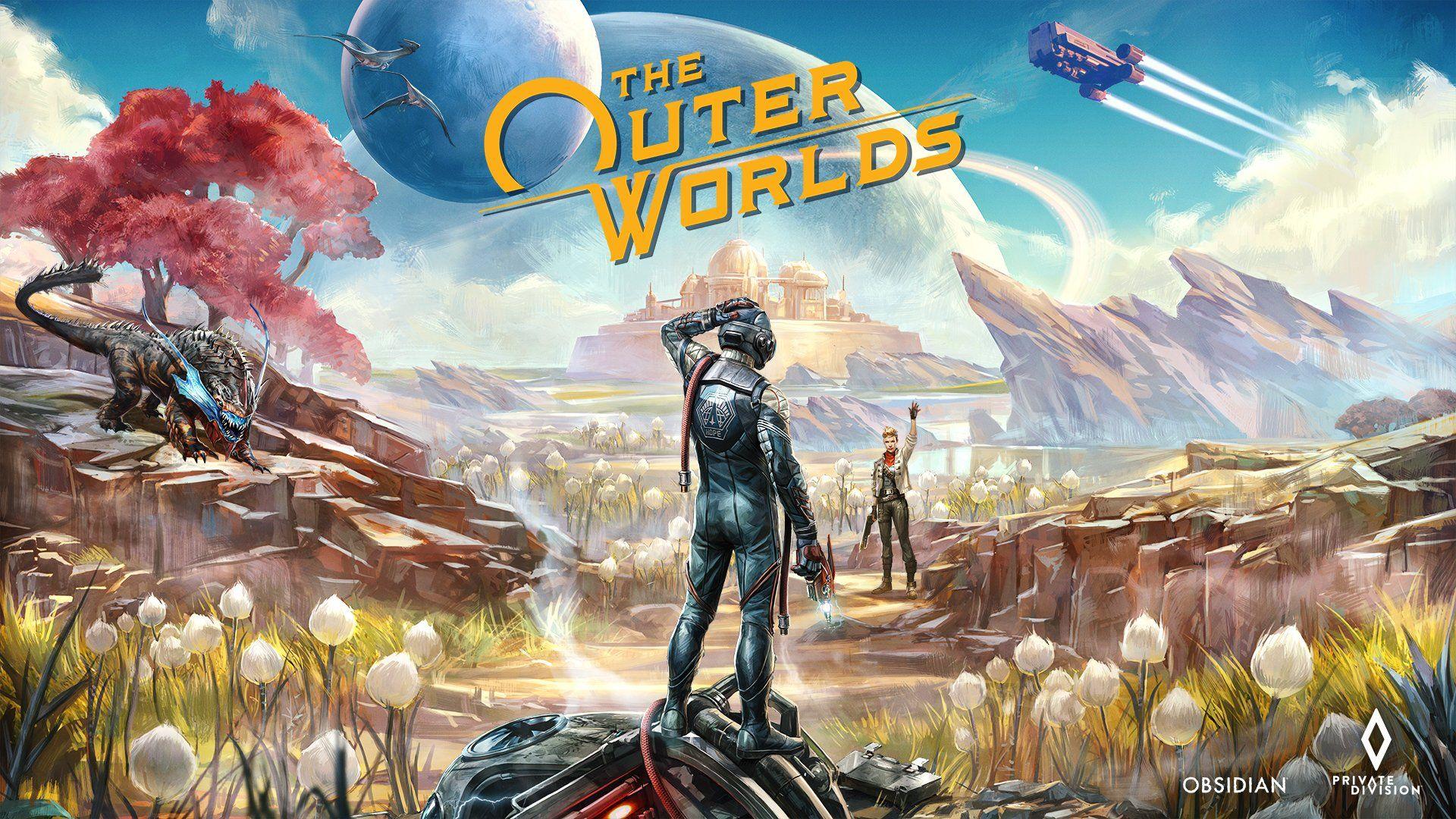 Insomnia wrote:With all the looting-shooting, tired jokes, emotionless NPC faces and crap visuals it feels like Borderlands.
Yeah, I don't know how I missed this beta. I need to up my beta game. We would have had first-hand accounts of the game now, and I guess a bit of fun too. But it doesn't look like it was such a big loss because the game frankly sounds ass. I've already noted on Discord, after looking at some footage for two minutes, that the game has infinite respawns a la Overwatch, and indeed that's the design they seem to be aiming for, so that completely tanked my interest in the game. And to cinch the deal here are some comments of people who did play the beta:

https://steamcommunity.com/app/1189800/ ... 971785645/


G-d wrote:

This game is the most casual game I've ever played

It's has literally nothing to master and it won't hold any competetive player for more than a day. Might be two days. Just skip it if you're looking for an intense pvp game.

Its price is not a problem, core gameplay itself is the biggest issue and the reason this game will die. Goodluck keeping this game alive only with casuals.

You know how many things in this game requires any skill? One, only one it's parry, also parry is kinda useless.
https://steamcommunity.com/app/1189800/ ... 4973112079
XERO wrote:Correct, the game is complete ♥♥♥♥.
Map designs are terrible.
Characters are boring as hell, the only cool design is Daemon (go figure, the mascot...)
The game takes ZERO skill outside of just sticking together with your team.
It's a casual arena brawler made for consoles. It will die.
https://steamcommunity.com/app/1189800/ ... 8632039282
XERO wrote:No see because in Overwatch you at least have to AIM. This ♥♥♥♥ even has auto aim FFS.
https://steamcommunity.com/app/1189800/ ... 8630335834
Simps R' Us wrote:This game probably will flop since there's very little skill ceiling with auto aim abilities. In fact I'm only buying it so I can get my 2 hours of making fun of it then refunding. None of the beta footage or streams looked remotely good. Expect a quick closure of this game after 2-3 months as ninja theory move on to make their next half ♥♥♥♥♥ product.
https://steamcommunity.com/app/1189800/ ... 8630643918
Jamesy Pooh wrote:i want it to do well. it looks interesting. its just something about the maps and watching people play. its like the game itself is just slow paced and dull. i feel like the map size is too big for what they are trying to accomplish here. especially since it's a melee third-person brawler/shooter. you'd think they would have more close quarters implemented in the map design. maybe increase the speed of the mounts? but i still think that only band-aids the issues.


None of them is talking about the stupid respawns and stupid points system, which are the real deal-killer, because they are all

Overwatch

-playing zombies,

but when even the Overwatch-playing zombies are trashing the game

, you know you have a real trashy game on your hands.

Don't waste your money on this unless you're loaded. And if you're loaded gift me a copy so I can trash the fuck out of it on Patreon (or give me access to your copy via Steam Family Sharing...)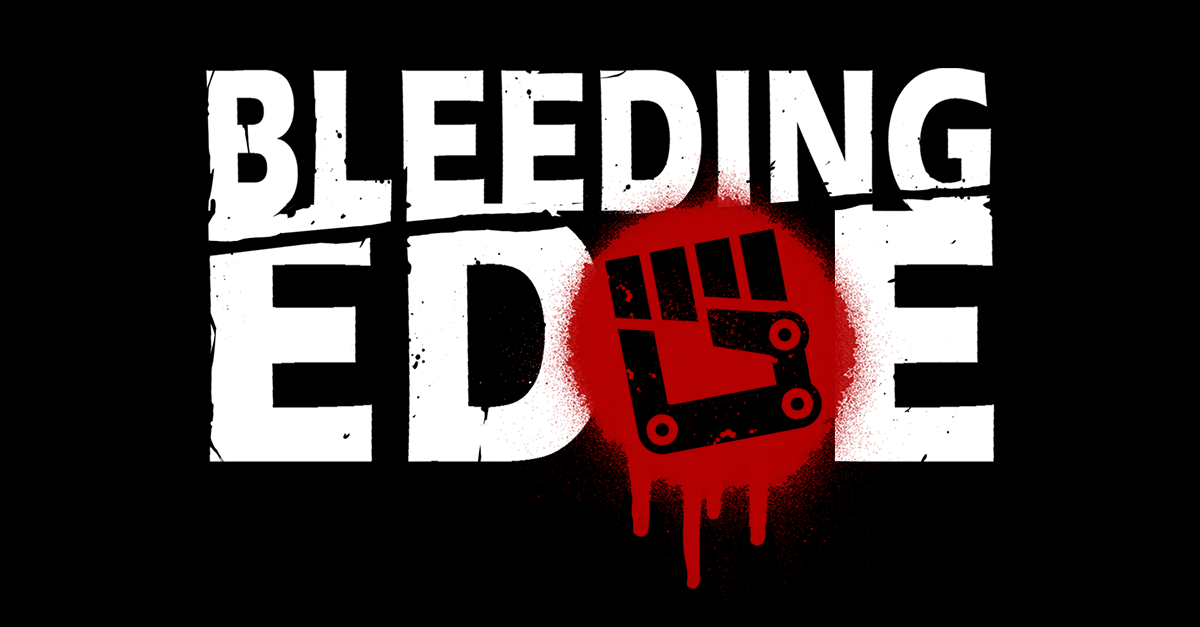 https://www.bleedingedge.com/

https://store.steampowered.com/app/1189 ... ding_Edge/

Ninja Theory's colorful 4v4 brawler drops on the 24th. Looks like CULT missed the beta earlier this month... but the game is cheap enough at $30 that everyone who's interested should be able to snap it up at launch.

Interestingly, the publisher on Steam is listed as Ninja Theory, just like with Hellblade. Seems like they are treating it as a pre-Microsoft deal game.


Ninja Theory wrote:Team Up. Cause Chaos.

Grab your team and tear it up in Bleeding Edge, an electrifying online brawler where every fighter comes mechanically enhanced for mayhem!

Choose your fighter from a diverse cast of colourful characters from the edges of society: burn rubber as bold and beautiful Buttercup with her detachable saw blade arms, wreak havoc as Black-Metal rocker Niđhöggr with his electrifying guitar solos or slash up the streets as Daemon, New York's most wanted assassin.

Come. Join us. The cybernetic clash of the century is about to begin!

NO STOPPING US

Synergise with your teammates to become an unstoppable force in the face of your enemies – freeze foes in time, control minds, ride missiles and unleash electrifying guitar solos in exhilarating action combat that rewards technique, timing and teamwork.

TREACHEROUS TERRAIN

Use your environment to your advantage with deadly arena hazards and gain the upper hand in moments of chaos. Yank opponents into a high voltage electric fence with Buttercup's saw blade. Charge enemy aggressors into the path of an oncoming train with Makutu's shoulder barge. Trap careless enemies within Maeve's magical cage and light a raging fire beneath their very feet.

MOD YOUR COMBAT, SHOW YOUR STYLE

Power up your fighters' weapons and abilities from a vast arsenal of cybernetic parts, all earnable through gameplay. Customise your hoverboard mounts to ride with style across the vibrant cyberpunk arenas of Bleeding Edge.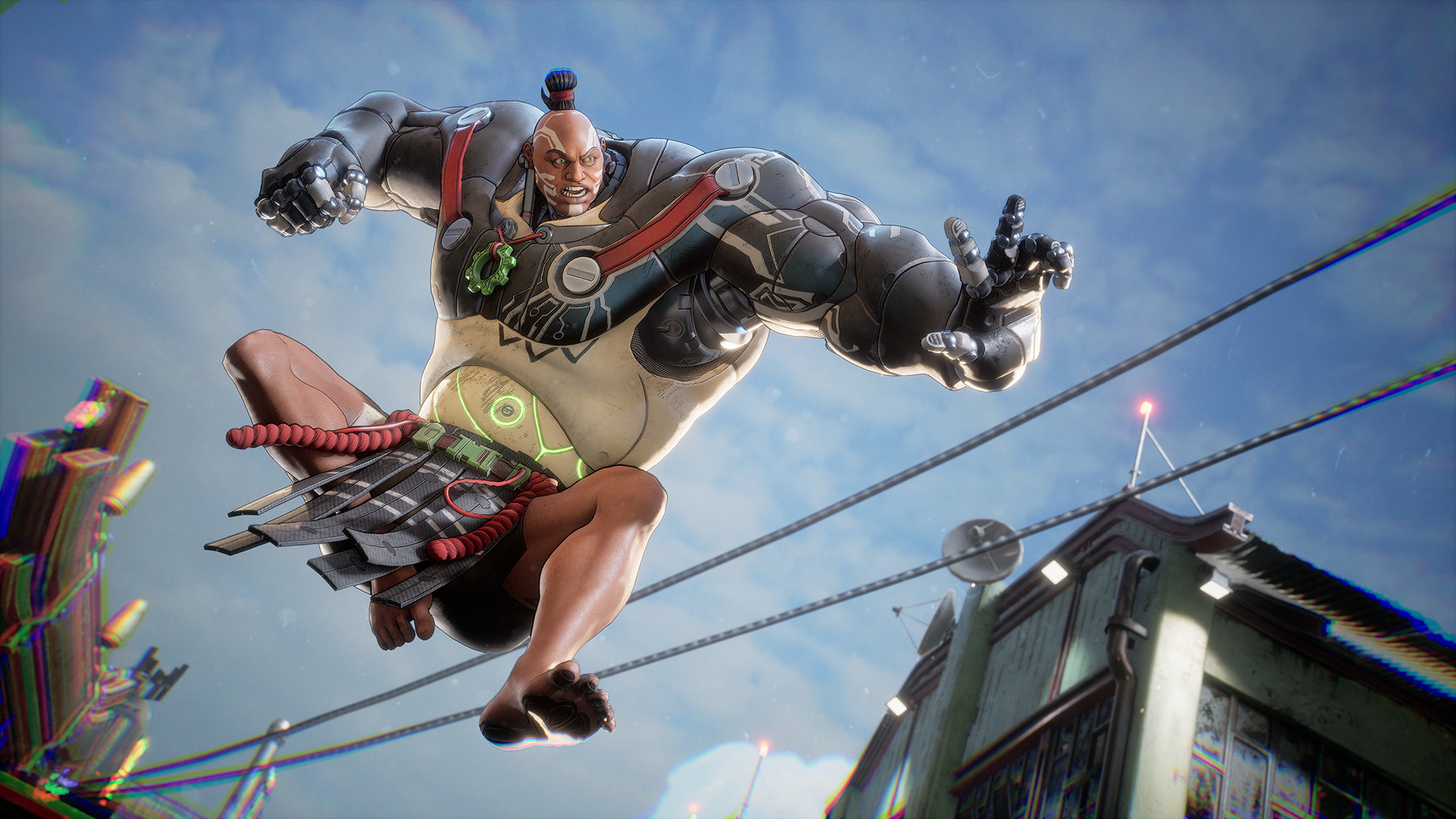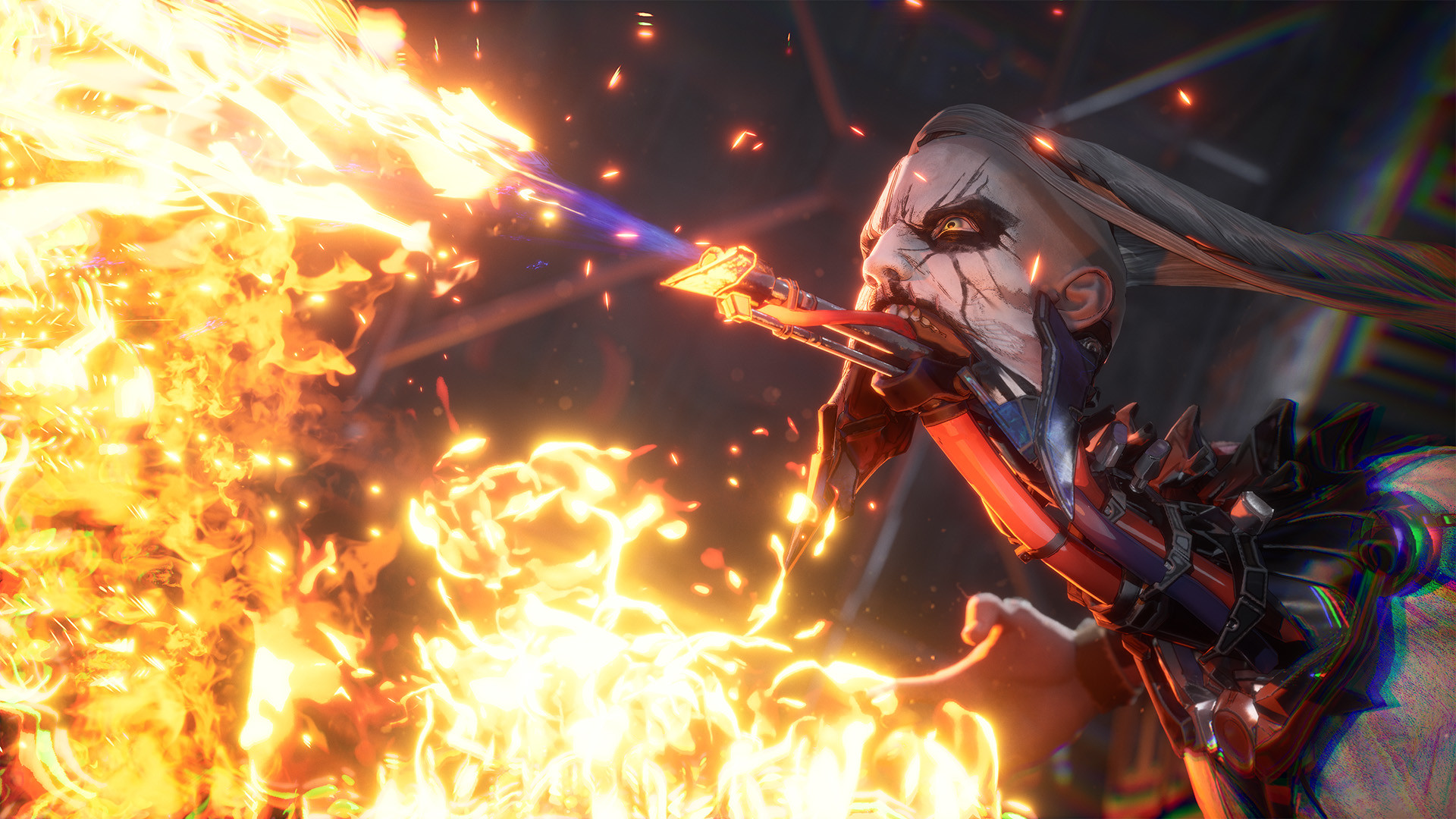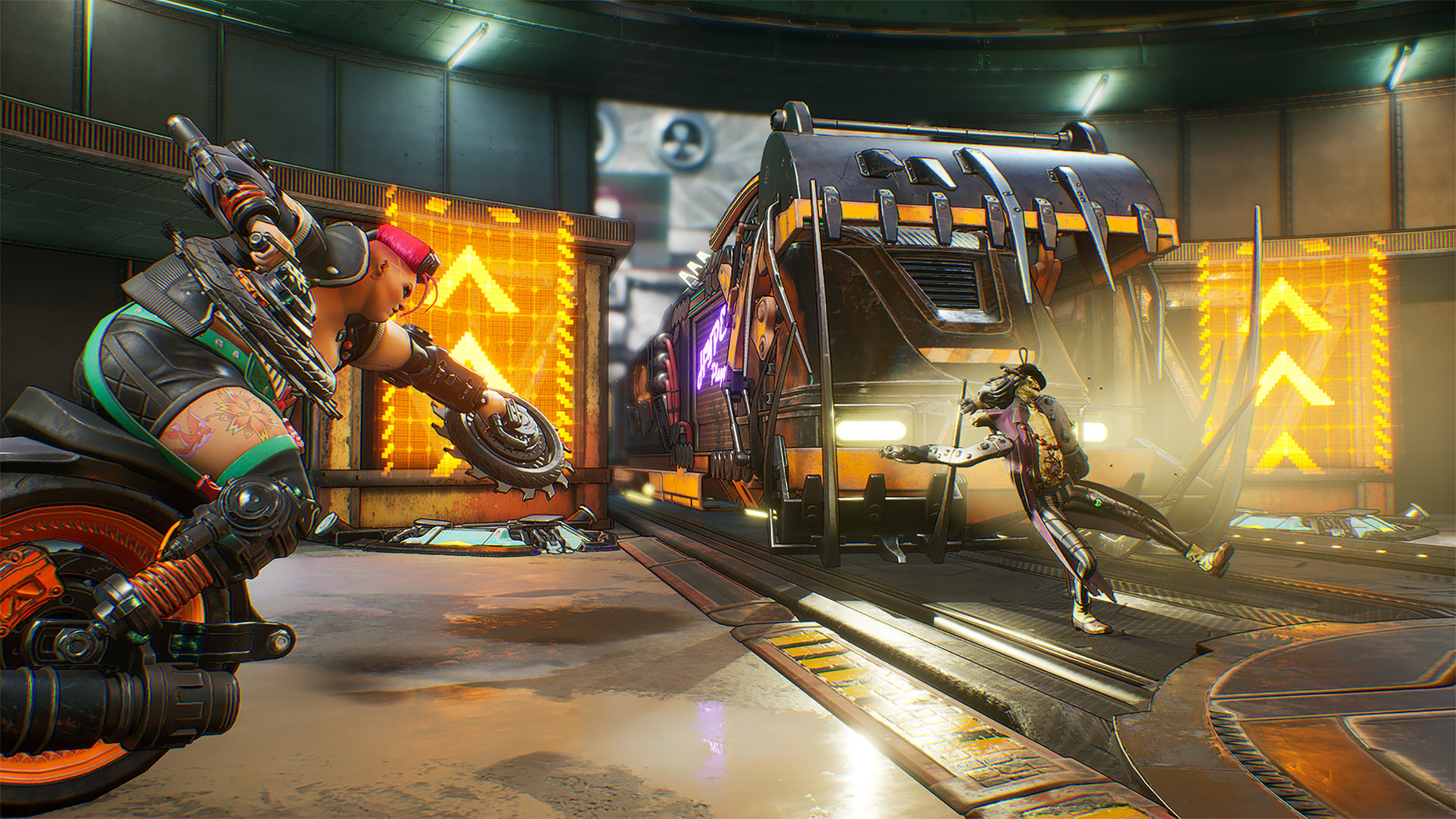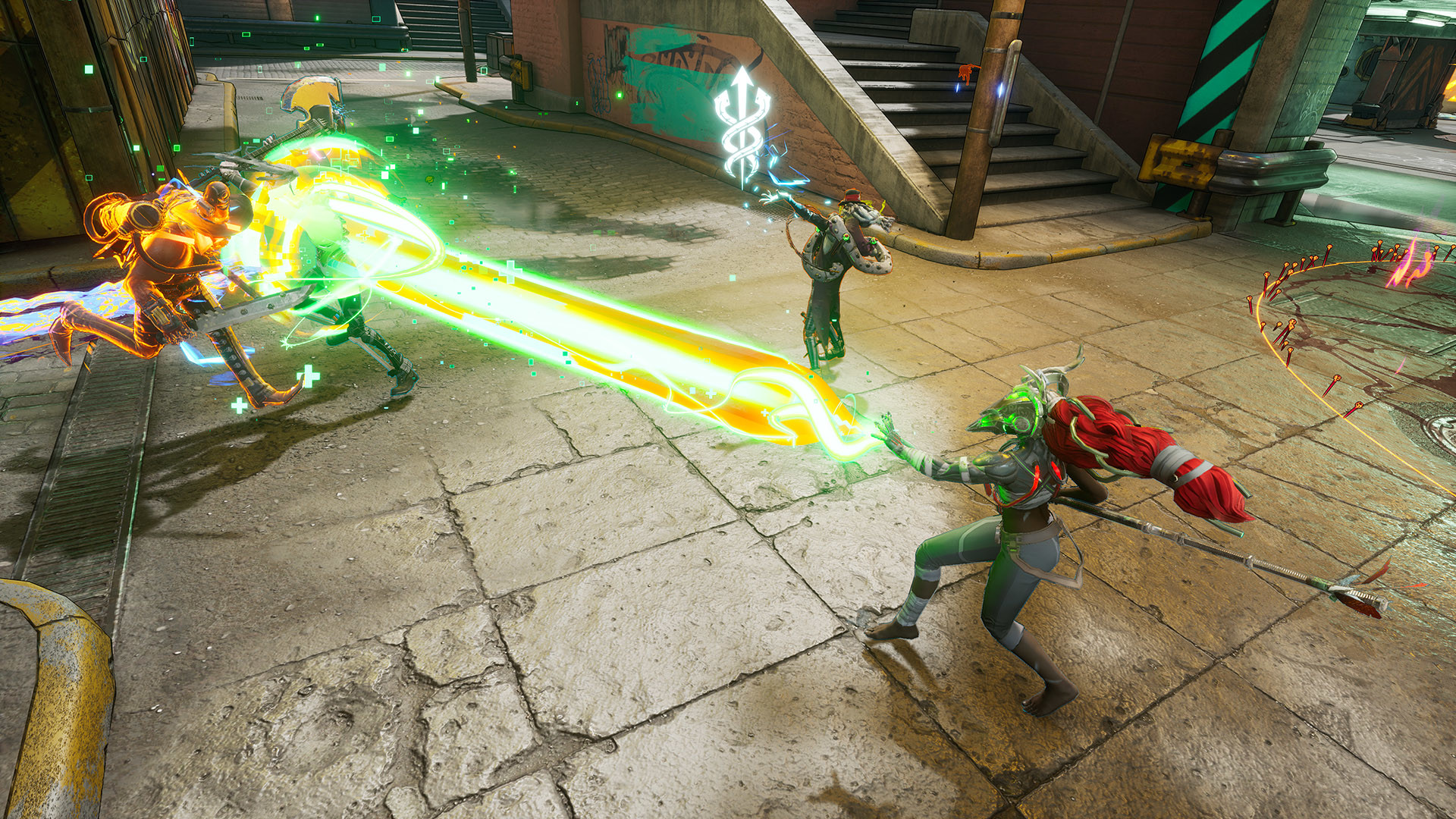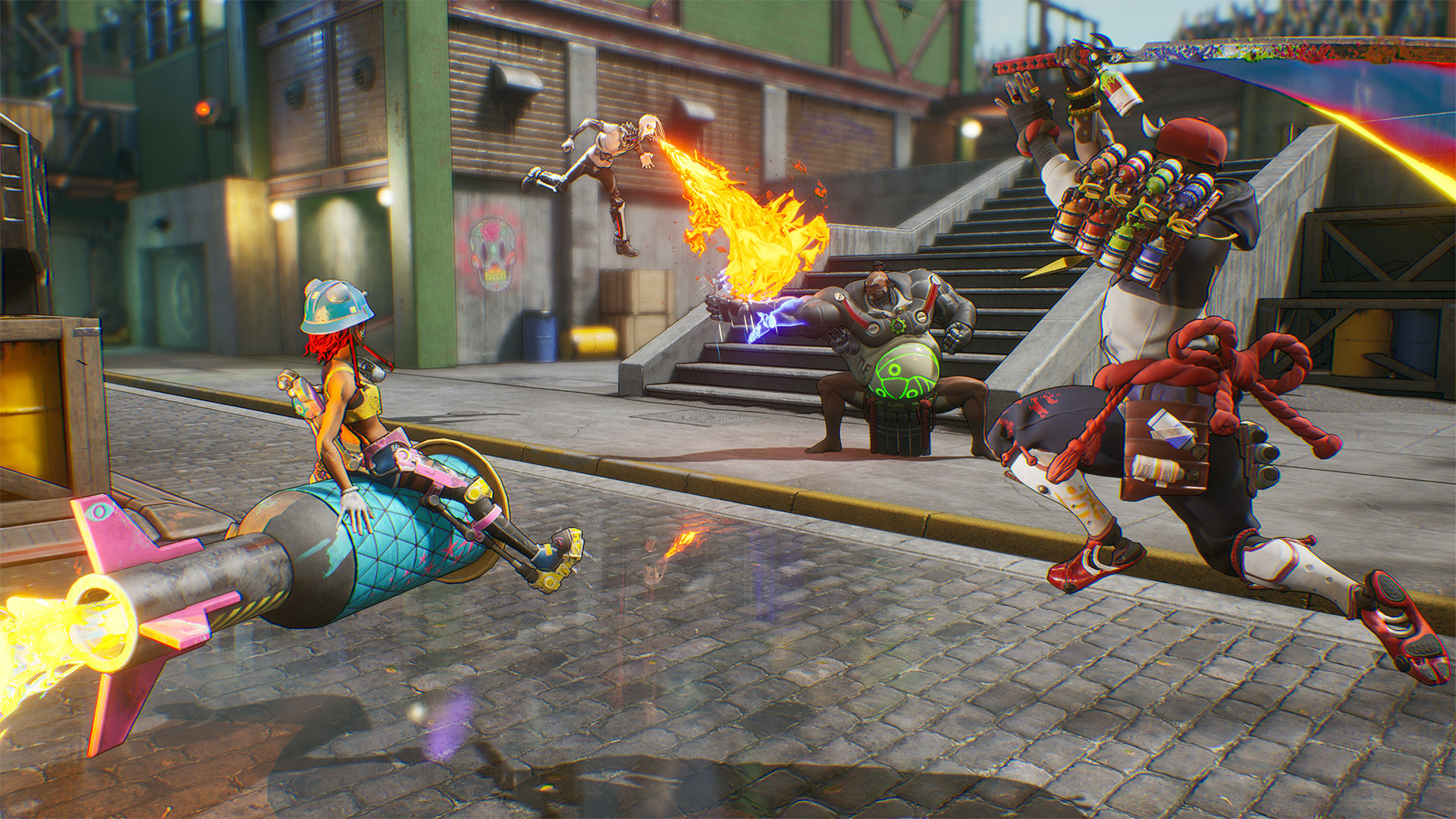 Launch Trailer
https://www.youtube.com/watch?v=Y32mKcAcUXk

Closed Beta — New Gameplay Today Live
https://www.youtube.com/watch?v=gpTKwV7xxwg



CULT|Effay
Quick impressions for Doom Eternal: combat is deeper, levels are bigger and have more exploration for secrets (though still linear so far), but there are some weird design choices that hurt the immersion (1UPs that instantly revive you when you die, all the pickups are this weird neon color that look completely out of place, secrets are these giant floating question marks)

CULT|icycalm
Thanks!
I wonder if they will fix any of this later
Or add options to turn them off etc.

CULT|Effay
I didn't see any options like that currently. You can customize your HUD completely, toggling every individual piece.
But I haven't found a way to turn off any of that other stuff in the graphics options or anything
There's a lot less cool little animations when you pick stuff up too. In Doom 2016 when you got a keycard off a dead guy the Doom Slayer physically takes the card off of the guy's uniform. In Eternal it's a floating glowing thing you just find wherever

CULT|icycalm
Ah that's disappointing
I am seeing people in my Steam friendlist who haven't bought a game in years come out of the woodwork and buy Doom Eternal today





Red Solstice 2 alpha application is up: https://us8.list-manage.com/survey?u=4e ... 27445c1b47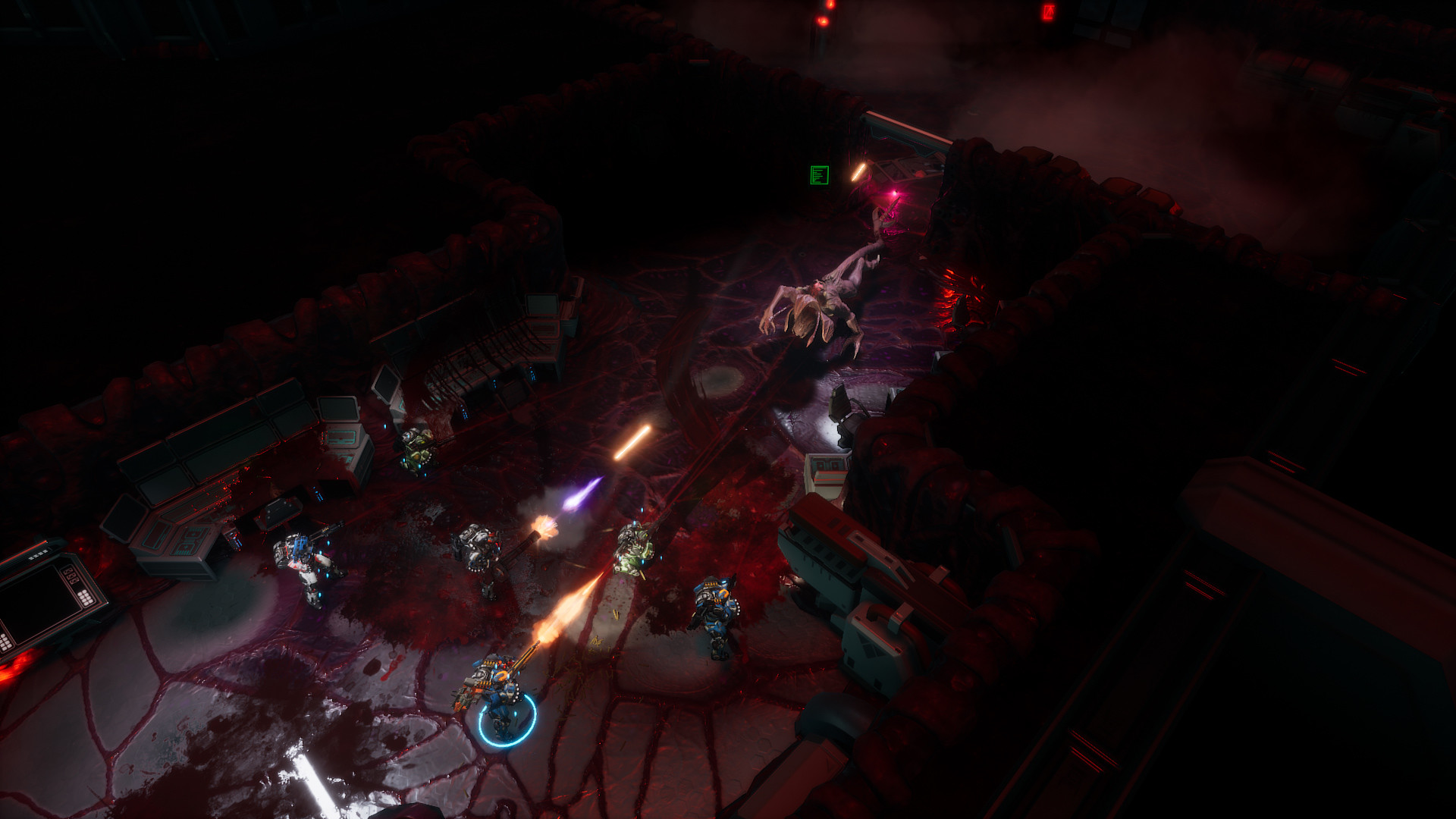 This is an 8-player X-COM-like with real-time battles. You run your base as normal, and when it's time to fight you drop in real-time in a group of eight. Sounds pretty insane, and if you get in the alpha with us you can check out very soon how well it delivers, so apply asap.

Check the news thread for more info on the game: https://culture.vg/forum/topic?t=7171

And the email I received from the developers:


Ironward wrote:

Red Solstice 2: Survivors - ALPHA info!

When and how does the alpha start?

As you know we have been working on the alpha for quite some time and we are working over the clock to deliver you the best possible early version of the game. That's why we have started a series of small pre-tests with a minimal amount of people to help us developers find the bugs and make the game overall better and fun.

The pre-test phase will last longer than expected, at least 1 month from now until we nail and polish everything. From that point we will start organizing and inviting more people until we reach the full alpha stage.

In order to recieve an invitation; you will need to fill in a small survey from your email so that we can see what is the best time frame we can invite people to play TRS2; note it will be a fixed amount of hours over a weekend.

Basically to get into alpha and enable us to give you a normal and appropriate time frame for you to play you will need to:

Fulfill this survey from your email address
https://us8.list-manage.com/survey?u=4e ... 27445c1b47

Wait for a confirmation email from us that you got invited into the alpha

Sign an NDA that you will not record and share any information with the public

Wait for the Steam key that will enable you to connect to our server and play it on the designated alpha hours

See you on the field and stay safe!
Untitled Goose Game ran away with the GDC Awards game of the year trophy
https://www.rockpapershotgun.com/2020/0 ... ar-trophy/

An entire year of tens of thousands of highly trained specialists working on countless millions' worth of hardware and software to produce, as the crowning achievement of their labors... an essentially 8-bit game starring a goose, with almost no complexity and difficulty.

If this were true, and this was really the best thing the industry accomplished last year, it would be reason enough to shut it down. Thankfully, it's not even remotely true. It's just hipsters being hipsters.
I moved this into the Submissions forum because it's really a review and added a 3/5 rating because that's what your verdict sounds like. If you abandon the game with no regrets, it's 2/5, but it doesn't sound like that's the case here.

And yeah, the game looks rotten. It's not just the "muted colours and general lack of energy"; the art is terrible. And of course it has an Overwhelmingly Positive rating on Steam...

I will post it in the Reviews/Play section when I get to doing the GOTM for March 2019.
The game is a lot tougher than the trailer makes it seem. I played it for a bit earlier this year on the Switch while at a friend's holiday house, since I didn't want to play any of its other games while in handheld mode, and some of the levels were devilishly hard.

The game is basically a block-pushing puzzle game, with the curious twist being that some of the blocks, while set up in a specific orientation, make up the rules that are followed by the sprites in the game. It was a pleasant surprise to me to find out that it doesn't fall in the trappings of other puzzle games that have an interesting premise, which are too easy or simple because the devs couldn't think of ways to further challenge the player beyond the basic concept. There are plenty of traps, where initially I thought I found an easy solution, actually failed the level, or rather, blocked the win condition (which is always achieved by getting onto whatever "IS WIN"). Pushing a button on the controller always undoes a step of any moves made, so it's not like any difficulty can be attributed towards making a mistake and having to re-do the entire level. On top of that, it frequently adds new rules, some of which wildly changed the properties of stuff I took for granted, so I never really got bored during my stint playing it.

The biggest problem however is the presentation. The game just looks so damn lame with its muted colours and general lack of energy. Even the music really feels like it doesn't want to be there after a while. Any random Japanese puzzle game looks so much more vibrant and exciting compared to this. At some point when I started getting really stuck, I found I just couldn't gather the enthusiasm needed to launch the game again. Kinda sucks really, since the premise is so unique, and the puzzles quite satisfying to solve.


★★★☆☆
Remember RAM Pressure, the F2P Campaign + VSMP X-COM-like for which I got a beta key a while back? Here are the relevant threads/posts:

News thread: https://culture.vg/forum/topic?t=6703
Private Beta post: https://culture.vg/forum/topic?t=7194




Well, the game entered open beta yesterday (I retroactively added it to the calendar, scroll a bit up to see it), and you can download it from here: https://rampressure.game/en#5

Watch the trailer here: https://www.youtube.com/watch?v=8ETGrpwwJ4Q

I am downloading it now and will have it ready to try out against people whenever we get a chance, so download and let us know if you're interested. I think you can play some campaign missions first to buff up before facing other players. It's cool what they've done with the story, where the players are supposed to belong to competing outfits for a downed alien craft. I am looking forward to seeing how this sort of thing works against human players.

https://steamcommunity.com/games/929490 ... 2446529129


QuadCom Interactive wrote:

March Update: Open Beta Kicked Off

Good news, Everyone!

We invite you to have a look how the game has changed in recent weeks. In late February and early March we released several serious cumulative updates (and we plan to continue in March). It makes no sense to list the entire list of changes, you could read it on our Discord channel or on Reddit. In short, we've done the following:

1. Optimized graphics (not completely, of course, but you could already play comfortably), added new lighting and shadows

2. Opened several new missions which continue the story campaign, as well as several new PvP maps

3. Game balance and economy are almost completely reworked. Experience is earned much faster, rewards for missions have increased, dull misses at point blank shooting have decreased, special offers in the game store have become more interesting

4. Fixed difficulty level of the first missions - they became easier to pass

5. Most bugs fixed

6. Seriously improved character animations

7. ... and much more. Everything that we promised to implement in the game in February is done

Second news: We've launched Open Beta Test. This means that invitation codes are no longer needed to register in the game. However, this doesn't mean that the game already looks the way we would like, it's not the release version yet. Early Access continues, and we are still changing and will change the game according to your feedback. But we decided to make free access for everyone and to advertise our game a little, so that the players had opponents in PvP. We'll be glad if you invite friends to the game or tell about it in social networks.

We welcome your feedback and suggestions:) Game client you could download now on our website.

Thank you!

Yours RAM Pressure Development Team
https://twitter.com/culturevg/status/12 ... 0496588802


https://www.exophase.com/user/Saf/
Rory and I just got into the Closed Alpha that I mentioned in the Alpha/Beta thread [ > ], and we can each invite two people to play (it's a 3v3 game). So that's a total of six people who can get into this so far. The alpha ends on Monday the 23rd at 8PM UTC. I've marked it on the calendar. If you want to try this out, let us know. I will definitely give this a shot, and stream it on Twitch. It seems to be Ubi's attempt at their own Rocket League, but it doesn't sound as good, and as you can see from my linked review I wasn't a big fan of Rocket League in the first place. You never know though, they seem to be putting so much effort into this that it might be fun. The concept certainly sounds unique, and I can't imagine from the description how playing the game will feel, which is why I'll definitely be trying it.

Here's the registration link again, for those who still haven't applied (though as I said, if you'll be using our invites you won't need this): https://roller-champions.ubisoft.com/game/en-us/alpha
https://www.allgamesdelta.net/2020/03/r ... nches.html


All Games Delta wrote:Later this month, fans can also get a sneak peek at Resident Evil Resistance, the asymmetrical 4 vs 1 multiplayer experience that is included with Resident Evil 3. In the open beta starting March 27, players have the option to take on the role of Daniel Fabron, one of the game's four Masterminds, to run twisted experiments using various bioweapons and traps on a group of everyday civilians. In turn, players can band together as one of four of the six Survivors, each possessing a unique ability to help their team escape the experiment before time runs out. The Resident Evil Resistance open beta starts March 27 at 03:00 h ET / 07:00 h GMT / 08:00 h CET for Xbox One and PlayStation 4, and 13:00 h ET / 17:00 h GMT / 18:00 CET for Steam. The open beta will end when the game launches on April 3.


Resident Evil 3 Demo & Resistance Open Beta Trailer
https://www.youtube.com/watch?v=Cy3PLj3uStk




I've done the math and you can find the UTC times for the Steam version on the CULT calendar. It launches the same day as the

Predator

game [ > ], both of them 4v1 games, but the

Predator

test only lasts three days, while

Resistance

goes on for a whole week, so I will give priority to

Predator

that weekend and will leave

Resistance

for the following week, unless of course people are preferring and playing

Resistance

. But I think that

Predator

will turn out to be the better of the two anyway, based on what they've shown. In any case, I think both will be worth a few goes at least for the laughs, so mark the dates and clear out some space in your drives and download as early as you can, so you can be ready when people decide to give the games a try. If no one else is interested I will at least try the predator and mastermind roles on my own, but it'd be nice to try out also the marines and the survivors with as many people as possible.



There's a new mod coming out for Factorio today, Krastorio 2, highlighted by the official devs themselves in their latest update, that "adds a significant amount of content beyond the rocket launch, including a new win condition".


Bilka wrote:After automating rocket launches there are three more tech cards waiting to be researched, two new resources waiting to be harvested, and many more useful items to be crafted. All that production and the win condition take a significant amount of power but thankfully the mod adds an effective power generation option to fulfill the factory's needs.


The star of the show is probably fusion power: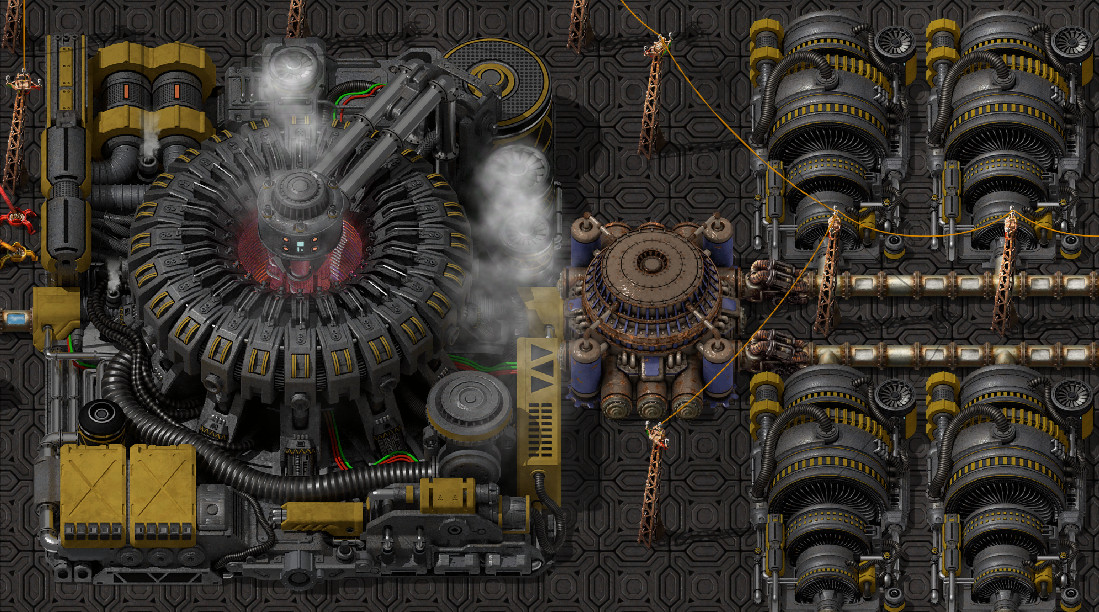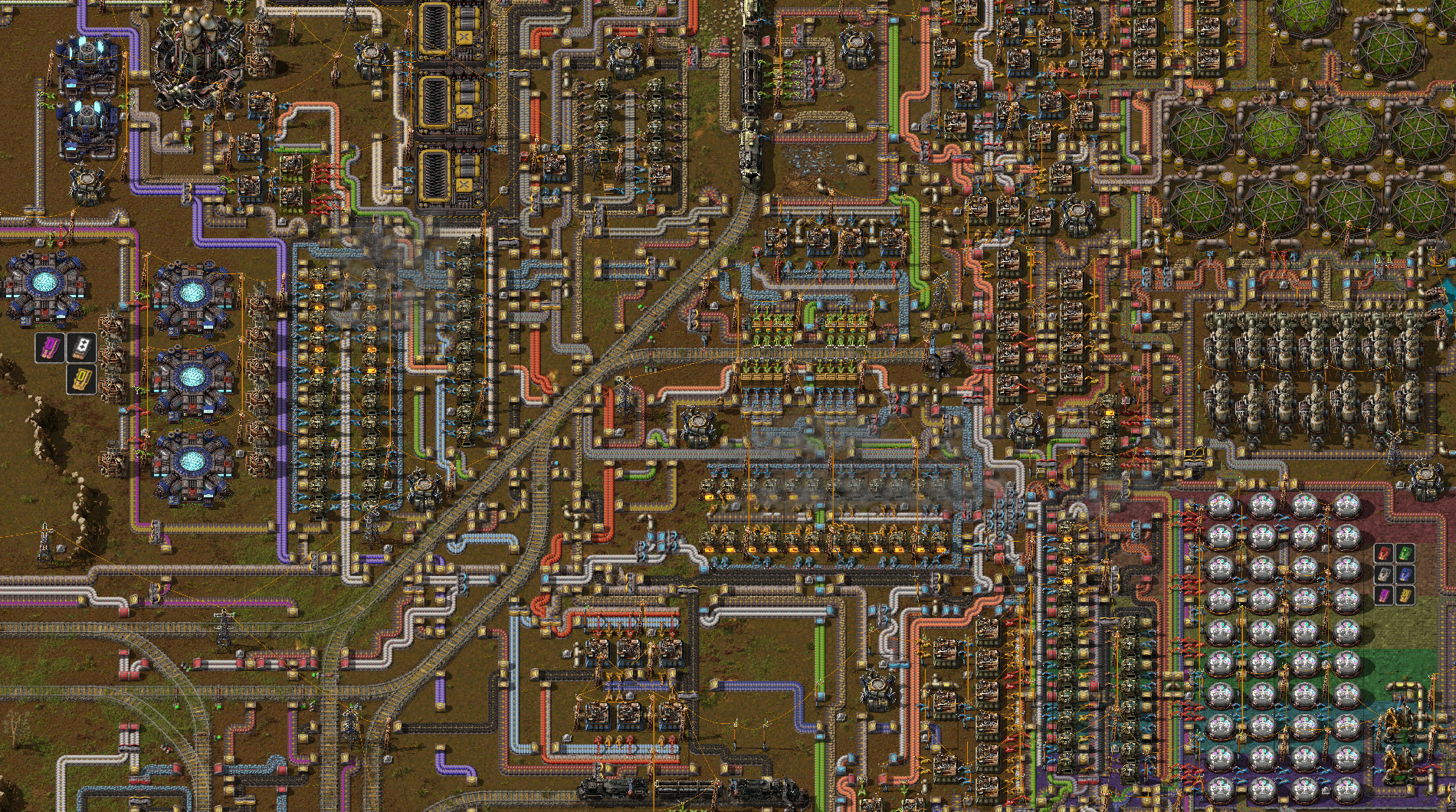 Read the entire official blog entry here: https://factorio.com/blog/post/fff-338

And check out the mod here: https://forums.factorio.com/82122


Anno 1800 has a free trial from 12 March 3PM UTC to 16 March 2PM UTC: https://www.epicgames.com/store/en-US/p ... free-trial




They call it a "Trial Weekend", but it actually lasts a whopping four days starting right now, so I think this might be part of Epic's attempt to one-up Steam on everything. Steam's trial weekends were already three days usually, so I like where this trend is going. Trial Weeks next please.

I bought the game a long time ago anyway, and was looking to try the co-op and versus MP, because I hear they are good: https://butwhythopodcast.com/2020/01/06 ... anno-1800/


Kate Sánchez wrote:It's beyond just playing together, two players against the world of pirates or others in their multiplayer lobby, with their own resources.

Anno 1800

co-op allows players to share the responsibilities of raising and managing an industrial empire with up to four people per team, with four team slots, there can be matches up to 16 players. We got the chance to check out the co-op mode and after putting nearly 100 hours, we have to say, it's one of the best city building-strategy experiences we've had in a long time.
Kate Sánchez wrote:At the end of the day, we closed out 2019 playing

Anno 1800

, and with a co-op mode, we were able to take our game time and strategy to a new level. With campaign, multiplayer, and co-op, the game offers up different experiences with a little bit of something for fans of the game-type. If you haven't picked up

Anno 1800

yet, and love RTS, this is a game to play, and it's even better with a partner.


I already have a partner lined up for the campaign as Robo is installing right now, and Hanged Man is interested too. We'll be playing the campaign with Robo throughout the trial period, and when more people hop in we'll be trying the 4v4v4v4 versus mode that sounds amazing. Everyone is welcome to join us, and remember: it makes sense to set aside your other games when something cool like this lands a free trial. Your other games aren't going anywhere, but the trial that you and all your friends can play for free is. See y'all on Discord, and on Twitch! And don't forget to check the Cult Schedule on the sidebar for all the cool new games we'll be trying because the next couple of weeks look busy!



Good call, I went ahead and registered icycalm because I googled Modern Warfare and it seems to have an in-game clan system as you say, and the two games are supposed to be linked, so it makes sense that the same system will carry across them. So let's just register our plain names.





I'm definitely up for it!

Just gotta sign up apparently. You can do that by scrolling to the bottom of this page, putting your email in, and then following the steps from there:

https://www.callofduty.com/warzone

It'll also ask you what you want your Activision ID to be, which is apparently what other players will see in-game as your name. Are we going to be putting our clan tag in the ID? All of the Call of Duty titles I've played have normally had a separate in-game entry for clan tags that you can change whenever, I don't think this one will be different, but who knows.





https://www.patreon.com/posts/34752250


icycalm wrote:

Introducing the Cult Schedule

I set this up at the start of the year, but I only just now began updating it seriously, so I'd like to take a moment to formally introduce it. It's a Google Calendar integrated into the

Insomnia

frontpage (on the left sidebar, about halfway down), showing all upcoming events I have planned for the clan, as well as the big multiplayer sessions the members themselves have set up. Currently, it looks like this:

Some of the players who were active in multiple teams were having trouble keeping track of the various sessions they had scheduled, so I figured a calendar would solve that, and once I had the idea for the calendar I decided to take it one step further and get a bit more organized in planning for alpha/beta and launch day participation for us, because these can make for some extremely fun times. Not only are these sessions about brand-new or even unreleased games, which in itself is hella exciting, but participation is also often free, which means more people can join in, which is even more exciting, and that's why I've decided to devote considerable focus to these events, and promote them strongly on the frontpage, and on Discord. In the past, I would have been against playing unfinished code, but times have changed, and we had a great time playing and streaming the

GTFO

beta on a whim with the guys back in December [

>

], a session which, in conjunction with the news that

New World

[

>

] is being nerfed for release and that therefore the alpha will have been better than the finished game, opened my eyes and changed my thinking on this matter. In

New World

's case I was a fool to decline to play the alpha, even though I eventually received a key for it. But I thought I may as well wait for the final game, to play it with the whole team, since it is an MMO after all. And I was dead wrong. In

GTFO

's case, the game was a blast for the four-five hours that we played it, but that's about where the tedium kicked in (more on which you can read in the review), so we were glad to have avoided paying the $140 that our four copies would have cost us. In both cases,

free pre-release code was a better experience than waiting, and paying for, the final games

, and that's why, from now on, The Cult and I will devote considerable attention to this dimension of gaming, and report on it on the

Insomnia

frontpage to some depth. Add to that launch day sessions for the coolest multiplayer games coming out throughout the year, games like

Starbase

,

Humankind

,

Age of Empires IV

, and so on, that deserve to be bought and played sight-unseen, and of course regular sessions for the best games of all time like

Wildlands

,

PA

, and the like, and I think it's not an exaggeration to say that the resulting schedule will be a

cult schedule

, or please show me any other group of people on the internet that does anything comparable.

And it all starts officially tomorrow(/today, depending on your time zone) with the much-anticipated 150-player F2P BR

Call of Duty: Warzone

, of which I've already written extensively on Discord and in the forum [

>

]. If you are into these types of games, you owe it to yourself to be there for this, as it promises to be the apex of the genre.

But even if you're not planning to join us for any of these games, the calendar may still be useful to you if you follow our adventures on Twitch, as it will also double as our Twitch schedule, since we'll be streaming most of these sessions. I am in fact looking into integrating the calendar in the area beneath the Twitch channel, for the benefit of those who find us through Twitch. Most heavy streamers have a schedule of the sort, but they play boring games, and hardly more than a couple of games anyway, so we will definitely have the most exciting schedule on all of Twitch, guaranteed. And note that if you use Google Calendar yourself, you can click on the various events and add them to your own calendars for automated reminders and the like.

So that's what the Cult Schedule is. I believe it will motivate me and all of us to cram even more excitement and fun into the site and the clan, and take our activity to the next level, and I hope the clan members and the readers will feel the same. See you all on Discord, and on Twitch.
So Warzone will be a standalone F2P BR title dropping tomorrow/today, Tuesday, March 10 at 15:00 UTC for owners of Modern Warfare, and 19:00 UTC for everyone else, and I plan to be there (at the later time) because the game sounds awesome. I am hoping others will be excited too and show up so we can fill out those teams. Shouldn't be too hard as there will only be trios available to start with. That's actually my only gripe about the game, because everything else sounds awesome: 150 players, massive map, lots of vehicles including helicopters, and a bunch of new mechanics that sound interesting. Read about it all here: https://blog.activision.com/call-of-dut ... ty-Warzone

Then watch the trailer here: https://www.youtube.com/watch?v=0E44DClsX5Q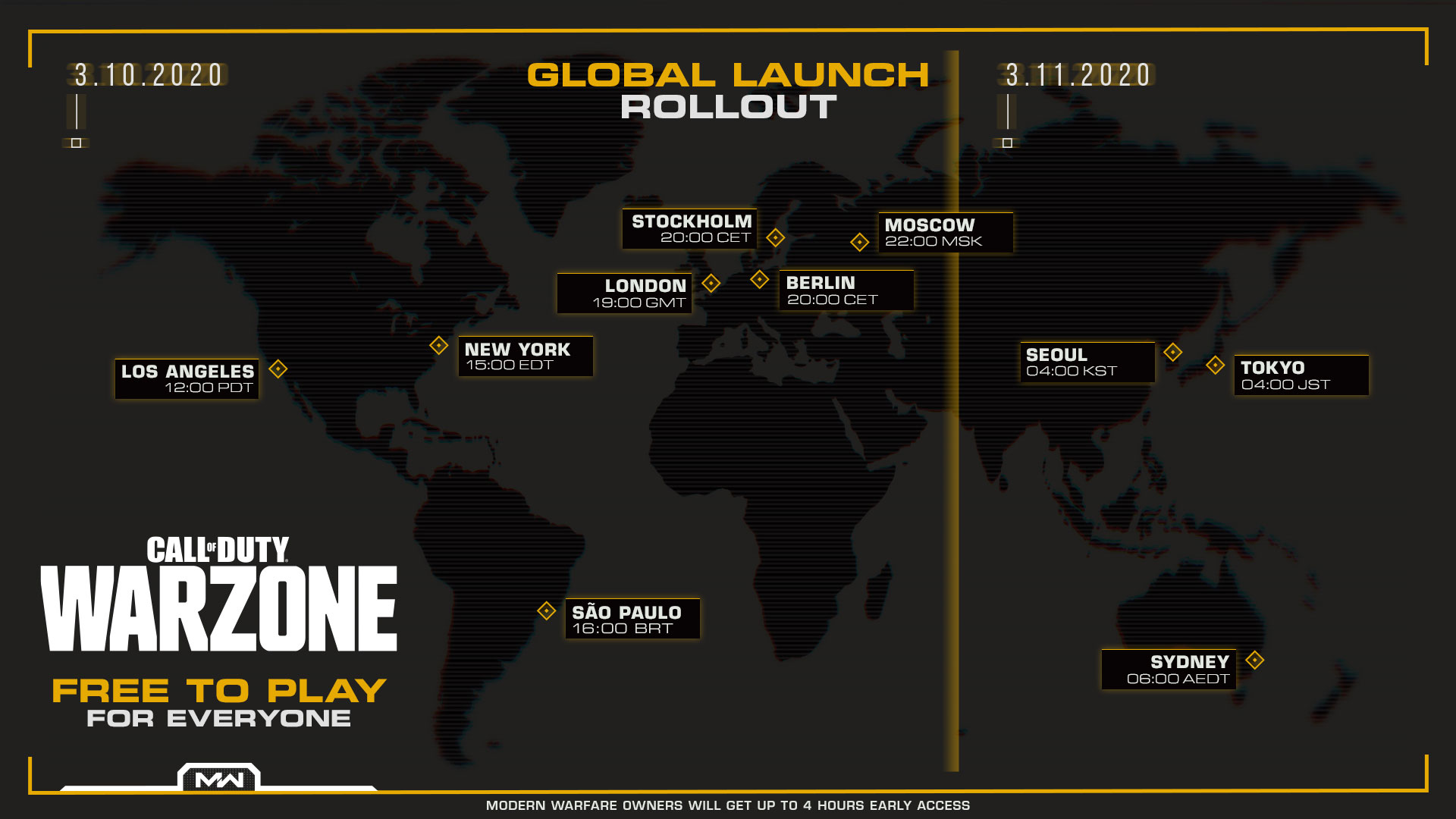 This might well end up being the best BR yet, and it's always super-exciting to get into these games early. And it doesn't get any earlier than tomorrow! So see you there!


P.S. It's also cross-play, so if you're on console, you're good to go.
Predator: Hunting Grounds trial weekend set for March 27 to 29
https://www.gematsu.com/2020/02/predato ... h-27-to-29


Sal Romano wrote:A trial weekend for

Predator: Hunting Grounds

will run from March 27 to 29 for PlayStation 4 players with a PlayStation Plus membership and PC players via the Epic Games Store, publisher Sony Interactive Entertainment and developer IllFonic announced. Like the full game, the trial will support cross-play between platforms.

The trial will be available to download on March 27 in Japan at 15:00 JST, in Europe at 4:00 p.m. GMT, and in North America at 5:00 p.m. PT / 8:00 p.m. ET.

Players will be able to play solo as the Predator or team up online with three others as part of a Fireteam.


Predator: Hunting Grounds Free Trial Announcement
https://www.youtube.com/watch?v=058flT5gdOI

I penciled it in the calendar. There's no need to apply for anything, it will be available for everyone. I hope we can get some matches in with a full team over the weekend. It looks pretty good for what it is.



Closed Alpha for Ubisoft's upcoming 3v3 F2P sports game will take place between March 11 and 23. Register here for access: https://roller-champions.ubisoft.com/game/en-us/alpha




Might be a good laugh for a couple of hours: https://en.wikipedia.org/wiki/Roller_Champions


Wikipedia wrote:Roller Champions is a 3v3 competitive multiplayer sports game played from a third-person perspective. In the game, two teams of players compete against each other to earn five points within seven minutes by throwing a ball into a goal. In order to score, a player must gain possession of the ball and skate at least one lap without being interrupted by opponents. Subsequent laps can be completed by other teammates by passing the ball to them. Players can earn more points per goal by completing more laps, though their progress will be lost when they are stopped by opponents. When one team gains possession of the ball, another team must try to tackle and knock over their opponents, though such attacks can be dodged. Players gain more followers when they win a match, which will allow players to compete in matches with larger crowds.
CCTV Update
https://rust.facepunch.com/blog/cctv-update


Facepunch wrote:This update brings CCTV Cameras and Computer Stations for all your surveillance needs as well as various optimizations and improvements.


Rust - CCTV Surveillance
https://www.youtube.com/watch?v=rDNUi7ixZak

Also awesome, and not shown in the trailer is the Trumpet Auto Turret!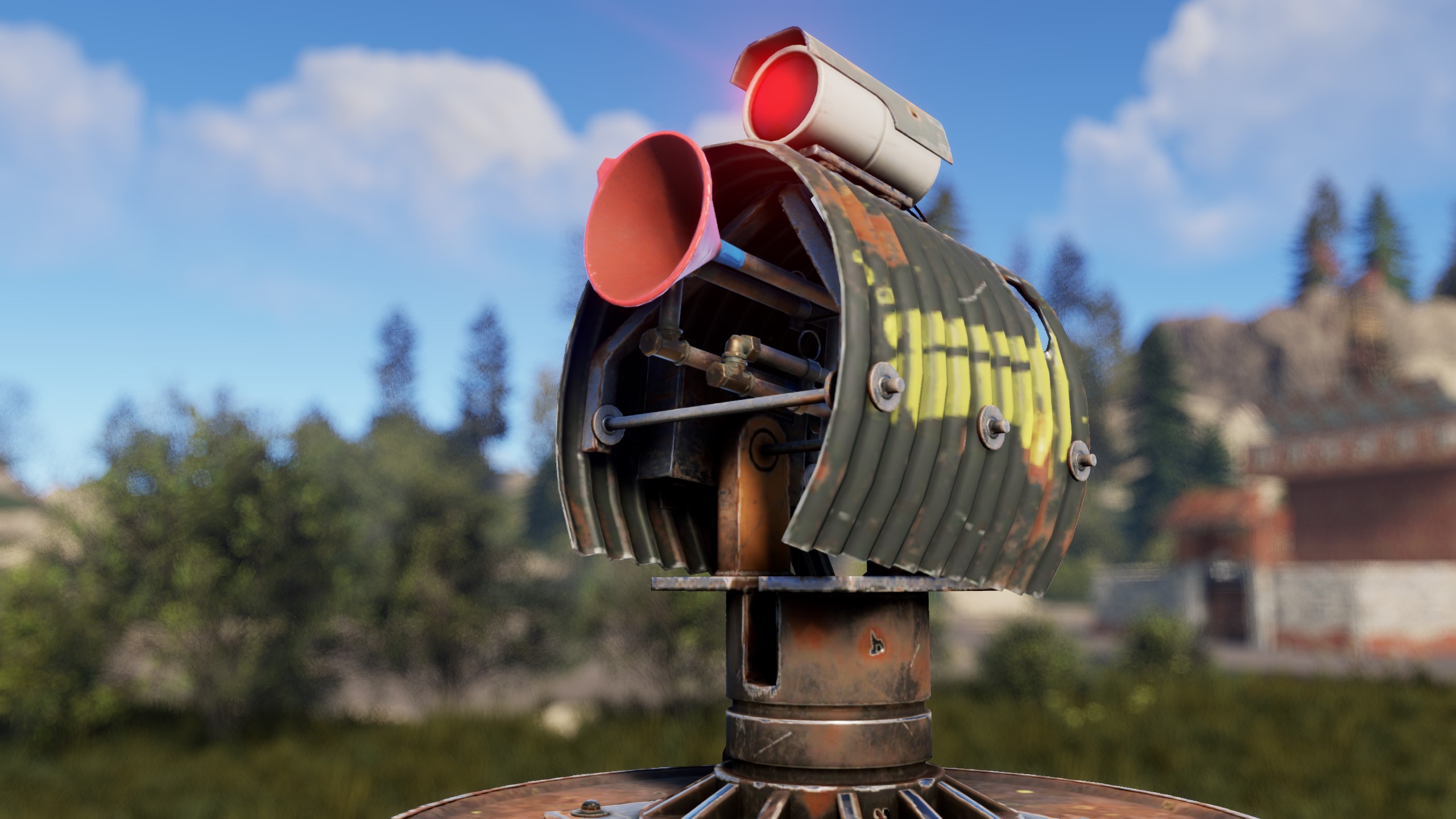 It will blare "random notes" when hostiles are around. So you don't even need a sentry, at least not for routine security 24/7.

Imagine being in your mancave, slaving away at some task, and suddenly you hear the blare. It's a whole new dimension of tactics and action.



New team-based battle royale with survival and betrayal elements in a snow setting is having a "technical playtest" on Saturday, March 14th from 17:00 UTC to 04:00 UTC the next morning. I signed up a while back and got my Steam key delivered by email just now. Installed, and it took up about 12GB.




Sign up here, and maybe you can get a key in time: https://scavengersgame.com/

If not, I am sure they'll send you one for the next test.

There is a confidentiality agreement and you are not permitted to stream or even so much as publish your impressions, because apparently the game is still rough. I still think it might be fun to shoot the shit with whoever happens to be online that day for a couple of hours, so I'll be there. I am going to pencil the event in our calendar. Report for duty on Discord if you're in.
CULT|icycalm
https://twitter.com/AllGamesDelta_/stat ... 5877383170


AllGamesDelta (@AllGamesDelta_) wrote:

Steam version of Granblue Fantasy Versus confirmed for March 13th release

https://t.co/pzCSSMkiPZ


Woah

CULT|Effay
Even though I imported the HK version I'll probably double dip and get this on steam too. The netplay is solid on PS4 so I imagine the PC version will be really good unless the port is really bad. Which I don't have any reason to believe will happen.
They did a good job making the game fun for people with little to no FG experience while still having depth for veteran/tournament players.
I'm not familiar with the source material at all, but all the characters are all beautiful and well animated with a variety of styles so there will pretty much be someone for everyone.
The source material is a browser/mobile gacha game so there will be plenty of waifus characters for DLC. There are 11 launch characters, five more coming for season 1 of DLC, and have planned on doing at least 3 seasons of DLC.

CULT|Beakman
Kinda sucks that it doesn't have rollback netcode. That will limit our matchups if many of the clan end up getting it.

CULT|Effay
Yeah, it sucks. The PS4 netplay is considerably better then GG Rev2 or DBFZ at least.
I'll let you guys know how it is.



So here we are, Insomnia's first Game of the Month award. I've been working on this project for a long time, and I'll explain my goals for it at length on Patreon soon, so let's just cut straight to the chase here and figure out which game should snag the award for our inaugural month of December 2019.

As you can see on the frontpage, all the major releases for this month have been reviewed on the site. And here are all the minor releases I am aware of, that haven't been reviewed yet:

https://www.microsoft.com/en-us/p/weakless/9pkmkqdccn35
https://www.epicgames.com/store/en-US/p ... story/home
https://store.steampowered.com/app/1096 ... rld_War_I/
https://store.steampowered.com/app/9369 ... ctitioner/
https://store.steampowered.com/app/8635 ... com_Nexus/
https://store.steampowered.com/app/1092 ... nsolvency/
https://store.steampowered.com/app/1193 ... ttlefield/
https://store.steampowered.com/app/1188930/Chrono_Ark/
https://store.steampowered.com/app/827610/Dead_End_Job/
https://store.steampowered.com/app/1016 ... _deceived/

As you can see, it's mostly crap. Feel free to dive into this stuff and let me know if any of it is worthwhile, and also feel free to let me know if I missed something. Some of the stuff above will be reviewed eventually, but none of it is urgent compared to the work remaining for all the other months, so I am not in a hurry to cover any of it anytime soon, unless someone makes the case why some of these games are notable.

So from this exhaustive search, three games have so far come on top (click on the images for the full reviews):




GTFO almost made the cut too, but not quite. Very promising game (we played the beta with a full team for a few hours just a few days before release [ > ]), that disappointed me in the end, and a lot of other people. It certainly deserves an honorable mention, and after you're done with our top three choices, and if you're still looking for more games from this month to play, I'd say GTFO should be your fourth.

Now, out of the three contenders, I have so far played, and streamed, a bit of two of them: Phoenix Point a while back [ > ] and Darksiders Genesis just a few hours ago [ > ]. Boneworks I haven't played because I don't have my VR setup right now, otherwise I would have played it. But my understanding of this game is that it's more like a tech demo than a proper game, so until I play it myself and change my mind about it, I am ruling it out for the award. Which leaves us two choices.

It's a tough choice, and from my limited time with the games I'd call them about equal. However, I will be finishing Genesis with Sergei in the next few days, so I will have an in-depth opinion on it soon. Phoenix Point, on the other hand, I am not planning to dive into anytime soon, because my short session with it was disappointing. It's not that it's a bad game, it's that it's clearly not the masterpiece I'd been expecting. And what's worse, it might even be inferior to the Firaxis XCOMs we were all hoping it would beat. So there's no sense in me playing PP before I've played the Firaxis games. And that's why I won't be playing it anytime soon.

In the end, regardless of how good Genesis ends up being, it will still probably be a close call with Phoenix Point, and it'll be ages before I've finished both and be in a position to deliver a final verdict on the contest. Until then, however, I need to give the award to one of them, and because I am having quite a bit more fun in the opening hours of Genesis than I had in the opening hours of PP, with its asinine mission design and other issues (see my stream for more details), I will give the award to Genesis.

Darksiders Genesis then is Insomnia's December 2019 Game of the Month until I change my mind about it, or someone posts here with a convincing argument to the contrary. You can also vote in the attached poll (visible only in the forum, not on the frontpage) for your personal favorite among the three finalists. The result of the poll will have no bearing on the award, it's just there so we can have a record of the popular vote among Insomnia's readers.

And with that done, I am off to work on January and then February 2020, so I can catch up with the latest releases. I hope you enjoyed this feature, and please look forward to the upcoming ones, as well as my Patreon post on my vision for this award.


Insomnia wrote:Boring, irritating, just not fun. This is nothing like Katamari.