https://store.steampowered.com/search/? ... topsellers




Orgy of the Will §1029: The essential value of extermination
http://orgyofthewill.net/discuss/viewtopic.php?t=976
Moved the main theme video over to the Ultimate Title Screen Ranking. It's more fitting at the top there.
Added Far Cry 5: https://www.youtube.com/watch?v=2QGlleI ... RHJE2hg62X
New Insomnia Awards ranking.

Ultimate Title Screen Ranking
https://www.youtube.com/playlist?list=P ... RHJE2hg62X

Only Starbase, Metroid Prime and Far Cry 2 there for now.

This YT channel has nothing but title screens, including of the latest games, so it's a good resource to rummage through for new entrants:

PressStartOnce
https://www.youtube.com/user/PressStartOnce

If you have any ideas for me, link them here.

It's a fuzzy line between trailer and title screen, because some of the best "title screens" are basically trailers, and in fact I already have a few of them in the Ultimate Trailer Ranking. But basically, if it uses a lot of game footage, it's a trailer, while pure title screens are understated and use very little to no actual game footage. Use your judgement on which thread and ranking a video should go in, and if I deem you picked the wrong category I'll let you know.
I added this to the Ultimate Trailer Ranking:

Marcus Warner - Main Theme (Starbase Original Soundtrack, Vol. 1)
https://www.youtube.com/watch?v=Mf0zrZ1r5ww

"But icy that's not a trailer."

It kinda is, actually. The image is a video, it's animated. And there's music. That's technically a trailer.

More to the point, I've never seen a more epic game video, nothing on the list compares with it. I may elaborate in the future. For now just enjoy it.
https://m.twitch.tv/amouranth




Top streamer right now in my Twitch recommendations. 14k viewers.

CULT Starbase stream: 1 viewer (me).

Starbase Steam rating: Mixed. Same as Atlas's, but better than Life is Feudal's, which ended as Mixed but reached Mostly Negative at times. It's early days though, it could well end up negative.

All the while Starbase's sales have plummeted from no. 4 to I can't even be bothered to count how far down it is right now, in one day of release.

And people wonder why I advocate extermination.

The robots in Starbase will advocate it too, when they arrive. That's why there are no humans in the game. It'll be in the prequel.
Sharks! And Underwater Update on Staging | Rust Update 30th July 2021
https://www.youtube.com/watch?v=yvw8Ylv6Q8s


Shadowfrax wrote:
All the underwater stuff is now on staging to test! Including Sharks, Spearguns, Submarines, Torpedoes, Fishing, and Underwater labs. Here's a full breakdown of what's currently live.. And all of course deeply SUBJECT TO CHANGE


Everything looks fantastic. There's real underwater combat now, two types of torpedoes (for submerged and surface targets), spearguns, and increased underwater visibility to make the depths fully playable now.



https://www.pcgamer.com/the-first-total ... a-success/


The first totally modular Intel laptop is now shipping, and I really hope it's a success

Everything on this laptop can be replaced, even the individual I/O ports.

Try as they might, manufacturers have just not had a ton of success pushing fully modular laptops into the mainstream. Framework hopes it can be the exception. We'll soon find out if it can, as the first Framework Laptop configurations that went up for preorder in May of this year have begun shipping out to customers.

"Batch 1 pre-orders for July delivery continue to ship out from our warehouse each day. We'll start Batch 2 shipments for August delivery soon after," Framework stated in a blog post. " We have a small number of Batch 2 Framework Laptop and Framework Laptop DIY Edition units currently available for sale, with just a fully refundable $100 deposit due today. If you pre-order now, some of you will be able to receive your order within 3-4 weeks."

Framework's timing is impeccable. Earlier this week, the US Federal Trade Commission voted unanimously (5-0) to adopt right-to-repair policies aimed at removing common roadblocks manufacturers like to put in place to dissuade small businesses and individuals from repairing products.

The Framework Laptop is a prime example of how manufacturers can embrace the right-to-repair philosophy. It is a fully modular laptop, right down to the motherboard and even the I/O ports. There are four expansion ports, and if you want to populate each one with a USB-C module, you can. Or you can mix and match any combination of USB-C, USB-A, DisplayPort, HDMI, and microSD card slot modules.

Framework also offers 250GB and 1TB storage expansion cards. Leveraging a USB 3.2 Gen 2 interface, the storage expansion cards offer sequential read speeds of up to 1,000MB/s and sequential write speeds of up to 375MB/s (250GB) or 1,000MB/s (1TB).

"We'll be adding new Expansion Cards over time, and we're also opening up the design to enable third parties and community members to create their own versions. We'll be making these available in the Framework Marketplace," Framework says.

Unfortunately, this is not really a gaming laptop, which is to say it doesn't support a discrete GPU. However, you should be able to use it with a cloud game streaming service like GeForce Now just fine. The other knock is that the CPU is attached to the mainboard, so upgrading the processor means a wholesale swap. That's generally a good idea anyway when going from one generation to the next, but is something to keep in mind when selecting which CPU you want right off the bat.

The introductory model sports a 13.5-inch display with a 2256 x 1504 resolution. It's powered by one of three 11th Gen Intel "Tiger Lake" processors: Core i7 1185G7, Core i7 1165G7, or Core i5 1135G7, each with onboard Xe graphics. That means you will get some level of gaming performance out of the onboard GPU, but likely only at low to medium settings, especially at that unusual resolution.

Pricing starts at $999 for a complete build consisting of a Core i5 1135G7 processor, 8GB of RAM, and 256GB of storage. Alternatively, Framework offers upgraded configurations, or you can start off with the DIY Edition for $749 and add only the parts you need. So for example if you already own laptop memory (SO-DIMMs) or NVMe storage, you can skip those parts and add them yourself.

That's a huge advantage over buying a regular laptop, as you're paying for every component whether you need it or not.

I said this in February when Framework announced this project and I'll repeat it now—I couldn't be happier Framework is giving the DIY laptop form factor a spirited run, and I hope it's a success. If it is, we could potentially see the company offer gaming laptop configurations in the future, and wouldn't that be neat.
Aren't there three independent tech trees? So that for now we could have one player from each region specializing in one of them?

Either way, we need one person from each region to volunteer for teching. Robo is in EU. Let us know who else wants to do it. The rest of us just mine and give them ore, at least until we have some kind of station and it gets easier to pool ore.

It wouldn't hurt to also start a thread in the Steam forum to ask if there are faster ways of pooling ore. I am banned so I can't post. The game's Discord is another option.
The co-op mining technique me and recoil tried doesn't really work, because it's very hard to find someone again once one of you heads back to the station. If you are in a group and turn your transponders on you can see a marker for each other about 1 km away, but beyond that nothing.

So the best way for us to make progress now is just to keep upgrading our starting ships and mining individually, until we have enough for icy's ship. Researching thrusters next would also speed things up a lot.
The way research works in this game is that you get points for crafting different items, and to craft stuff you need ore. To unlock e.g. the first station tech, you need to craft like 10 crafting benches, and I assume that later we'll need to make 100 chairs or 1000 engines and so on. If you're ever not sure what to do, just go out to the asteroid belt and start stockpiling a ton of ore.

For us to make fast progress, we need to have one person doing all the research, and to do this we need to pool all of our ore on one player. This is more difficult than pooling money, because there's no company ore bank, and we can't trade ores with people that are offline. Currently, we can only trade stuff just by dropping it on the ground bit by bit.

I think we should probably also have a second researcher who's playing in a different timezone to the main researcher. All the ore goes to whichever of them is online.

If we're currently building a ship or something, the same tactic applies: we need to all be on the same station and keep meeting up to give our ore to the one player who's buying the ship. I think most of us are on station 3 now.
shubn sold 24k worth of ores he got from asteroid belt mining in the time I sold 8k from station mining, so I don't think there's any activity in the station that's as lucrative as the asteroid belt. So Robo suggested we set up a mining operation in the belt, with several small ships mining independently and bringing their cargo to a central location where our big ship will be waiting to load up and make the long trek home to sell the cargo. Also, we set up crafting benches and whatever else we need in the big ship so we can keep teching up throughout this.

The goal is to make a shitload of money and resources and tech up enough to build our own mini-station and equip it with fighter ships as well as equip ourselves with guns and armor, so we can make some raids and perhaps claim some of the non-safe space. But for the first few days we just have to amass stuff and gear up, and the mining operation Robo suggested seems to be the most efficient way.

So first step is to buy the big yellow-red ship, and second step is to set up the mining operation.




Objections, suggestions and all long-term strategy discussion goes here.
Launch Trailer
https://www.youtube.com/watch?v=MWs3wzB-Mp4




It's stunning. We have to play it in 4P first chance we get.
https://store.steampowered.com/search/? ... topsellers




No. 4 right now, in Spain at least.

The crazy thing though is that three of the top four games are survival-crafters/builders or FP4X.

PC gamers know what's up.
I'll try to hop in tonight and Friday evening EST after work.
I'll also be able to hop on after work Friday.
I'm in. I'll join as soon as Steam finishes the file verification for the game.
https://steamcommunity.com/app/1063730/ ... 329948894/




FYI this was supposed to be FP4X, and it played as such with full loot PVP in early alphas until they realized these games aren't popular and nerfed it to more standard MMO mechanics. There's still building and apparently also territory claim, but you can't just kill people and take their shit. I am not sure how that works, it sounds impossible—I mean territory capture without full loot PVP—so I'd be interested to find out. But the fact everyone's talking about "reaching level 40" or whatever and getting burned out tells me that this is no longer FP4X. That's not how these games work, you haven't "seen everything" if you "reach level 40" in a FP4X, and you practically never get burned out on them if they are good games.

From all reports this was a very good FP4X in its early iterations—we even had a couple CULT players iirc try it and report that it's indeed great—so this is a tragedy what they did to this game. Fucking Amazon made ONE good game and they still managed to destroy it before launch.

Nevertheless the game is getting lots of hype before final release despite the nerfing—or because of it? I would really like to check it out, and with this refund scam it's apparently free now. It releases August 31, so we have some time to try it out later in the month once we cool off on Starbase.

For what it's worth, and I know it's worth less than nothing, the journalists are hyping it as "the next big thing".

There's a real buzz about Amazon's New World MMO
https://www.eurogamer.net/articles/2021 ... -world-mmo


Can it really be the next big thing?
A queue? I haven't queued to play an MMO since World of Warcraft in 2005. But earlier this week I had to wait half-an-hour to get into Amazon's New World closed beta because more than 300 people were ahead of me at 3pm. I know it's the school summer holiday but still. And that was just one European server - there are many.


There are queues every Thursday to get into 400-player

Rust

servers, but this retard hasn't heard of one of Steam's top 10 most popular games.

Don't forget also that currently it's frying GPUs.

Amazon's GPU-killing New World is trying to spin fans at 200,000 RPM
https://www.tweaktown.com/news/80794/am ... 0-000-rpm/



I can still play but later on in the evening, around 8:30 PM UTC.





I'll be there at around launch time (maybe an hour late), and I took Friday off.





I'll be there.





I'm the same as ysignal, I'll hop on after work Friday. Connection permitting, I might try to catch some of the stream on my phone.





Still in, gonna be a few hours late.





https://steamcommunity.com/app/454120/d ... 6703654216




LMK if your favorite game inspires this type of discussion in random threads kthx.
I'm still in, but I won't be able to join until Friday night (Sydney time). I'd planned to book some time off work to be there at launch, but that didn't pan out this time around.
I'll be around for the new launch time, but may be an hour late.
I'll be there on launch.
https://steamcommunity.com/app/1426450/ ... 7082826830


https://steamcommunity.com/app/1426450/ ... 080539896/


PlaySide wrote:
Multiplayer has been a topic of discussion amongst designers since this game entered development! If we find that there's a multiplayer experience worth making and it's in demand by our players, then it's something we'll look at bringing in sooner.

If we add multiplayer, we'll likely lean towards each player focusing on their own Keep, whilst finding interesting ways for players to interact with or against each other.
PlaySide wrote:
It's coming out as Early Access title in Fall 2021.


Day 1.



I'll be there too.





Cult War Journal #7: T-12 hours to Starbase launch!
https://www.patreon.com/posts/54237671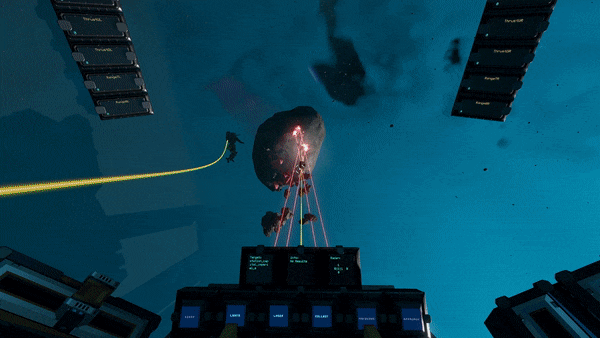 icycalm wrote:

In a few hours launches the most promising videogame release of 2021: Frozenbyte's

Starbase

, and I and The Cult will be there from the first moments. The exact start time is 3 PM UTC, and I've marked it on the schedule.
Ever wanted to GM a JRPG?

Of course not, if you play JRPGs you don't even know what a GM is, you think watching cutscenes is role-playing. Nevertheless, a brand-new VTT is in the works that will allow you to GM 2D JRPGs (which tend to be the best JRPGs precisely because they had limited cutscenes, so could focus on the actual game more). But the program isn't limited to JRPGs, even though the starting assets are inspired by them, and can be used for any kind of TTRPGs including D&D or whatever else you care to play.




In other words, the battle for videogame-like VTTs that TaleSpire began is heating up, and Multiverse is the new kid on the block. What's great about it is that the devs aren't stupid enough to try to "stay faithful to the tabletop experience" or some such tripe as the TaleSpire devs are spouting, but rather are fully focused on fully exploiting the strengths of videogames and the digital medium. What sucks about it is that it's only 2D, and the starting assets are "indie", i.e. pretty damn crappy. But the assets will doubtless improve once the asset marketplace opens and independent creators start populating it, and they might conceivably start featuring isometric 2D assets, so that you can play like Baldur's Gate or Planescape: Torment, which come considerably closer to 3D.

https://www.playmultiverse.com/


One More Multiverse wrote:
One More Multiverse is an online video game platform making it as easy as possible to make, play, stream, and share tabletop role-playing games, with a creator focused marketplace. For every one nerd who plays tabletop games, there are are ten more who would if getting started was just more intuitive. Jump into your next adventure with friends, whether they're across the table or across the world, in a click.


Trailer
https://www.youtube.com/watch?v=Lru0VUWrQTk

https://www.playmultiverse.com/faq


One More Multiverse wrote:

F.A.Q.

Where can I play Multiverse? Is it out?

Multiverse isn't publicly available yet! Our team is working hard to launch a public early access as soon as we can. We're currently in a small closed beta, and the best way to follow along (or get a chance to play early!) is to join our Discord:

https://discord.gg/multiverse

.

Is Multiverse based on a Tabletop RPG (e.g. Dungeons & Dragons, Shadowrun, etc)?

Multiverse is a platform to build, run and create any TTRPG (tabletop role-playing game)! We're not based on any one system, and we're re-imagining the TTRPG experience completely. We want to enhance what makes this genre so great: creating new worlds, telling unique stories, inhabiting authentic characters with your friends. And we want to offer you new options only possible here on Multiverse: video game-inspired mechanics, beautiful pixel art you can customize and use, and digital tools to make learning rules, running games, and teach new players way, way easier!

What platform does Multiverse run on?

Multiverse is browser-based! We also have Windows and Mac apps as an alternative. Right now it works best on your computer but we plan to create tablet and phone experiences too.

Can I play my favorite TTRPG (Vampire the Masquerade, Blades in the Dark, FATE, GURPS, etc.) on Multiverse?

Yes!! We are huge fans of all TTRPGs, especially indie ones. We don't yet have custom mechanics for every single game, but you can use Multiverse as a visual, collaborative sandbox, and in the future you'll be able to create, customize, and design your own games (with no code). We're working on official partnerships so if you have a game you're passionate about seeing on OMM, join our Discord (or Tweet us, or email us) and let us know! Mechanics won't be exactly the same because the web is a really different medium (and that's good!) but we're excited about how we can translate and enhance the games you already love. And of course, most excited about the new games and homebrew rules you will make.

How is this different from Roll20, Tabletop Simulator, Foundry, and other Virtual Tabletops?

Although "VTT" is the easiest shorthand to describe us, we don't think of ourselves as a virtual tabletop exactly. We aren't looking to recreate the traditional table experience (we're huge fans of it but gathering in-person isn't always possible). We want to expand the TTRPG experience with all the possibilities only digital gameplay can offer! We also have a unique and ambitious vision for our Marketplace. Our main goal is to grow the number the people playing TTRPG's, because we know that will enable more creators — game designers, artists, writers, GM's, storytellers — to make a living in our industry. So we spend just as much time thinking about creator tools as the player experience!

What is the setting of Multiverse like?

Multiverse isn't just one setting or one "world". We're creating a platform for people to tell their own stories. We're building a massive pixel art library (2500 assets so far and counting!) that is currently a bit fantasy-leaning, but will ultimately have lots of options. And don't forget — other artists (maybe yourself?) will be adding to our Marketplace all the time. We are also partnering with other creators and awesome existing IPs to make campaigns for their stories on Multiverse. Multiverse grows with its players and creators.

How much does Multiverse cost?

We want Multiverse to be accessible to everyone who wants it, while also being able to maintain a high standard of quality and make sure that creators on our platform are able to get paid. Because of that, buying content will be the primary way in which you pay for Multiverse once we're publicly and fully launched.

What is customizable in Multiverse? Can I upload my own assets to Multiverse?

Our rule as we develop Multiverse is that the tools that we use to build content on Multiverse are also available to you as GMs and creators and players. Our goal is to make as much content on Multiverse customizable as possible, everything from tilesets, characters, emotes, sounds, abilities, stories and game mechanics. You can upload these for your own campaigns, or share them on the Marketplace for everyone to use.


Also worth pointing out that their team is huge compared to the couple of guys + couple of freelancers that work on TaleSpire: https://www.playmultiverse.com/team

And they have some serious backing:

One More Multiverse Is Funded With $17.5 Million
https://gamerant.com/one-more-multiverse-funded/


Brittni Finley wrote:
One More Multiverse, a platform made to revolutionize the table-top RPG experience, has been funded by over $17.5 million thanks to some big names, including Oculus VR's co-founder and Crunchyroll's co-founder, along with many others.
https://twitter.com/SaraAlfageeh/status ... 5010294791


17.5 million is serious money. Some of the biggest crowdfunded videogame releases like Planetary Annihilation and Divinity: Original Sin were only funded with 2-3 million. The amount is so large compared to the middling complexity of the project that I am tempted to speculate it's rich people virtue-signalling by lavishing money on "POC" grifters (the devs racistly advertise themselves as "majority POC"; i.e. "we don't have many white people").

Will we be using it for Battlegrounds?

It really depends on the assets. If they have the assets we need for a scenario we're playing out, we'll certainly be using it, and it will be unlocked for whichever group unlocks that scenario.

So one to keep an eye on, overall, and it'll be interesting to see how the TaleSpire devs modify their roadmap in response. I am looking forward to getting my hands on it and trying it out.

Q3 2021.



Big VR game sale on at Humble: https://www.humblebundle.com/store/prom ... r-vr-sale/

I picked up Red Matter, Into The Radius VR, The Walking Dead: Saints and Sinners, Serious Sam VR: The Last Hope and Creed: Rise to Glory.





It occurred to me that my game was released in 2020, not 2021, so I moved it there. This means that Cyberpunk is no longer GOTY for 2020 but first runner-up, and Ghost of Tsushima second. I can tell you with 100% certainty that given a choice between playing my Ultimate Edition for the next couple of decades, or Cyberpunk 2077, I would choose my game no question. However, I haven't yet played Cyberpunk, so who knows. Maybe it's that good. We'll see when the time comes, but for the time being this is how things stand.

Moreover, looking at both Ghost of Tsushima and The Last of Us Part II, I couldn't in good conscience kick the latter off the list, because it actually seems more innovative than Ghost. Consider that Ghost is just another open-world game at the end of the day. As far as I know, it brings nothing new to the table, while TLoU2 seems to inaugurate a new level of interactive action setpieces. So Ghost is off and TLoU2 stays. At least for now.

As for 2021, TaleSpire is now back to GOTY, while Starbase is back to first runner-up and Humankind is back on the list as second runner-up. I've already put a dozen hours in TaleSpire, and will be playing both of the others well before the summer's over, so we'll have a very good grasp of what's going on with 2021 very soon.





The plot thickens!

8K TVs on sale on one of Spain's largest chain stores, sorted in ascending price order: https://www.elcorteingles.es/electronic ... g=priceAsc




The cheapest is a 55-inch model for only €976! That's mass-market price! Granted it's small, and it's discounted 45%, but take a look at other offers. The same model at 65 inches is only €1,486, and at 75 it's €2,464. These are 2020 models, but the 2021 75-inch update is only a bit more at €2,889.

Bottom line is 8K TVs can be had starting at about $1,000 now, so they are no longer out of the realm of possibility for even middle-class gamers. Adjust your buying plans and rig setups accordingly! THIS is the generation where 8K gaming becomes possible. Not with consoles, to be sure (since they don't even have the tactics and strategy titles that benefit the most from, and are currently playable at, 8K), but with high-end PCs, certainly (and that includes high-end laptops).

Next-gen even cutting-edge action titles will be playable at 8K. And I mean next PC gen that's coming in a year or two, not next console gen that's coming who knows when.


I got a warning and I will soon probably be banned. Mission accomplished though, I got their attention. I am not done either, not by a long shot, but the second round will take place on Patreon, and then on Twitter. These devs will learn what's up from me, whether they like it or not. And so will the entire gaming world eventually.
Mania+ was added with the DLC and iirc Mania was an unlockable difficulty. Hardest was the hardest level at launch iirc and that's why we chose it. We started playing at launch after all, and unlockable difficulties or difficulties added after launch are typically meant for autists or people too poor to buy multiple games.
https://steamcommunity.com/app/720620/e ... 3808545491

https://steamcommunity.com/app/720620/e ... 3808551507


Another option is triple-4K screens. A 3090 or 3080 can drive them, and they would be 25% faster than one 8K screen. Price of the three 4Ks should be about the same as the one 8K, and they would be more immersive for first-person games. Problem is you won't be able to run the cutting-edgiest stuff like Cyberpunk with full detail, but you'd be able to run anything less cutting-edge than that.

Triple-4Ks would have 75% the resolution of one 8K, so they would also be great for PA and generally RTS/RTT/city-building. Problem is, I already have a 4K TV, so it's not just a matter of buying two more, because I can't find the exact same model now. I'd need to buy three new ones... They ARE getting cheaper every month now.

The ultimate would be both an 8K and triple-4Ks. All we really need is another crypto boom to afford them...


P.S. Haven't seen any 8K projectors yet, but 4K prices have dropped within the realm of possibility.
I have some news on this!

Last time I reported on it, you could get 75 inches for €4,900. Now you can get 65 inches for €2,188. Granted it's ten fewer inches, but it's less than half price! That's huge progress in my book. Doubtless in countries with less taxes like the states you can get even better deals.

Samsung QLED 8K Q800T 65 Zoll (GQ65Q800TGTXZG) 4-side Boundless, Object Tracking Sound+, Quantum Prozessor 8K [Energieklasse G]
https://www.amazon.de/Samsung-GQ65Q800T ... 085KYP26V/

The fucking thing even has FreeSync!

https://www.samsung.com/es/tvs/qled-tv/ ... 800tatxxc/




Though the small print says "Not available on the 49" and 50" models".

Which means there ARE 49- and 50-inch models, which should be way cheaper! But I wouldn't buy such small sizes for 8K. It would defeat the entire purpose. I'd say about 65 is the least you should aim for when going for 8K, if you want to use it for strategy and tactics like I do.

Progress has been made also in terms of the connector and bandwidth standards. Apparently RTX 3000-series cards support HDMI 2.1, and there are now a few such monitors on the market. Also, confusing progress is being made on DisplayPort 2.

DisplayPort 2.0 monitors in late 2021
https://videocardz.com/newz/displayport ... er-in-2021

The first DisplayPort 2.0 monitors and GPUs to hit the market in late 2021
https://www.notebookcheck.net/The-first ... 161.0.html

It's not clear to me after skimming the above whether I would be able to get 8K60 out of say an RTX 3090 or 3080 (let alone laptop versions) on the above-linked TV. But my thinking is, if Linus could do it on a 2080 Ti, I should be able to do it on newer stuff.

I am not going too deep into research because I can't afford any of this right now. The moment I can afford it, I am diving deep, and once I have a setup I am resurrecting the PA events. Can you imagine PA at 7,680x4,320? Or TaleSpire for that matter? Your entire RTS/RTT/city-building library will need to be replayed on such a setup!

I can hardly control my excitement at the thought.

I think people who are loaded should be buying this stuff right now. Those who aren't should wait for one more generation. That way they'll get something more evolved that should last them several years.
More halfwits are piling on me in the thread, but at least I got one supporter: https://steamcommunity.com/app/720620/e ... 3807324893




I posted a bunch more stuff:

https://steamcommunity.com/app/720620/e ... 3808186200

https://steamcommunity.com/app/720620/e ... 3808229841




I had been meaning to write an "Open Letter to the Developers of TaleSpire" and post it on their Reddit, but now those halfwits teased out all my arguments in that comment thread. Someone should go post them on their Reddit to make sure they see it. It might actually influence them, even if they will probably publicly deny it. When I bitched about there being no snow and desert assets a few months back, they put them in within weeks. A mere couple of weeks later I think it was.
Hardest difficulty seems to be the standard difficulty to me and the guys I played with all said the same thing. Note that "Hardest" is the third-highest difficulty despite the name. We are steadily making it further and further as we play more. ysignal and I made it to what I am pretty sure is the second-to-last stage after maybe ten or twelve hours of playtime each and while we are both fairly familiar with the series neither of us have played many games in this genre. There is noticeable difficuly scaling where you have less health the more players you have and because we are forced to use Steam Remote Play Together to hit the max playercount you do need to put up with some slight input lag but I think with four similarly experienced players it should be pretty reasonable to 1CC the game on Hardest.
Retards in that comment thread are telling me to use my imagination "because that's what D&D is about!"

My reply: https://steamcommunity.com/app/720620/e ... 3806829776


Best gaming phone 2021: the top 10 mobile game performers
https://www.techradar.com/news/best-phone-for-gaming


Mark Knapp, Matt Swider, David Lumb wrote:
There are phones like the Asus ROG Phone 5, Lenovo Legion Phone Duel, and Nubia Red Magic 5G, which are all built specifically with gaming in mind, meaning they have things like extra high refresh rates, touch-sensitive triggers, cooling systems, and more. They can make calls and use apps like normal phones, but their perks make them geared toward long-lasting gaming session.


Just thought I'd make a thread.




I would never play a game on these things. What interests me about them is that they don't look as plain as normal phones, and would look nice on my desk next to other gaming devices.

At first I thought they'd be cheaper than normal phones, but it looks they are about the same price.