Insomnia review (2/5): https://culture.vg/forum/topic?t=7211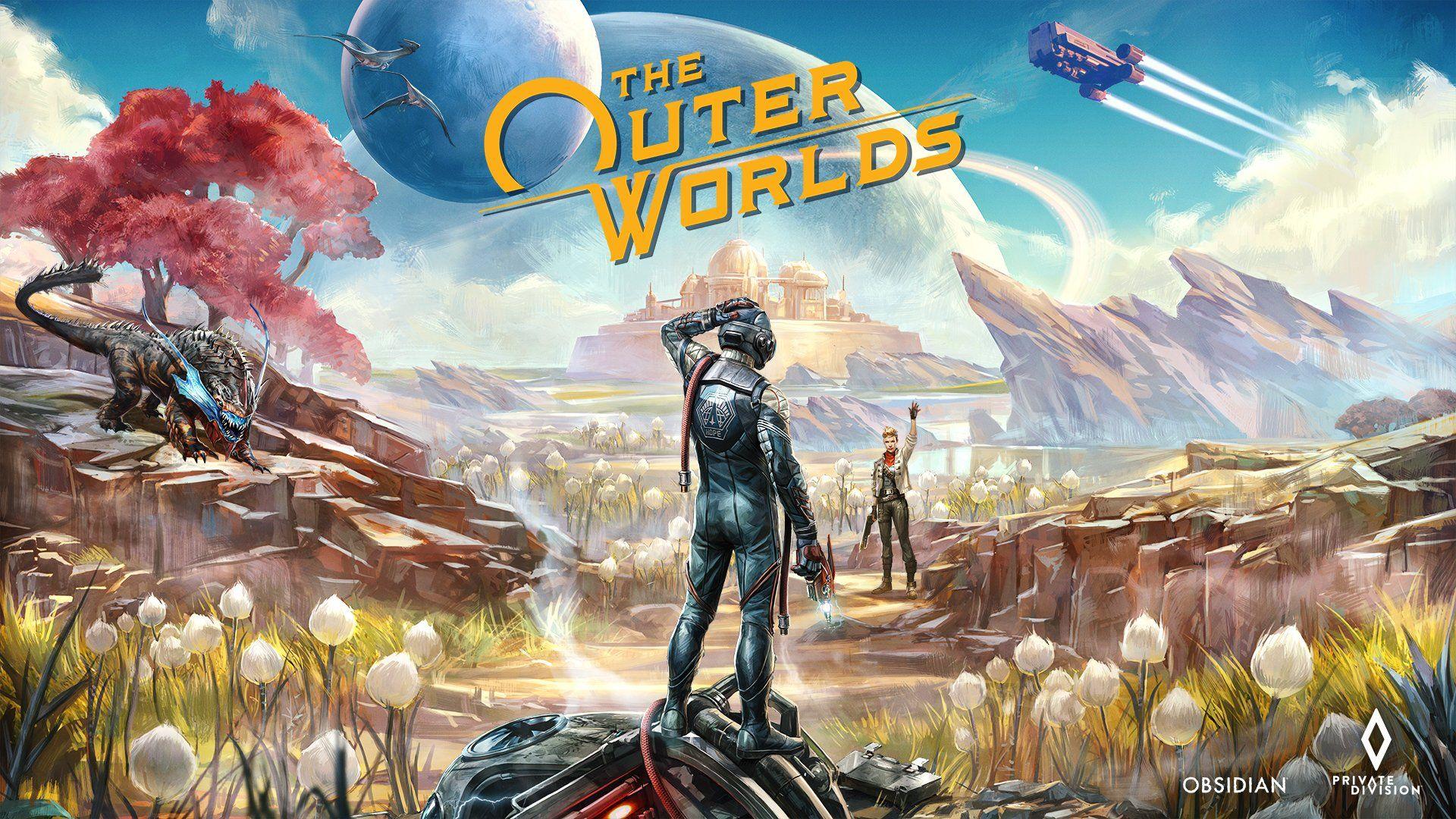 Insomnia wrote:With all the looting-shooting, tired jokes, emotionless NPC faces and crap visuals it feels like Borderlands.
Yeah, I don't know how I missed this beta. I need to up my beta game. We would have had first-hand accounts of the game now, and I guess a bit of fun too. But it doesn't look like it was such a big loss because the game frankly sounds ass. I've already noted on Discord, after looking at some footage for two minutes, that the game has infinite respawns a la Overwatch, and indeed that's the design they seem to be aiming for, so that completely tanked my interest in the game. And to cinch the deal here are some comments of people who did play the beta:

https://steamcommunity.com/app/1189800/ ... 971785645/


G-d wrote:

This game is the most casual game I've ever played

It's has literally nothing to master and it won't hold any competetive player for more than a day. Might be two days. Just skip it if you're looking for an intense pvp game.

Its price is not a problem, core gameplay itself is the biggest issue and the reason this game will die. Goodluck keeping this game alive only with casuals.

You know how many things in this game requires any skill? One, only one it's parry, also parry is kinda useless.
https://steamcommunity.com/app/1189800/ ... 4973112079
XERO wrote:Correct, the game is complete ♥♥♥♥.
Map designs are terrible.
Characters are boring as hell, the only cool design is Daemon (go figure, the mascot...)
The game takes ZERO skill outside of just sticking together with your team.
It's a casual arena brawler made for consoles. It will die.
https://steamcommunity.com/app/1189800/ ... 8632039282
XERO wrote:No see because in Overwatch you at least have to AIM. This ♥♥♥♥ even has auto aim FFS.
https://steamcommunity.com/app/1189800/ ... 8630335834
Simps R' Us wrote:This game probably will flop since there's very little skill ceiling with auto aim abilities. In fact I'm only buying it so I can get my 2 hours of making fun of it then refunding. None of the beta footage or streams looked remotely good. Expect a quick closure of this game after 2-3 months as ninja theory move on to make their next half ♥♥♥♥♥ product.
https://steamcommunity.com/app/1189800/ ... 8630643918
Jamesy Pooh wrote:i want it to do well. it looks interesting. its just something about the maps and watching people play. its like the game itself is just slow paced and dull. i feel like the map size is too big for what they are trying to accomplish here. especially since it's a melee third-person brawler/shooter. you'd think they would have more close quarters implemented in the map design. maybe increase the speed of the mounts? but i still think that only band-aids the issues.


None of them is talking about the stupid respawns and stupid points system, which are the real deal-killer, because they are all

Overwatch

-playing zombies,

but when even the Overwatch-playing zombies are trashing the game

, you know you have a real trashy game on your hands.

Don't waste your money on this unless you're loaded. And if you're loaded gift me a copy so I can trash the fuck out of it on Patreon (or give me access to your copy via Steam Family Sharing...)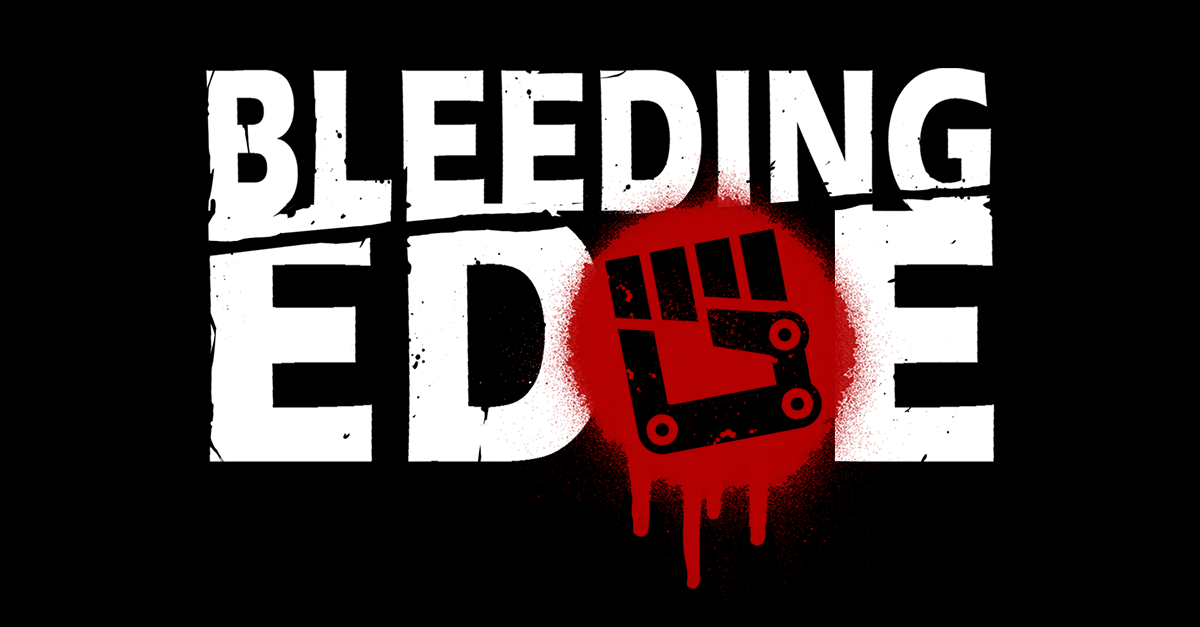 https://www.bleedingedge.com/

https://store.steampowered.com/app/1189 ... ding_Edge/

Ninja Theory's colorful 4v4 brawler drops on the 24th. Looks like CULT missed the beta earlier this month... but the game is cheap enough at $30 that everyone who's interested should be able to snap it up at launch.

Interestingly, the publisher on Steam is listed as Ninja Theory, just like with Hellblade. Seems like they are treating it as a pre-Microsoft deal game.


Ninja Theory wrote:Team Up. Cause Chaos.

Grab your team and tear it up in Bleeding Edge, an electrifying online brawler where every fighter comes mechanically enhanced for mayhem!

Choose your fighter from a diverse cast of colourful characters from the edges of society: burn rubber as bold and beautiful Buttercup with her detachable saw blade arms, wreak havoc as Black-Metal rocker Niđhöggr with his electrifying guitar solos or slash up the streets as Daemon, New York's most wanted assassin.

Come. Join us. The cybernetic clash of the century is about to begin!

NO STOPPING US

Synergise with your teammates to become an unstoppable force in the face of your enemies – freeze foes in time, control minds, ride missiles and unleash electrifying guitar solos in exhilarating action combat that rewards technique, timing and teamwork.

TREACHEROUS TERRAIN

Use your environment to your advantage with deadly arena hazards and gain the upper hand in moments of chaos. Yank opponents into a high voltage electric fence with Buttercup's saw blade. Charge enemy aggressors into the path of an oncoming train with Makutu's shoulder barge. Trap careless enemies within Maeve's magical cage and light a raging fire beneath their very feet.

MOD YOUR COMBAT, SHOW YOUR STYLE

Power up your fighters' weapons and abilities from a vast arsenal of cybernetic parts, all earnable through gameplay. Customise your hoverboard mounts to ride with style across the vibrant cyberpunk arenas of Bleeding Edge.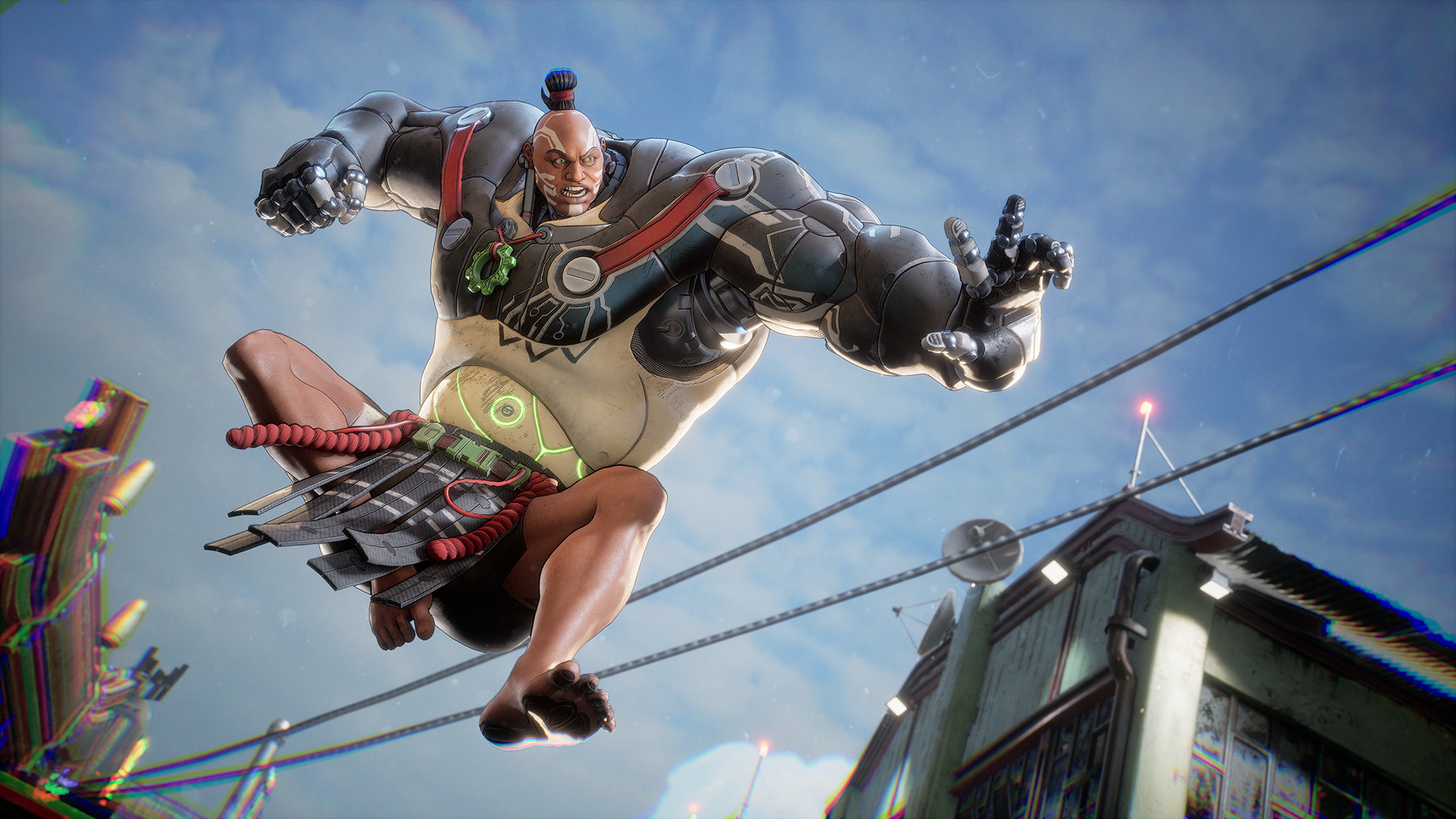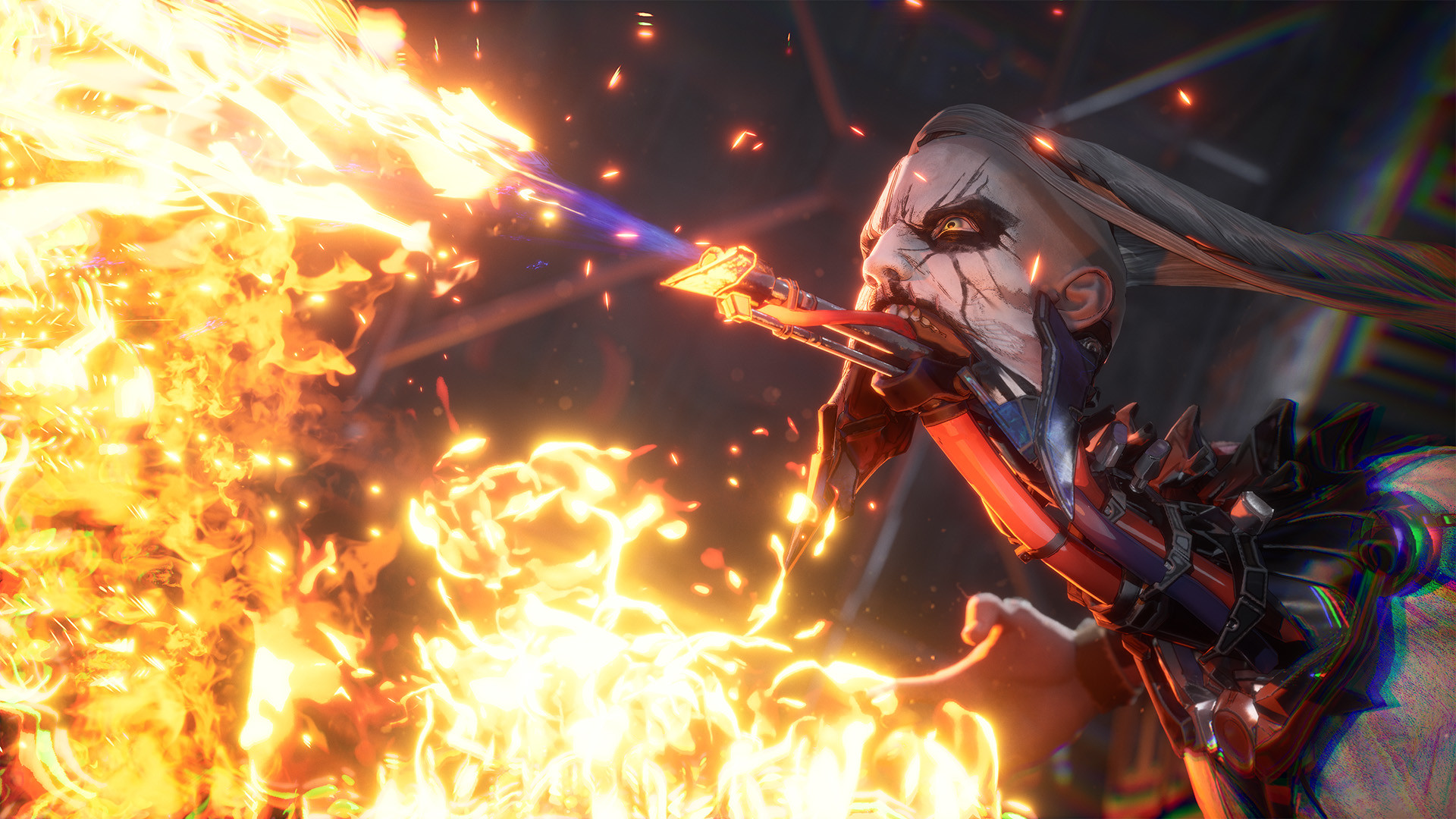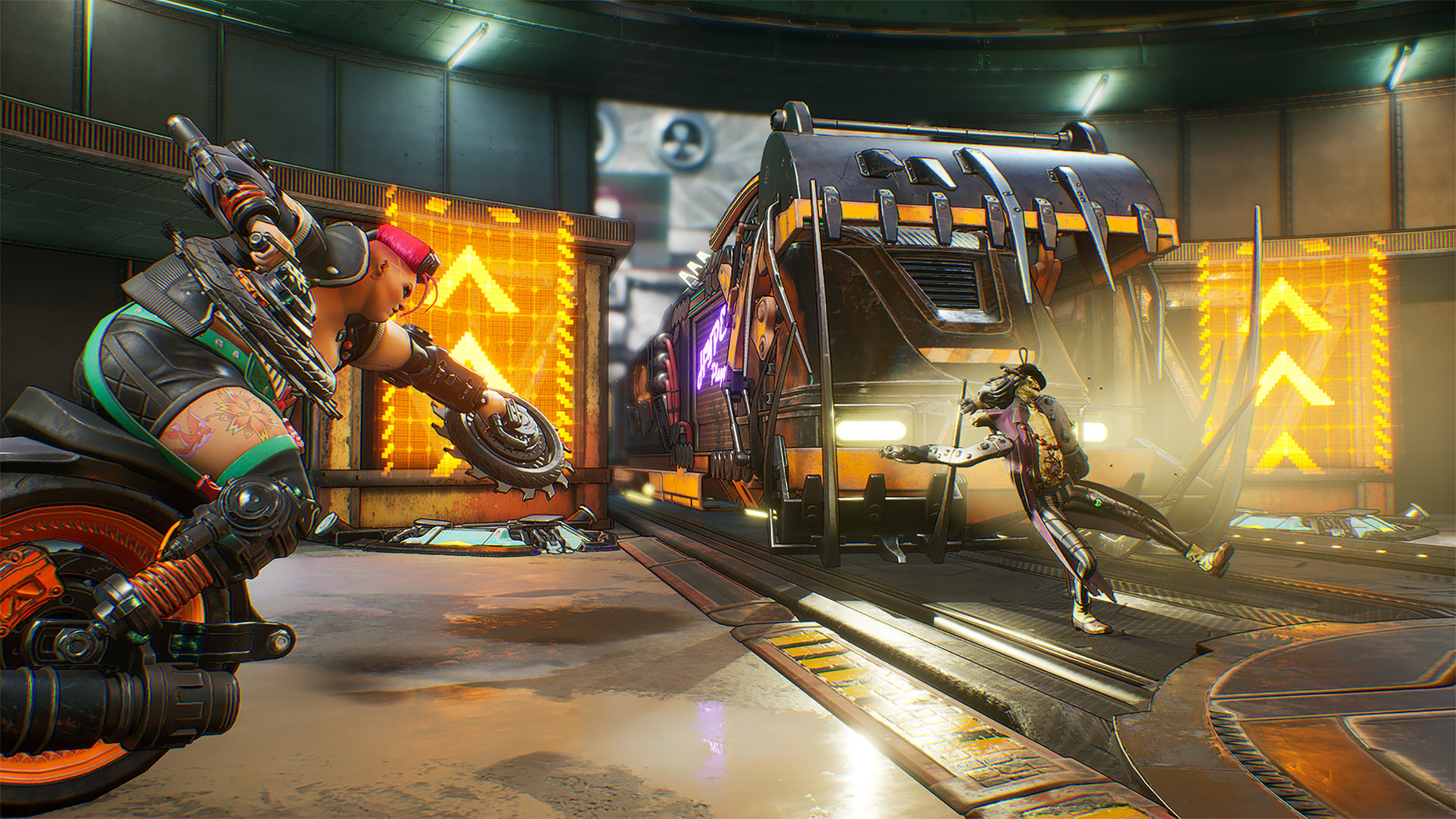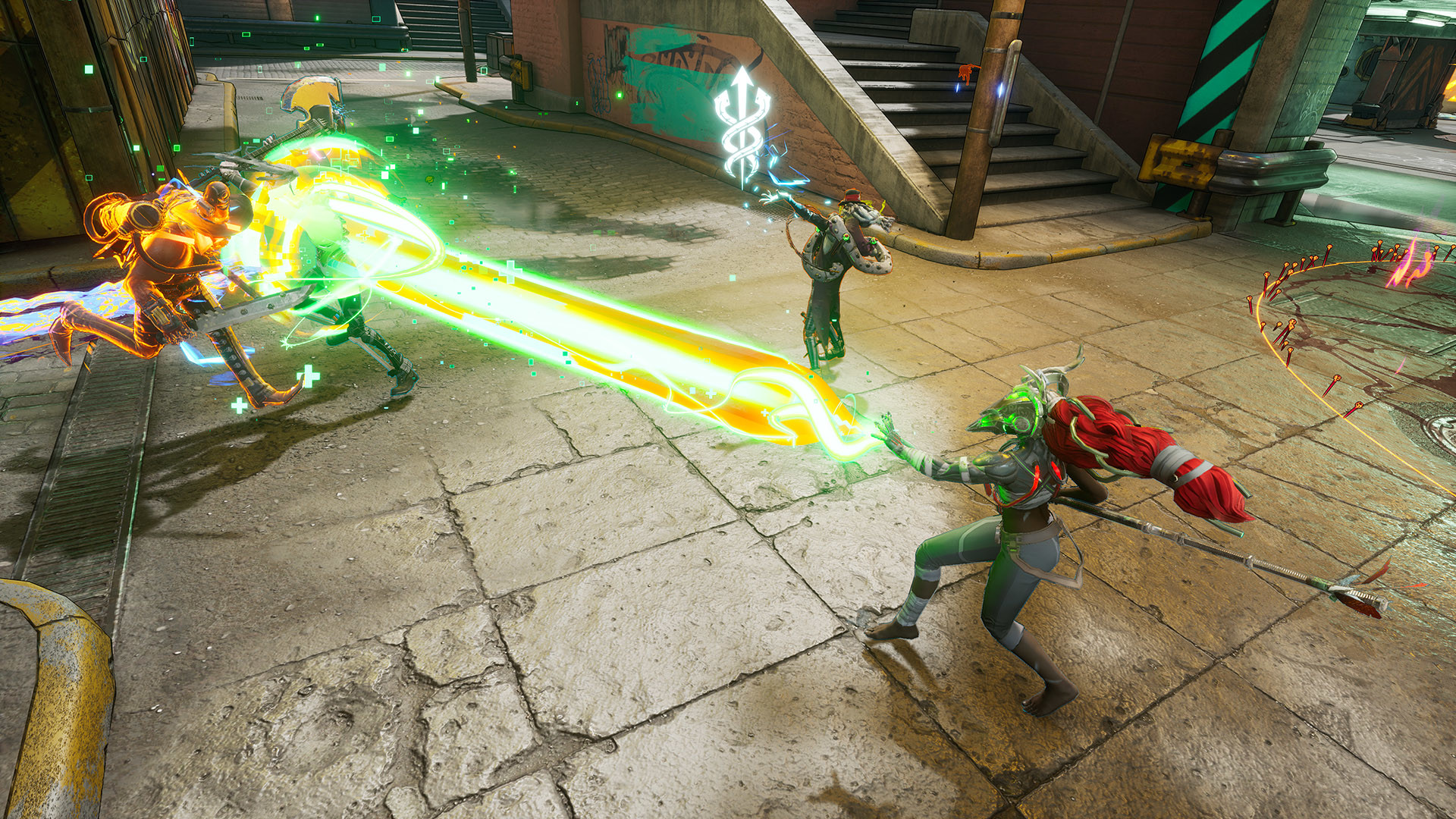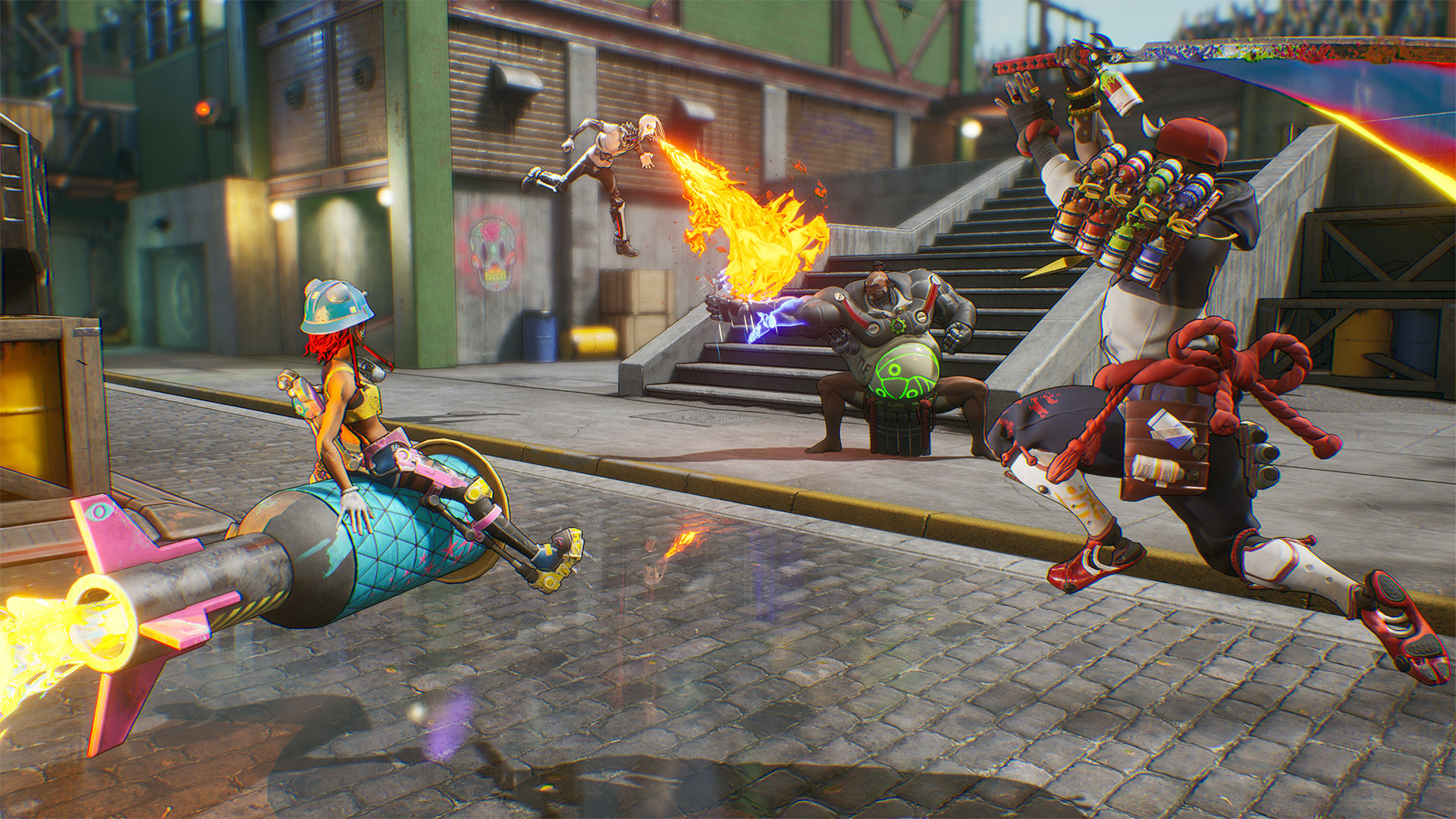 Launch Trailer
https://www.youtube.com/watch?v=Y32mKcAcUXk

Closed Beta — New Gameplay Today Live
https://www.youtube.com/watch?v=gpTKwV7xxwg



CULT|Effay
Quick impressions for Doom Eternal: combat is deeper, levels are bigger and have more exploration for secrets (though still linear so far), but there are some weird design choices that hurt the immersion (1UPs that instantly revive you when you die, all the pickups are this weird neon color that look completely out of place, secrets are these giant floating question marks)

CULT|icycalm
Thanks!
I wonder if they will fix any of this later
Or add options to turn them off etc.

CULT|Effay
I didn't see any options like that currently. You can customize your HUD completely, toggling every individual piece.
But I haven't found a way to turn off any of that other stuff in the graphics options or anything
There's a lot less cool little animations when you pick stuff up too. In Doom 2016 when you got a keycard off a dead guy the Doom Slayer physically takes the card off of the guy's uniform. In Eternal it's a floating glowing thing you just find wherever

CULT|icycalm
Ah that's disappointing
I am seeing people in my Steam friendlist who haven't bought a game in years come out of the woodwork and buy Doom Eternal today





Red Solstice 2 alpha application is up: https://us8.list-manage.com/survey?u=4e ... 27445c1b47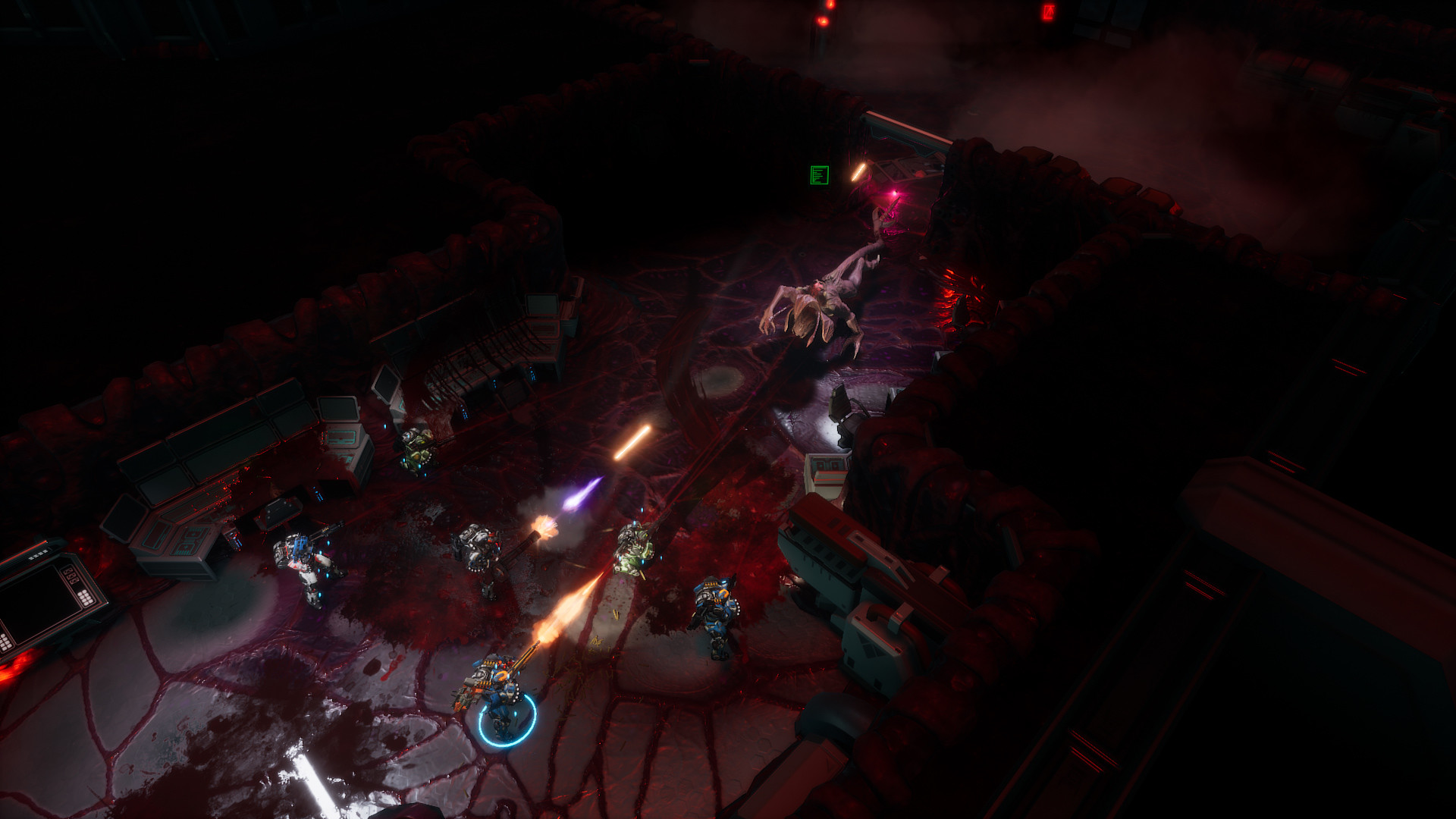 This is an 8-player X-COM-like with real-time battles. You run your base as normal, and when it's time to fight you drop in real-time in a group of eight. Sounds pretty insane, and if you get in the alpha with us you can check out very soon how well it delivers, so apply asap.

Check the news thread for more info on the game: https://culture.vg/forum/topic?t=7171

And the email I received from the developers:


Ironward wrote:

Red Solstice 2: Survivors - ALPHA info!

When and how does the alpha start?

As you know we have been working on the alpha for quite some time and we are working over the clock to deliver you the best possible early version of the game. That's why we have started a series of small pre-tests with a minimal amount of people to help us developers find the bugs and make the game overall better and fun.

The pre-test phase will last longer than expected, at least 1 month from now until we nail and polish everything. From that point we will start organizing and inviting more people until we reach the full alpha stage.

In order to recieve an invitation; you will need to fill in a small survey from your email so that we can see what is the best time frame we can invite people to play TRS2; note it will be a fixed amount of hours over a weekend.

Basically to get into alpha and enable us to give you a normal and appropriate time frame for you to play you will need to:

Fulfill this survey from your email address
https://us8.list-manage.com/survey?u=4e ... 27445c1b47

Wait for a confirmation email from us that you got invited into the alpha

Sign an NDA that you will not record and share any information with the public

Wait for the Steam key that will enable you to connect to our server and play it on the designated alpha hours

See you on the field and stay safe!
Untitled Goose Game ran away with the GDC Awards game of the year trophy
https://www.rockpapershotgun.com/2020/0 ... ar-trophy/

An entire year of tens of thousands of highly trained specialists working on countless millions' worth of hardware and software to produce, as the crowning achievement of their labors... an essentially 8-bit game starring a goose, with almost no complexity and difficulty.

If this were true, and this was really the best thing the industry accomplished last year, it would be reason enough to shut it down. Thankfully, it's not even remotely true. It's just hipsters being hipsters.
I moved this into the Submissions forum because it's really a review and added a 3/5 rating because that's what your verdict sounds like. If you abandon the game with no regrets, it's 2/5, but it doesn't sound like that's the case here.

And yeah, the game looks rotten. It's not just the "muted colours and general lack of energy"; the art is terrible. And of course it has an Overwhelmingly Positive rating on Steam...

I will post it in the Reviews/Play section when I get to doing the GOTM for March 2019.
The game is a lot tougher than the trailer makes it seem. I played it for a bit earlier this year on the Switch while at a friend's holiday house, since I didn't want to play any of its other games while in handheld mode, and some of the levels were devilishly hard.

The game is basically a block-pushing puzzle game, with the curious twist being that some of the blocks, while set up in a specific orientation, make up the rules that are followed by the sprites in the game. It was a pleasant surprise to me to find out that it doesn't fall in the trappings of other puzzle games that have an interesting premise, which are too easy or simple because the devs couldn't think of ways to further challenge the player beyond the basic concept. There are plenty of traps, where initially I thought I found an easy solution, actually failed the level, or rather, blocked the win condition (which is always achieved by getting onto whatever "IS WIN"). Pushing a button on the controller always undoes a step of any moves made, so it's not like any difficulty can be attributed towards making a mistake and having to re-do the entire level. On top of that, it frequently adds new rules, some of which wildly changed the properties of stuff I took for granted, so I never really got bored during my stint playing it.

The biggest problem however is the presentation. The game just looks so damn lame with its muted colours and general lack of energy. Even the music really feels like it doesn't want to be there after a while. Any random Japanese puzzle game looks so much more vibrant and exciting compared to this. At some point when I started getting really stuck, I found I just couldn't gather the enthusiasm needed to launch the game again. Kinda sucks really, since the premise is so unique, and the puzzles quite satisfying to solve.


★★★☆☆
Remember RAM Pressure, the F2P Campaign + VSMP X-COM-like for which I got a beta key a while back? Here are the relevant threads/posts:

News thread: https://culture.vg/forum/topic?t=6703
Private Beta post: https://culture.vg/forum/topic?t=7194




Well, the game entered open beta yesterday (I retroactively added it to the calendar, scroll a bit up to see it), and you can download it from here: https://rampressure.game/en#5

Watch the trailer here: https://www.youtube.com/watch?v=8ETGrpwwJ4Q

I am downloading it now and will have it ready to try out against people whenever we get a chance, so download and let us know if you're interested. I think you can play some campaign missions first to buff up before facing other players. It's cool what they've done with the story, where the players are supposed to belong to competing outfits for a downed alien craft. I am looking forward to seeing how this sort of thing works against human players.

https://steamcommunity.com/games/929490 ... 2446529129


QuadCom Interactive wrote:

March Update: Open Beta Kicked Off

Good news, Everyone!

We invite you to have a look how the game has changed in recent weeks. In late February and early March we released several serious cumulative updates (and we plan to continue in March). It makes no sense to list the entire list of changes, you could read it on our Discord channel or on Reddit. In short, we've done the following:

1. Optimized graphics (not completely, of course, but you could already play comfortably), added new lighting and shadows

2. Opened several new missions which continue the story campaign, as well as several new PvP maps

3. Game balance and economy are almost completely reworked. Experience is earned much faster, rewards for missions have increased, dull misses at point blank shooting have decreased, special offers in the game store have become more interesting

4. Fixed difficulty level of the first missions - they became easier to pass

5. Most bugs fixed

6. Seriously improved character animations

7. ... and much more. Everything that we promised to implement in the game in February is done

Second news: We've launched Open Beta Test. This means that invitation codes are no longer needed to register in the game. However, this doesn't mean that the game already looks the way we would like, it's not the release version yet. Early Access continues, and we are still changing and will change the game according to your feedback. But we decided to make free access for everyone and to advertise our game a little, so that the players had opponents in PvP. We'll be glad if you invite friends to the game or tell about it in social networks.

We welcome your feedback and suggestions:) Game client you could download now on our website.

Thank you!

Yours RAM Pressure Development Team
https://twitter.com/culturevg/status/12 ... 0496588802


https://www.exophase.com/user/Saf/
Rory and I just got into the Closed Alpha that I mentioned in the Alpha/Beta thread [ > ], and we can each invite two people to play (it's a 3v3 game). So that's a total of six people who can get into this so far. The alpha ends on Monday the 23rd at 8PM UTC. I've marked it on the calendar. If you want to try this out, let us know. I will definitely give this a shot, and stream it on Twitch. It seems to be Ubi's attempt at their own Rocket League, but it doesn't sound as good, and as you can see from my linked review I wasn't a big fan of Rocket League in the first place. You never know though, they seem to be putting so much effort into this that it might be fun. The concept certainly sounds unique, and I can't imagine from the description how playing the game will feel, which is why I'll definitely be trying it.

Here's the registration link again, for those who still haven't applied (though as I said, if you'll be using our invites you won't need this): https://roller-champions.ubisoft.com/game/en-us/alpha
https://www.allgamesdelta.net/2020/03/r ... nches.html


All Games Delta wrote:Later this month, fans can also get a sneak peek at Resident Evil Resistance, the asymmetrical 4 vs 1 multiplayer experience that is included with Resident Evil 3. In the open beta starting March 27, players have the option to take on the role of Daniel Fabron, one of the game's four Masterminds, to run twisted experiments using various bioweapons and traps on a group of everyday civilians. In turn, players can band together as one of four of the six Survivors, each possessing a unique ability to help their team escape the experiment before time runs out. The Resident Evil Resistance open beta starts March 27 at 03:00 h ET / 07:00 h GMT / 08:00 h CET for Xbox One and PlayStation 4, and 13:00 h ET / 17:00 h GMT / 18:00 CET for Steam. The open beta will end when the game launches on April 3.


Resident Evil 3 Demo & Resistance Open Beta Trailer
https://www.youtube.com/watch?v=Cy3PLj3uStk




I've done the math and you can find the UTC times for the Steam version on the CULT calendar. It launches the same day as the

Predator

game [ > ], both of them 4v1 games, but the

Predator

test only lasts three days, while

Resistance

goes on for a whole week, so I will give priority to

Predator

that weekend and will leave

Resistance

for the following week, unless of course people are preferring and playing

Resistance

. But I think that

Predator

will turn out to be the better of the two anyway, based on what they've shown. In any case, I think both will be worth a few goes at least for the laughs, so mark the dates and clear out some space in your drives and download as early as you can, so you can be ready when people decide to give the games a try. If no one else is interested I will at least try the predator and mastermind roles on my own, but it'd be nice to try out also the marines and the survivors with as many people as possible.



There's a new mod coming out for Factorio today, Krastorio 2, highlighted by the official devs themselves in their latest update, that "adds a significant amount of content beyond the rocket launch, including a new win condition".


Bilka wrote:After automating rocket launches there are three more tech cards waiting to be researched, two new resources waiting to be harvested, and many more useful items to be crafted. All that production and the win condition take a significant amount of power but thankfully the mod adds an effective power generation option to fulfill the factory's needs.


The star of the show is probably fusion power: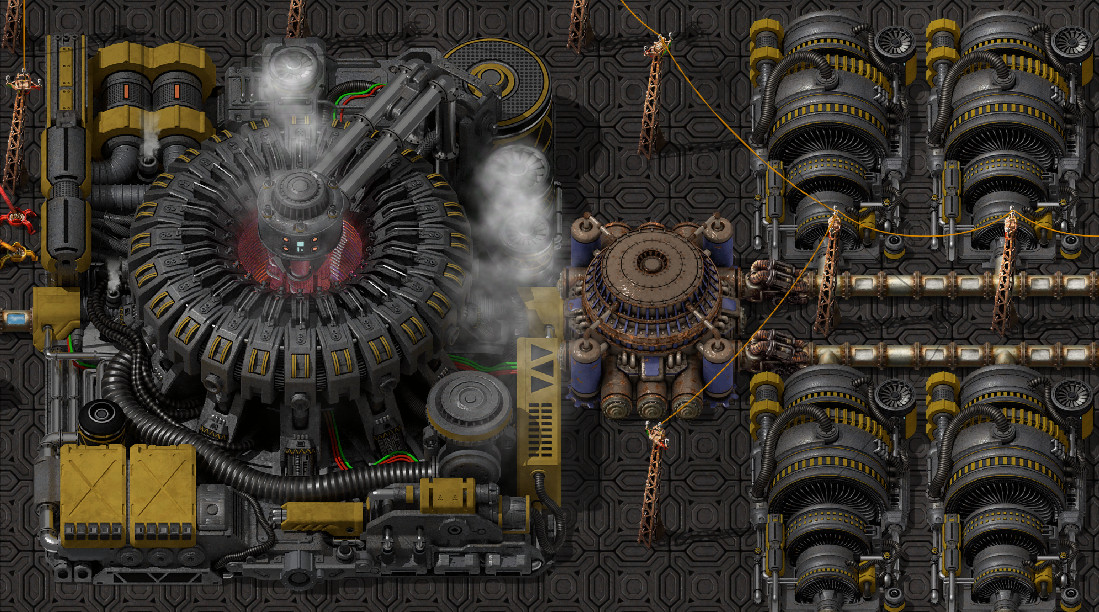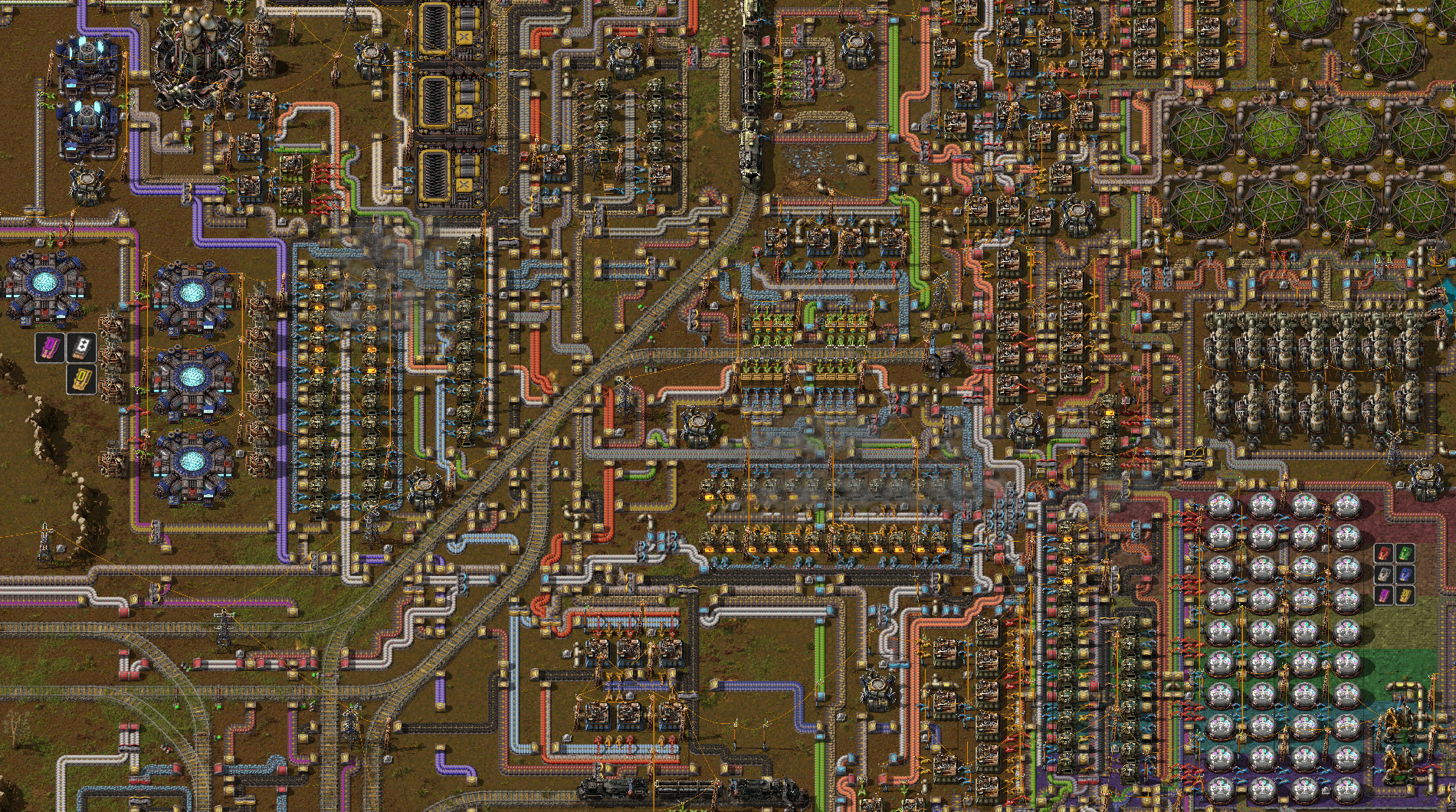 Read the entire official blog entry here: https://factorio.com/blog/post/fff-338

And check out the mod here: https://forums.factorio.com/82122


Anno 1800 has a free trial from 12 March 3PM UTC to 16 March 2PM UTC: https://www.epicgames.com/store/en-US/p ... free-trial




They call it a "Trial Weekend", but it actually lasts a whopping four days starting right now, so I think this might be part of Epic's attempt to one-up Steam on everything. Steam's trial weekends were already three days usually, so I like where this trend is going. Trial Weeks next please.

I bought the game a long time ago anyway, and was looking to try the co-op and versus MP, because I hear they are good: https://butwhythopodcast.com/2020/01/06 ... anno-1800/


Kate Sánchez wrote:It's beyond just playing together, two players against the world of pirates or others in their multiplayer lobby, with their own resources.

Anno 1800

co-op allows players to share the responsibilities of raising and managing an industrial empire with up to four people per team, with four team slots, there can be matches up to 16 players. We got the chance to check out the co-op mode and after putting nearly 100 hours, we have to say, it's one of the best city building-strategy experiences we've had in a long time.
Kate Sánchez wrote:At the end of the day, we closed out 2019 playing

Anno 1800

, and with a co-op mode, we were able to take our game time and strategy to a new level. With campaign, multiplayer, and co-op, the game offers up different experiences with a little bit of something for fans of the game-type. If you haven't picked up

Anno 1800

yet, and love RTS, this is a game to play, and it's even better with a partner.


I already have a partner lined up for the campaign as Robo is installing right now, and Hanged Man is interested too. We'll be playing the campaign with Robo throughout the trial period, and when more people hop in we'll be trying the 4v4v4v4 versus mode that sounds amazing. Everyone is welcome to join us, and remember: it makes sense to set aside your other games when something cool like this lands a free trial. Your other games aren't going anywhere, but the trial that you and all your friends can play for free is. See y'all on Discord, and on Twitch! And don't forget to check the Cult Schedule on the sidebar for all the cool new games we'll be trying because the next couple of weeks look busy!



Good call, I went ahead and registered icycalm because I googled Modern Warfare and it seems to have an in-game clan system as you say, and the two games are supposed to be linked, so it makes sense that the same system will carry across them. So let's just register our plain names.





I'm definitely up for it!

Just gotta sign up apparently. You can do that by scrolling to the bottom of this page, putting your email in, and then following the steps from there:

https://www.callofduty.com/warzone

It'll also ask you what you want your Activision ID to be, which is apparently what other players will see in-game as your name. Are we going to be putting our clan tag in the ID? All of the Call of Duty titles I've played have normally had a separate in-game entry for clan tags that you can change whenever, I don't think this one will be different, but who knows.





https://www.patreon.com/posts/34752250


icycalm wrote:

Introducing the Cult Schedule

I set this up at the start of the year, but I only just now began updating it seriously, so I'd like to take a moment to formally introduce it. It's a Google Calendar integrated into the

Insomnia

frontpage (on the left sidebar, about halfway down), showing all upcoming events I have planned for the clan, as well as the big multiplayer sessions the members themselves have set up. Currently, it looks like this:

Some of the players who were active in multiple teams were having trouble keeping track of the various sessions they had scheduled, so I figured a calendar would solve that, and once I had the idea for the calendar I decided to take it one step further and get a bit more organized in planning for alpha/beta and launch day participation for us, because these can make for some extremely fun times. Not only are these sessions about brand-new or even unreleased games, which in itself is hella exciting, but participation is also often free, which means more people can join in, which is even more exciting, and that's why I've decided to devote considerable focus to these events, and promote them strongly on the frontpage, and on Discord. In the past, I would have been against playing unfinished code, but times have changed, and we had a great time playing and streaming the

GTFO

beta on a whim with the guys back in December [

>

], a session which, in conjunction with the news that

New World

[

>

] is being nerfed for release and that therefore the alpha will have been better than the finished game, opened my eyes and changed my thinking on this matter. In

New World

's case I was a fool to decline to play the alpha, even though I eventually received a key for it. But I thought I may as well wait for the final game, to play it with the whole team, since it is an MMO after all. And I was dead wrong. In

GTFO

's case, the game was a blast for the four-five hours that we played it, but that's about where the tedium kicked in (more on which you can read in the review), so we were glad to have avoided paying the $140 that our four copies would have cost us. In both cases,

free pre-release code was a better experience than waiting, and paying for, the final games

, and that's why, from now on, The Cult and I will devote considerable attention to this dimension of gaming, and report on it on the

Insomnia

frontpage to some depth. Add to that launch day sessions for the coolest multiplayer games coming out throughout the year, games like

Starbase

,

Humankind

,

Age of Empires IV

, and so on, that deserve to be bought and played sight-unseen, and of course regular sessions for the best games of all time like

Wildlands

,

PA

, and the like, and I think it's not an exaggeration to say that the resulting schedule will be a

cult schedule

, or please show me any other group of people on the internet that does anything comparable.

And it all starts officially tomorrow(/today, depending on your time zone) with the much-anticipated 150-player F2P BR

Call of Duty: Warzone

, of which I've already written extensively on Discord and in the forum [

>

]. If you are into these types of games, you owe it to yourself to be there for this, as it promises to be the apex of the genre.

But even if you're not planning to join us for any of these games, the calendar may still be useful to you if you follow our adventures on Twitch, as it will also double as our Twitch schedule, since we'll be streaming most of these sessions. I am in fact looking into integrating the calendar in the area beneath the Twitch channel, for the benefit of those who find us through Twitch. Most heavy streamers have a schedule of the sort, but they play boring games, and hardly more than a couple of games anyway, so we will definitely have the most exciting schedule on all of Twitch, guaranteed. And note that if you use Google Calendar yourself, you can click on the various events and add them to your own calendars for automated reminders and the like.

So that's what the Cult Schedule is. I believe it will motivate me and all of us to cram even more excitement and fun into the site and the clan, and take our activity to the next level, and I hope the clan members and the readers will feel the same. See you all on Discord, and on Twitch.
So Warzone will be a standalone F2P BR title dropping tomorrow/today, Tuesday, March 10 at 15:00 UTC for owners of Modern Warfare, and 19:00 UTC for everyone else, and I plan to be there (at the later time) because the game sounds awesome. I am hoping others will be excited too and show up so we can fill out those teams. Shouldn't be too hard as there will only be trios available to start with. That's actually my only gripe about the game, because everything else sounds awesome: 150 players, massive map, lots of vehicles including helicopters, and a bunch of new mechanics that sound interesting. Read about it all here: https://blog.activision.com/call-of-dut ... ty-Warzone

Then watch the trailer here: https://www.youtube.com/watch?v=0E44DClsX5Q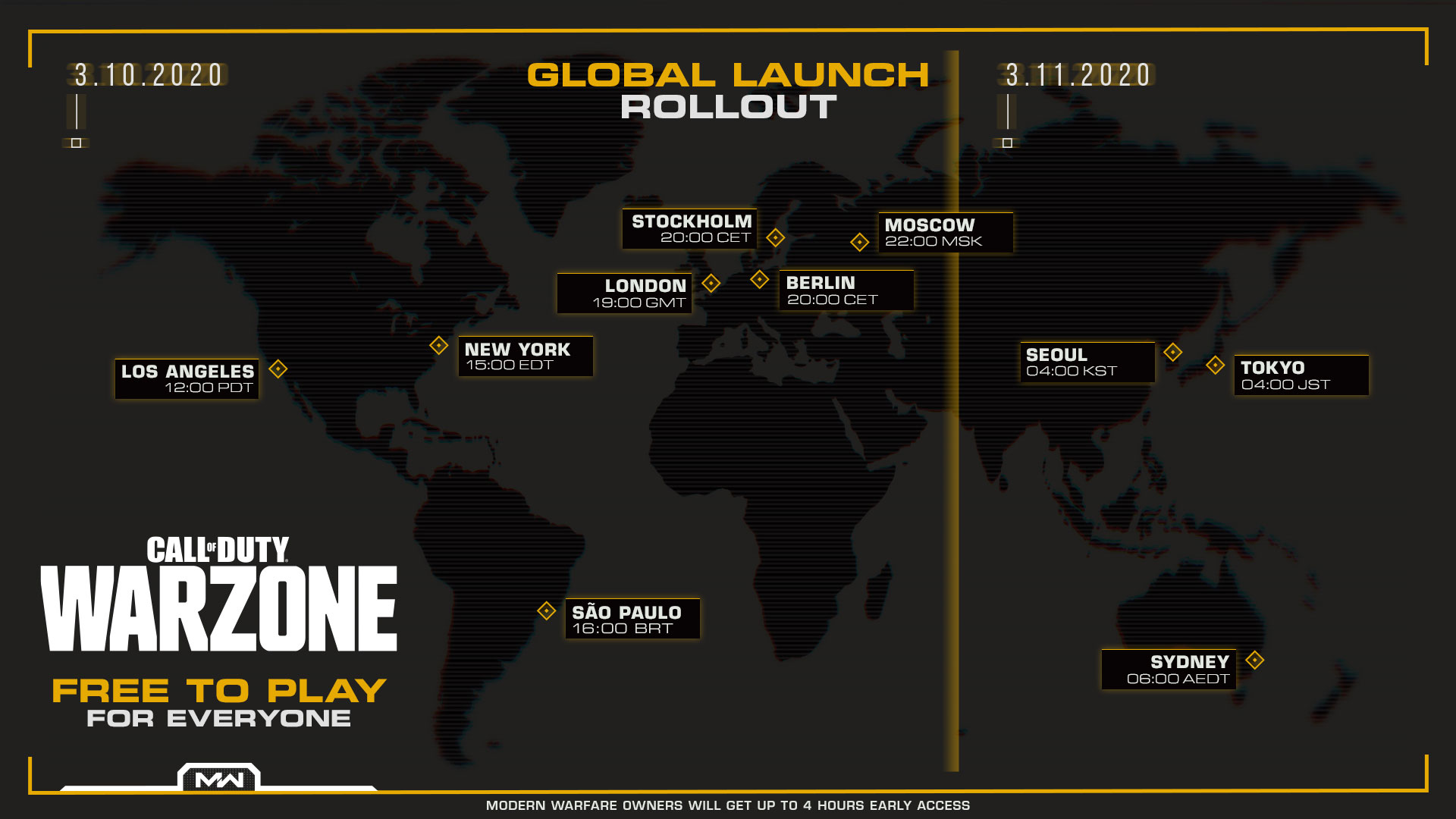 This might well end up being the best BR yet, and it's always super-exciting to get into these games early. And it doesn't get any earlier than tomorrow! So see you there!


P.S. It's also cross-play, so if you're on console, you're good to go.
Predator: Hunting Grounds trial weekend set for March 27 to 29
https://www.gematsu.com/2020/02/predato ... h-27-to-29


Sal Romano wrote:A trial weekend for

Predator: Hunting Grounds

will run from March 27 to 29 for PlayStation 4 players with a PlayStation Plus membership and PC players via the Epic Games Store, publisher Sony Interactive Entertainment and developer IllFonic announced. Like the full game, the trial will support cross-play between platforms.

The trial will be available to download on March 27 in Japan at 15:00 JST, in Europe at 4:00 p.m. GMT, and in North America at 5:00 p.m. PT / 8:00 p.m. ET.

Players will be able to play solo as the Predator or team up online with three others as part of a Fireteam.


Predator: Hunting Grounds Free Trial Announcement
https://www.youtube.com/watch?v=058flT5gdOI

I penciled it in the calendar. There's no need to apply for anything, it will be available for everyone. I hope we can get some matches in with a full team over the weekend. It looks pretty good for what it is.



Closed Alpha for Ubisoft's upcoming 3v3 F2P sports game will take place between March 11 and 23. Register here for access: https://roller-champions.ubisoft.com/game/en-us/alpha




Might be a good laugh for a couple of hours: https://en.wikipedia.org/wiki/Roller_Champions


Wikipedia wrote:Roller Champions is a 3v3 competitive multiplayer sports game played from a third-person perspective. In the game, two teams of players compete against each other to earn five points within seven minutes by throwing a ball into a goal. In order to score, a player must gain possession of the ball and skate at least one lap without being interrupted by opponents. Subsequent laps can be completed by other teammates by passing the ball to them. Players can earn more points per goal by completing more laps, though their progress will be lost when they are stopped by opponents. When one team gains possession of the ball, another team must try to tackle and knock over their opponents, though such attacks can be dodged. Players gain more followers when they win a match, which will allow players to compete in matches with larger crowds.
CCTV Update
https://rust.facepunch.com/blog/cctv-update


Facepunch wrote:This update brings CCTV Cameras and Computer Stations for all your surveillance needs as well as various optimizations and improvements.


Rust - CCTV Surveillance
https://www.youtube.com/watch?v=rDNUi7ixZak

Also awesome, and not shown in the trailer is the Trumpet Auto Turret!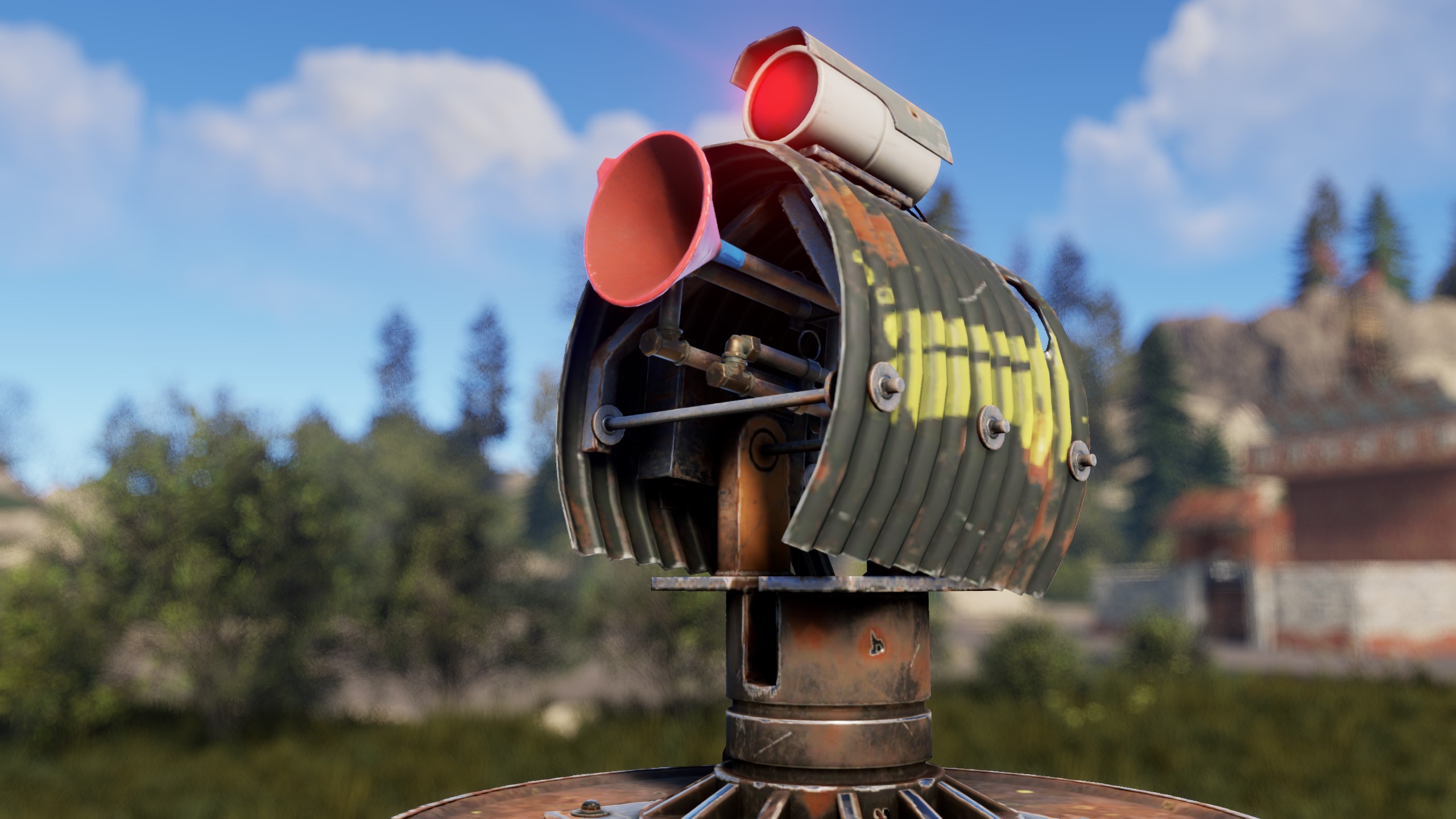 It will blare "random notes" when hostiles are around. So you don't even need a sentry, at least not for routine security 24/7.

Imagine being in your mancave, slaving away at some task, and suddenly you hear the blare. It's a whole new dimension of tactics and action.



New team-based battle royale with survival and betrayal elements in a snow setting is having a "technical playtest" on Saturday, March 14th from 17:00 UTC to 04:00 UTC the next morning. I signed up a while back and got my Steam key delivered by email just now. Installed, and it took up about 12GB.




Sign up here, and maybe you can get a key in time: https://scavengersgame.com/

If not, I am sure they'll send you one for the next test.

There is a confidentiality agreement and you are not permitted to stream or even so much as publish your impressions, because apparently the game is still rough. I still think it might be fun to shoot the shit with whoever happens to be online that day for a couple of hours, so I'll be there. I am going to pencil the event in our calendar. Report for duty on Discord if you're in.
CULT|icycalm
https://twitter.com/AllGamesDelta_/stat ... 5877383170


AllGamesDelta (@AllGamesDelta_) wrote:

Steam version of Granblue Fantasy Versus confirmed for March 13th release

https://t.co/pzCSSMkiPZ


Woah

CULT|Effay
Even though I imported the HK version I'll probably double dip and get this on steam too. The netplay is solid on PS4 so I imagine the PC version will be really good unless the port is really bad. Which I don't have any reason to believe will happen.
They did a good job making the game fun for people with little to no FG experience while still having depth for veteran/tournament players.
I'm not familiar with the source material at all, but all the characters are all beautiful and well animated with a variety of styles so there will pretty much be someone for everyone.
The source material is a browser/mobile gacha game so there will be plenty of waifus characters for DLC. There are 11 launch characters, five more coming for season 1 of DLC, and have planned on doing at least 3 seasons of DLC.

CULT|Beakman
Kinda sucks that it doesn't have rollback netcode. That will limit our matchups if many of the clan end up getting it.

CULT|Effay
Yeah, it sucks. The PS4 netplay is considerably better then GG Rev2 or DBFZ at least.
I'll let you guys know how it is.



So here we are, Insomnia's first Game of the Month award. I've been working on this project for a long time, and I'll explain my goals for it at length on Patreon soon, so let's just cut straight to the chase here and figure out which game should snag the award for our inaugural month of December 2019.

As you can see on the frontpage, all the major releases for this month have been reviewed on the site. And here are all the minor releases I am aware of, that haven't been reviewed yet:

https://www.microsoft.com/en-us/p/weakless/9pkmkqdccn35
https://www.epicgames.com/store/en-US/p ... story/home
https://store.steampowered.com/app/1096 ... rld_War_I/
https://store.steampowered.com/app/9369 ... ctitioner/
https://store.steampowered.com/app/8635 ... com_Nexus/
https://store.steampowered.com/app/1092 ... nsolvency/
https://store.steampowered.com/app/1193 ... ttlefield/
https://store.steampowered.com/app/1188930/Chrono_Ark/
https://store.steampowered.com/app/827610/Dead_End_Job/
https://store.steampowered.com/app/1016 ... _deceived/

As you can see, it's mostly crap. Feel free to dive into this stuff and let me know if any of it is worthwhile, and also feel free to let me know if I missed something. Some of the stuff above will be reviewed eventually, but none of it is urgent compared to the work remaining for all the other months, so I am not in a hurry to cover any of it anytime soon, unless someone makes the case why some of these games are notable.

So from this exhaustive search, three games have so far come on top (click on the images for the full reviews):




GTFO almost made the cut too, but not quite. Very promising game (we played the beta with a full team for a few hours just a few days before release [ > ]), that disappointed me in the end, and a lot of other people. It certainly deserves an honorable mention, and after you're done with our top three choices, and if you're still looking for more games from this month to play, I'd say GTFO should be your fourth.

Now, out of the three contenders, I have so far played, and streamed, a bit of two of them: Phoenix Point a while back [ > ] and Darksiders Genesis just a few hours ago [ > ]. Boneworks I haven't played because I don't have my VR setup right now, otherwise I would have played it. But my understanding of this game is that it's more like a tech demo than a proper game, so until I play it myself and change my mind about it, I am ruling it out for the award. Which leaves us two choices.

It's a tough choice, and from my limited time with the games I'd call them about equal. However, I will be finishing Genesis with Sergei in the next few days, so I will have an in-depth opinion on it soon. Phoenix Point, on the other hand, I am not planning to dive into anytime soon, because my short session with it was disappointing. It's not that it's a bad game, it's that it's clearly not the masterpiece I'd been expecting. And what's worse, it might even be inferior to the Firaxis XCOMs we were all hoping it would beat. So there's no sense in me playing PP before I've played the Firaxis games. And that's why I won't be playing it anytime soon.

In the end, regardless of how good Genesis ends up being, it will still probably be a close call with Phoenix Point, and it'll be ages before I've finished both and be in a position to deliver a final verdict on the contest. Until then, however, I need to give the award to one of them, and because I am having quite a bit more fun in the opening hours of Genesis than I had in the opening hours of PP, with its asinine mission design and other issues (see my stream for more details), I will give the award to Genesis.

Darksiders Genesis then is Insomnia's December 2019 Game of the Month until I change my mind about it, or someone posts here with a convincing argument to the contrary. You can also vote in the attached poll (visible only in the forum, not on the frontpage) for your personal favorite among the three finalists. The result of the poll will have no bearing on the award, it's just there so we can have a record of the popular vote among Insomnia's readers.

And with that done, I am off to work on January and then February 2020, so I can catch up with the latest releases. I hope you enjoyed this feature, and please look forward to the upcoming ones, as well as my Patreon post on my vision for this award.


Insomnia wrote:Boring, irritating, just not fun. This is nothing like Katamari.
Insomnia wrote:Railroady dialogue where there is obviously only one correct answer and the result of the other options is death and start over.
Insomnia wrote:A brand-new direction for the series with musou-esque battle system alongside scripted platforming and dating sim aspects.
Insomnnia wrote:When you set out to make a Darksiders spinoff and you accidentally create one of the most fun isometric shooters ever.
Insomnia wrote:As both a gamer and lifelong Dragon Ball fan I can only describe this game in two words. Refund Pending.
Added 2020 to the list.

Nothing great has been released up to now (March 4), as far as I am aware, so I went with my top three most anticipated choices, but with a caveat. I put Cyberpunk as GOTY, but not so much because I am excited for it, but mostly because I feel I should be excited for it, because on paper it sounds awesome. However, the trailers haven't convinced me (both the setting and the story look generic with no coherent vision and direction), and I don't have much faith in the developer (have only played Thronebreaker and it was ass).

The other two choices are games I'am gagging for though: first up Ghost of Tsushima, which looks BETTER than a movie (check the latest trailer currently in the Most Wanted playlist), and then Squadron 42, which again looks out of this world, and which should be out this summer last I heard.

So yeah, it's too early to call it, but if you're only gonna pre-order three games this year, and buy them sight unseen, these are the three to go for as far as I am concerned.
https://www.exophase.com/user/shubn/
CULT|icycalm
Insert Credit should have recognized my talent while I was posting in their forums and given me a column
I would have never made Insomnia, and the four of us would have demolished everything else and would have had an insane following by now
But they were threatened and narrow-minded and the result is that, 20 years later, all they have to show for it is half a dozen standout articles each when they were at their peak from 20 years ago
Meanwhile I have still not peaked lol
CULT|icycalm
http://archives.insertcredit.com/featur ... 06/01.html
Let's post something good of his for balance
If anyone can find the other ones, let me know
There should be at least 2004 and 2005 editions
Need to save them just in case IC goes offline and repost them on Insomnia

CULT|jeffrobot494
He quit Kotaku and is trying to make a go of it with a combination of freelance videos and Patreon. He's got a Discord server I joined where he mentioned it.

CULT|icycalm
Oh!
Where's his Patreon?

CULT|jeffrobot494
I don't think he's launched it yet.

CULT|icycalm
Ah ok

CULT|jeffrobot494
I think it's coming in the next couple of weeks.

CULT|icycalm
https://www.patreon.com/user/creators?u=434715


Tim Rogers | Patreon
Tim Rogers is pledging to 2 creators on Patreon. Join them today for exclusive content and patron-only benefits from your favorite creators!


This might be his account
Well this changes things
If he's into it for a living, he will persevere at least until he's sure how far he can take it
On the other hand...
Tim isn't serious enough to produce serious content for real gamers
On Insert Credit his shtick was welcome because there were other people rounding out the coverage
On his own he'll just be a lone clown

CULT|jeffrobot494
The Discord server is a bunch of Tim wannabes with endless inane chatter.

CULT|icycalm
How many users?
lol give me an invite I want to have fun

CULT|jeffrobot494
Here you go
https://discord.gg/PNMzaF

CULT|icycalm
Damn
2.5k?
And it's a new server?
Ah of course he has 45k followers on Twitter because Kotaku has been linking him for years
Yeah, I am in and there's nothing to read
It's easily the worst thing he has created
Maybe he'll wise up once the Patreon is up and he'll keep the Discord only for his supporters
That should cut down the numbers and increase the quality a bit, IF he does it, which he probably won't because he's addicted to numbers
For what it's worth, this is the Patreon of the number 2 guy at Insert Credit (Tim was number 3): https://www.patreon.com/azrtairne


Patreon
Azure L/T— is creating stories. Essays. Music. Illustration. Game d...
Become a patron of Azure L/T— today:
Read 193 posts by Azure L/T— and get access to exclusive
content and experiences on the world's largest membership
platform for artists and creators.


8 patrons
"To varying extents, I write, draw, compose, design games, and whatever else happens to embroil me from moment to moment. Get me to a point where I'm able to think straight, and neat stuff may potentially happen!"
Wow so excited pls take my money
"If in a given month I reach $300 in patronage, I shall produce and deliver an original computer game for the elite preview, testing, and benefit of my benefactors. Platform, framework, theme, and genre to be determined largely on whim. I've got plenty of those."
This is the Insert Credit design philosophy in a nutshell
193 posts and only 8 patrons
Almost no likes at all
Even I have more likes than him lol
How times have changed
If you went back to the Insert Credit forum in the mid-2000s and told them that icy would be getting more likes than Aderack (his name then) everyone would have had a good laugh at your expense
Tim though will do better than me because of his Kotaku exposure
Maybe that will spur Brandon to go on Patreon too, and then maybe they'll all join forces, who knows
The best part of their site was the forum though
And now with the Patreon posts and Discord servers and Twitter feeds I just don't see them trying for a forum again
And it would be full of morons because of the Kotaku connection anyway
Back in the day we all made fun of Kotaku
And now Tim works/worked for them, and is drawing most of his crowd from it
Anyway, it will be an amusing development to follow for 5 minutes before it gets stale and I go back to trawling Steam reviews for good content
That's where the cutting-edge is today aside from my own content, and thank gaben for that
He schooled everybody and co-opted the best minds for his site
Hell, for a while even I tried to post reviews on Steam



CULT|icycalm
Over the 15 years that I've been in this scene, I have NEVER seen a comeback that lasted
Temporary pauses are common, and I go through them at least a couple times a year while I am on travelling adventures or working on some other project, but NO ONE comes back successfully in this business after a multi-year hiatus
Or show me an exception, I can't name a single one
If you can drop your blog for several years, it means you never really had much passion for it in the first place
Insert Credit wasn't even Tim's site, it was Brandon's
Tim only made a site at the VERY END, and it was worse than Brandon's, and it's an eye-sore to this day that's depressing to browse even for 10 seconds
How can anyone keep updating it for a decade lol? I wouldn't last a week on it. Of course he gave up on it in less than a year.
It's "punk rock" because we turn the screenshots into illegible black and white pixel soup
Well, maybe after 10 years of rumination Tim can come back and maybe figure out how to post a screenshot and make a page that's not vomit-inducing
And all that for what? So he can tell us that some crappy pretentious game "has crunch"
That's his main critical concept
"Crunch"
The mechanics "are crunchy"
Thanks bud
No wonder he didn't manage to last 15 years peddling this inane verbal swill





CULT|Some guy
Think he'll reply?

CULT|icycalm
Bah who knows
Even if he does, it will be something disappointing
Either some meaningless non sequitur to break the tension, or he'll just simply call me a jerk if I've pissed him a lot
I.e. no engagement at all with the subject at hand
That's every single meaningful interaction I've had with him since day 1
He could be making 5k on Patreon easily if he was smart
No need to work for Kotaku, no need to attend boring shows, he could just be doing his own thing for the rest of his life
If he came together with his buddies, and relaunched Insert Credit, they could bring the good old days back and this time be paid to do it
Maybe 10k or 15k for all of them on Patreon
I have been telling them to monetize Insert Credit since 2005 lol
But maybe they would fail if they tried now
They should have never shelved IC, and should have gone on Patreon immediately in 2012 or whenever it was launched
They had incredible momentum in the mid-2000s
They could have survived just fine on PayPal subscriptions until Patreon was launched
But they took the easy way out and got shitty jobs
Made shitty games no one remembers
For all the things I have against them, they were 1000x better than the new type of personality like Sterling or the YouTubers and streamers
The new people are utterly worthless, Tim and the IC crowd were at least genuinely entertaining and their site and forum was full of cool material even despite all the pretentiousness
Fuck it, I'll post this on Insomnia too
He should at least realize what opportunities he and his friends let fly by





From Discord:

CULT|icycalm
lol Tim is bringing Action Button back
Though don't hold your breath because he has been saying this for a decade
Just a couple of weeks ago I teased him about it on Twitter
He never replied of course
I might have actually caused his renewed interest in the site
I teased him again: https://twitter.com/culturevg/status/12 ... 3774498817




Oh it's already back!
http://www.actionbutton.net/
For almost a decade there was a blank page with the message, "Relax, it's coming back."
It's all crap reviews and there's next to no demand for this type of content anymore
Even if he goes to the effort of posting a few more reviews, he will see no response, and will quickly tire of it and abandon it again
However, maybe the game-changer this time will be the Twitch and YT channels he says he's making
Just like they covered Insert Credit in boring podcasts, obscuring the old good material for years, he may have a new life as a Twitch/YT personality
But he's already being paid to sort of do this for Kotaku
So again, I don't see him being very motivated to keep doing it in his free time too for nothing
It's basically just temporary nostalgia
He'll indulge in it for a bit, and then shelve everything again
To persevere for the long-term in this business you need either:
1. To be paid for it, so that it's your livelihood and you'll therefore have to keep doing it robotically way past the point where you no longer enjoy it
or
2. You need to keep setting for yourself grand goals and projects like my essays or GOTY lists etc.
Otherwise just mindlessly churning endless reviews forever with no overarching goal can get stale for everyone
The clan too is part of those goals
Tim and his crowd never attempted anything like it despite having thousands of willing people, simply because they didn't like playing games lol, let alone the kinds of large involved games that make a clan worth building
I think I'll be an ass about this and copy-paste this analysis on Insomnia and tweet it to Tim
He gets free psychoanalysis and mentorship
I've explained his mental state precisely, AND told him what he needs to do if he wants to last in this endeavor
I have lasted as an indie (lol) publisher for about 4x longer than he has at this point
No signs of stopping either
I think I now run the longest-running independent videogame site in the world



I cleared this at HEY. There is something magical about that place, lol. I finished the game with J-B and scored 16,066,060.


If you're not yet sold on ray tracing, watch this video.

Wolfenstein: Youngblood | RTX Launch Trailer
https://www.youtube.com/watch?v=kOEUkbibzWc


Temtem [ > ] is MMO Pokémon, with campaign and a persistent world where you fight 2v2 I think it is. It might be worth checking out because given that you're playing against other people it might offer the challenge that's missing from Nintendo's games. I am not sure if it'll be F2P when it launches on the 21st, but either way you can try it for free before launch by joining the upcoming stress test.

Sign up for the stress test here: https://www.humblebundle.com/g/temtem


The more cerebral the game, the more that AI has to cheat to give humans a challenge. 4X games, which are the most cerebral games, are notorious for it. The only way to play them with the AI playing fairly and still giving you a challenge is to be bad at the game. If you are any decent, you want the AI to cheat or you can't play these games. And in any case, even when the AI doesn't cheat it still gets tons more resources than you. In Phoenix Point for example you start with one base and two units and the AI starts with countless spawning points and countless units. Even at the lowest difficulty it gets more resources than you. So I've never had any reason to dislike such design tactics. They are the only reason I can enjoy these games.


Ciaróg wrote:Ironman mode is the only currently existing way of making games like this harder without going down that route as far as I know.


For the record, "We send you back to the beginning of a 40-hour game if you make even a single mistake" is the stupidest way of making games difficult I have heard of. It would be reason enough for me to stop playing games if it was universally adopted.


Ciaróg wrote:I suspect the reason that the enemies have such a low polygon count is tied in to the mutation mechanic


I suspect the reason is low budget, or bad budget allocation priorities. Budget either way. Once more, I don't think the plot has anything to do with design or the art assets.


Ciaróg wrote:I haven't made it far enough into the game to have seen that myself


It was blatantly obvious within 1.5 hours. Check my video linked above. I don't see how it's possible to play the game at all without noting this, unless it only appears in the highest difficulty which I played and you're playing a lower one.



I started playing ironman mode because of some snarky comment I read somewhere telling me I was basically cheating since I wasn't playing on ironman mode and ended up enjoying it. I estimate I put in about 200-250 hours in total in the first Firaxis game before I had enough of it so maybe I am just a semi-fanatic. I don't like games that make themselves more difficult by just giving enemies more health or giving you less resources. Ironman mode is the only currently existing way of making games like this harder without going down that route as far as I know.

I suspect the reason that the enemies have such a low polygon count is tied in to the mutation mechanics because only the two most basic enemies that to my knowledge are the only ones that mutate are janky looking. The other enemies aren't fantastic looking either but are notably better. That doesn't justify it of course and I would have preferred if they just scrapped the mutation mechanic and made the crabmen.

I wasn't trying to write fanfiction, I was trying to think what could possibly have been going through the head of whoever decided that "defend apple boxes from crab people" was remotely acceptable and the only alternative I could come up with was that they just threw something together to release the game before it was finished. A couple of scripted missions to break up the procedurally generated ones would have gone down well but I think they probably made a choice to not go down that route to differentiate Phoenix Point from the modern XCOM games. Plenty of people have noted that Phoenix Point seems to be trying to bridge the gap between the original game and the reboots and the lack of scripted sequences is a big part of that.


icycalm wrote:It appears that this problem is just as bad if not worse in

Phoenix Point

. The idea of throwing more missions at a player than he can conceivable handle is okay up to a point, up to say 2x more, or 3x more, because it makes you think about which missions to pick. But 30x more? That's just retarded, and if true would be good enough reason for me to give the game 2/5, or maybe even 1/5. I am just hoping it's not true and that I overlooked something somewhere.


I haven't made it far enough into the game to have seen that myself but it does bear considering that there are three warring human factions as well as the monsters in the game. I can't help but wonder did the people who complained about this just overextend themselves trying to save everyone.

The impression I had for most of it was that it was made by very skilled developers with a couple of great ideas who lacked either the time or money to make the game they wanted and had to make compromises. I think I'm finished with it for now but will check back on it as the DLC becomes available.



I cleared this one at HEY in a week. It's definitely one of the easier Cave games, but more difficult than the Deathsmiles games. There are two additional game modes on the arcade release: Harahara (starts on the 2nd loop) and Manpaku (hard mode). On the 360 release, the game defaults to version 1.01, so you may want to check for that. More information on the game mode and version differences can be found at the following links:

http://1cclog.blogspot.com/2012/04/much ... x-360.html
https://shmups.system11.org/viewtopic.php?t=33624

TABLE 1 (Arcade 1.00)


Code: Select all

1. recoil - 77,369,040 - 1-ALL - Momo - AC
2.
3.
4.
5.
Your Civ analogy is false. The moment I see that things go south in a Civ game, I start over. Same with PA or any RTS: the moment hope for victory is lost I give up and start a new game. I cannot imagine deriving any pleasure from fighting to the last soldier. We tried to do this in PA because we saw good players do it and it was impressive, but we failed. It's just more fun for us to start a new game. And if this is true for one-hour PA battles, it sure as heck is true for 20-hour or whatever X-COM-like runs. I stand by my assertion that ironman in these games is for fanatics who enjoy putting 1000 hours in these games. I am so sure of it I wouldn't even try a single ironman run just to see what it's like. Then again, I have put very little time in these games, so I guess there is the possibility that if I play more I'll change my mind. But from the little I played of Phoenix Point the idea of trying ironman never entered my head, whereas when I play other stuff that features ironman, e.g. Wildlands, I go immediately for it, before I've even tried any other mode. With X-COM-likes it just doesn't make any sense to me.

I think Ciaróg's idea of the game giving resources at you if you're failing at strategy is nonsense. It defeats the entire point of the strategy part, and if there was such an option I'd turn it off. If it was mandatory I wouldn't play the game.

On the over-the-shoulder thing, I am with Ciaróg. The only problem I have is that the monsters are too low-poly and in zoomed-in first-person it looks bad. The characters look good, but the monsters look bad for it. If we could take some polys from the soliders and give them to the monsters, it'd be good. The soldiers are surprisingly high-poly.


Ciaróg wrote:The apple box defense missions are a knock against it for sure but what people forget is you can avoid them. The game is based around scouting and you don't have to go search for supplies every time that your scouts report that they see apple boxes being used as bait by the enemy. Which does kind of make a little bit of sense in a game based around monsters that are trying to exterminate humanity for reasons unknown.


"Bait" lol. You remind me of those guys who make fanfiction about games in their heads, building entire novels. The aliens are ATTACKING THE BOXES AND IGNORING ME DUDE. If the boxes were bait they'd be attacking me lol. These missions are the stupidest thing I've ever seen in a tactics game, and the moment I saw this the integrity of the world collapsed and I felt like I was playing some mentally retarded "indie" developer's game, so I stopped playing and it would take quite a lot to get me back. You now say these missions can be ignored? If so, that would be a good reason to retry the game. But that still leaves the doubt that the kind of person who thinks such missions are a good idea can design decent missions at all. I suspect all missions are of generally lower quality, and some of the reviewers confirm this. Hell, even the mission I played after the apple boxes was bad. It was just some dude in a corner throwing exploding little aliens at me. It was worse than

Final Fantasy Tactics

. I am just hoping these were just bad first impressions, and that things improve further on.


Ciaróg wrote:You send out scouts and if they don't get shot they can keep scouting. If they get shot you drive back to base and let them recuperate and take someone who hasn't been shot in their place. This isn't bad design in my opinion. The map is hectic by design and it gives you an incentive to try not to let your men get injured at all so you can keep scouting. This allows high-level players to scout fast. If it's too hectic lower the difficulty level.


I am not talking about scouting. I did not mention scouting at all. I am not talking about difficulty either. I am talking about the game throwing 30x more situations on the map than even God can handle. I am talking about this: https://culture.vg/reviews/in-depth/xcom-2-2016-pc.html


Insomnia wrote:There's a nice balance that

Enemy Unknown

struck between the Strategy and Tactical layers of the game, The Tactical portion was an overt stress-fest of playing hide-and-seek with bullets, doing Hail Marys behind the tiny log that is your only available cover, and hoping to Sweet Baby Ray's that the Meld canister you were after wasn't just a total pod-fest of X-rays. The Strategy layer was much more subtle, and the contrast made the game actually playable. The Strategy layer gave you time to think, to manage your resources and marshal your thoughts on your game plan. It could be a good ten minutes before another mission cropped up, which was good downtime for the player so they weren't keyed up for too long.

XCOM 2

learned nothing from its predecessor. The constantly running around, the Doom Ticker front and center, everything taking too long, and missions popping up with an annoying frequency to how much you can actually get done in the Strategy layer before "Hey, you gotta pop half-way round the world to go save those dirty hippies again". There's really never time to rest in

XCOM 2

and it's frankly exhausting even thinking about booting the game up.


It appears that this problem is just as bad if not worse in

Phoenix Point

. The idea of throwing more missions at a player than he can conceivable handle is okay up to a point, up to say 2x more, or 3x more, because it makes you think about which missions to pick. But 30x more? That's just retarded, and if true would be good enough reason for me to give the game 2/5, or maybe even 1/5. I am just hoping it's not true and that I overlooked something somewhere.



I would have agreed with you on the over-the-shoulder aiming before playing Phoenix Point but Phoenix Point honestly uses it in a clever way. Soldiers know roughly how small of a target they can easily hit at a certain range but this becomes less precise at longer ranges. They could have streamlined this into an exclusively top-down system and given you the option to use the reticle targeting but I kind of like it as is.

You made a lot of good points about ironman mode ysignal, but I think you made one wrong assumption. You seem to think think that there is a point of no return and once you think that you hit it the game stops being fun and you should just start over without seeing how far you can get if the game is unwinnable. The premise of these games is that you are in charge of the best of the best fighting a futile battle with an enemy unknown with the possibility of victory far from guaranteed. Would you watch a movie where the humans give up almost immediately because the aliens are too strong?

The fun of ironman mode is to see how far you can get in spite of some mistakes, not to have one perfect run. Firaxis said the idea behind XCOM 2 is that impossible level difficulty ironman mode was the canonical difficulty of the first game and despite the best efforts of the X-COM project the aliens won the war. And the second game goes right from there with you essentially being a terrorist organisation performing guerilla raids on the alien government because people don't surrender to aliens if they lose a couple of battles. They double down.

I get that these aren't 20-minute-long arcade games and don't think people are playing them wrong if they don't want to try to play them like that but I don't think it's just for fanatics, I think it's a much better way of managing difficulty than just making the enemies stronger. I remember reading in one of icy's essays that he played Civ on the hardest difficulty and kept failing until he got good at the game. This is the exact same thing.

The original games did this even better. As long as you had one base left you could fight to the last man which is exactly how things should go down in this setting. The ideal use of this setting for these kind of games would be auto-adjusting balance by the game throwing more resources at you if you are losing on the strategic side allowing you to focus on the tactics if you are struggling on the strategic side. I find it ridiculous that Russia or America pull out of the war against aliens if their best guys are doing badly. Realistically they would throw everything they had into reverse engineering the alien technology if they were losing a war with them.

"'We do not negotiate with little green men' says US president over controversial opinion to pledge 15% of US GDP to the as of yet rather unsuccessful X-COM project" sounds a lot cooler than "Russia has abandoned the X-COM project because they are unsatisfied you only shot down half of the UFOs in their airspace".

I should have explained my take on RNG better, i's not that I dislike RNG as a concept, in fact I welcome it for these games since as I said I don't want perfect runs. My problem is that as stated in one of the reviews Phoenix Point makes the RNG too stacked against you to be considered anything other than poor game design.

The apple box defense missions are a knock against it for sure but what people forget is you can avoid them. The game is based around scouting and you don't have to go search for supplies every time that your scouts report that they see apple boxes being used as bait by the enemy. Which does kind of make a little bit of sense in a game based around monsters that are trying to exterminate humanity for reasons unknown. Phoenix Point really dropped the ball here now that I think about it. All human bases have a population that gradually drops as the game goes on and it would have been cool if they made this more of a core element instead of the 0-100% scale of what basically amounts to a "World is fucked" meter where when the arbitrary scale hits 100% you lose.


icycalm wrote:the silly way in which the map is flooded with situations before your characters have had a chance to rest and regain even 1 hit point


You send out scouts and if they don't get shot they can keep scouting. If they get shot you drive back to base and let them recuperate and take someone who hasn't been shot in their place. This isn't bad design in my opinion. The map is hectic by design and it gives you an incentive to try not to let your men get injured at all so you can keep scouting. This allows high-level players to scout fast. If it's too hectic lower the difficulty level.