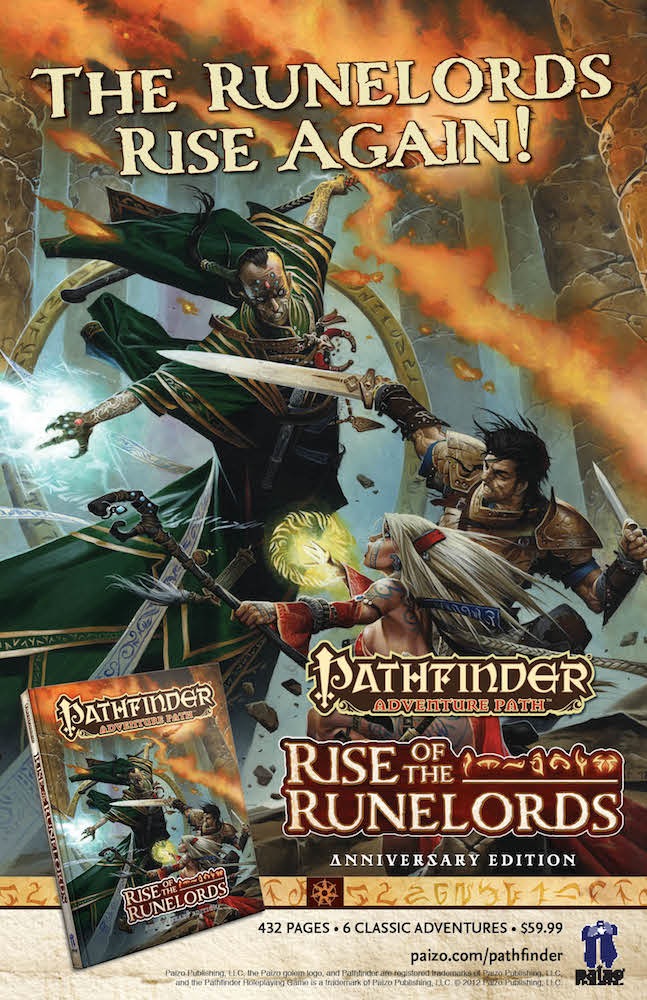 This is the thread where we coordinate the
Rise of the Runelords
campaign being undertaken by group D&D2.
To start off, I should tell you that Paizo releases "Player's Guides" to every one of their campaigns. This is another innovation of theirs: TSR never did that. Maybe WotC does it today, I am not sure. But either way, I am ambivalent about the idea. On the one hand, it's good to have a SEPARATE pamphlet to give to players with the basic knowledge their characters should have at the start of the adventure, like common knowledge of the area and its past etc. Having it separate means you can distribute it to the players without having to photocopy from the adventure's pages, plus it looks cooler with all the illustrations than copy-pasted tidbits from the adventure. But the problem is that the pamphlets produced by Paizo that I have seen so far are rife with spoilers. They are fantastically produced, and I wish I could hand them out, but it'd be a bad idea. So I will be sharing content when appropriate in each adventure's or campaign's dedicated thread, editing the text where necessary to remove spoilers, or even entirely rewriting it if need be.
Now the
Runelords
player pamphlet includes some tips to the players for character creation mixed in with tons of spoilers. The whole thing is about two pages, and it explains the REASON for every tip. I.e. it tells you EXACTLY WHY you'll need each ability that it tells you to strongly consider getting for your characters. So what we'll do instead is that I will give you the abilities without the reasons. You're not obligated to pick up any of these abilities, but you are strongly recommended to have them in your group.
Giving tips in advance of adventures is not normal in D&D. Almost no TSR products did this, and in the rare exceptions those tips were nowhere near as detailed and extensive as Paizo's. Obviously, this policy of theirs is anti-immersive and spoilery, but since I've never run their stuff, I don't know how possible it is to successfully complete their campaigns when you ignore their tips. So, for the first campaigns, I will be presenting you the tips until I figure out if I can dispense with them in future campaigns. Plus, most of our players are beginners, and beginners do not normally play massive campaigns as their first adventures. But since that's all that exists in Pathfinder, pretty much, we have little choice. Plus, we want to play cool stuff, and this stuff is the coolest. So our beginners are definitely in over their heads with these campaigns, and could use any tips they could get. Here are your tips then, specifically for
Rise of the Runelords
.
CHARACTER TIPS
Knowledge (history) and Knowledge (arcana)
Access to powerful magic at higher levels
Knowledge (dungeoneering)
Racial low-light vision or darkvision [

icy's note:

i.e. there are races that have intrinsic low-light vision and you should consider having at least one of them among you]
Skills that aid in bypassing traps, wards and misc. protections
Giant-fighting skills
Characters who are good at dealing with natural threats and excel at finding their way in forests and mountains
Mount skills
Discuss between yourselves which of these abilities you want your party to have, and how you'll apportion them among your roster. You can use your Discord channel for these discussions. Questions to me should be posted here, but before you ask, make sure that you and your teammates have exhaustively searched the Core Rulebook for the answers. It is your job as the player to know those rules inside and out, and it's my job as DM to know that book plus hundreds more, so don't offload your work to me unless it can't be helped. That said, I will be sure to pay extra attention to beginners for the first few weeks, until they're no longer beginners.
So the above tips are the first part of the contents of the
Runelords
Player's Guide, the spoilery part. The second part is not spoilery. The second part is pretty cool, actually. As the pamphlet says, "Characters made for this campaign should have reasons for being in the town of Sandpoint". So what the second part does is give you a range of reasons, and the players choose among them so as "to help your character feel like a part of the world and the events of the campaign". Even better is that these backstories, called "campaign traits", give your characters bonuses. And even better is that there are more traits than characters in your party, so you'll have some interesting choices to make. Discuss these choices among yourselves, also taking into account your races and classes, and once you've made your choice post it here for me. (But wait until you've rolled your character first, so you know that the character is a good fit for the trait.)
Note that if you have a very explicit character and backstory in your mind that doesn't fit any of these traits, you're not obligated to take any of them. You won't get the bonuses, but D&D is about far more than just bonuses. So pick a trait only if you find one that sounds cool to you and you wouldn't mind having it.
CAMPAIGN TRAITS
Eager Performer:
Hearing that Sandpoint had a theater rivaling those found in large cities like Magnimar and Korvosa, you decided to try your luck getting stage time there. After sending a letter to Cyrdak Drokkus requesting an audition and not hearing back, you've taken it upon yourself to travel to Sandpoint and meet him in person, trusting your force of will and charming influence will get you what you want. You gain a +1 trait bonus on checks for any one Perform skill. Additionally, choose any one spell of the enchantment school; its save DC increases by +1.
Family Ties:
While not ethnically a Varisian, you have been raised among Varisians and they consider you one of their own. Furthermore, you managed to get in good with a group of Sczarni and consider them your new family. After being run out of the last place your Sczarni family camped, you tracked down a friend of the family in Sandpoint—a ruthless thug named Jubrayl Vhiski at the Fatman's Feedbag. During your time with the Sczarni, you learned a few tricks of the trade. You gain a +1 trait bonus on Knowledge (local) checks and Knowledge (local) is always a class skill for you. In addition, you begin play able to speak and read Varisian.
[
icy's note:
The Sczarni are Varisia's gypsies. The above trait doesn't mean you're one of them, it just says that you've befriended some of them. You can read more about them here:
https://pathfinderwiki.com/wiki/Sczarni
]
Friends and Enemies:
One of your family members, perhaps a parent, cousin, aunt, or uncle, helped Daviren Hosk put down a group of goblins near Sandpoint. Since then, your family member passed away, but not before telling you about that day and the offer Daviren made her should she ever be in need. Once you make it to Sandpoint and meet up with Daviren Hosk at the Goblin Squash Stables, he gives you one of his best steeds and all the necessary accoutrements as gratitude for your family member's help: a heavy combat trained horse, a military saddle, saddlebags, bit and bridle, a month's worth of feed, and lifetime stabling at the Goblin Squash Stables.
Giant Slayer:
Your family's village was plundered by giants in the wilds of Varisia, leaving nothing but a smoldering ruin. After the destruction of your village, your family trained for combat against giants to prevent such a tragedy from ever happening again. Since hearing of giants mobilizing throughout the countryside, you ventured to Sandpoint to help the town prepare for a possible incursion. You gain a +1 trait bonus on Bluff, Perception, and Sense Motive checks and +1 trait bonus on attack rolls and damage rolls against creatures of the giant subtype.
Goblin Watcher:
You grew up in Sandpoint staring off the cliff across the Varisian Gulf. Spending so much time there at Junker's Edge watching the goblins below as they scrounged through the discarded junk and seeing what they made out of the garbage, you developed an eye for spotting the most useful and valuable discarded items. You gain a +1 trait bonus on Perception and Appraise checks, and a +5 trait bonus on Appraise checks to determine the most valuable item visible in a treasure hoard.
Hagfish Hopeful:
Ever since passing through Sandpoint when you were a child and hearing about the contest at the popular tavern known as the Hagfish, you wanted to take that coin purse as your own and carve your name on the ceiling beam above the bar. Training yourself to choke down indigestible food and drink water a pig would refuse, you've built up quite a strong resistance to all things putrid and gross. You gain a +2 trait bonus on Fortitude saves against disease and poison.
Merchant Family:
You are related to one of the four noble families from Magnimar who founded the Mercantile League of Sandpoint. You either grew up in Magnimar as a cousin in the Valdemar or Deverin family or were born and raised in Sandpoint. Education in running a business and years of looking after the family enterprise have given you a knack for trade. You increase the gp limit of any settlement by 20% and can resell items at an additional 10% over the amount of gp you normally would get from selling off treasure.
Monster Hunter:
Perhaps you came to the Varisian Gulf in search of the Sandpoint Devil, or maybe you followed fisherman's tales of Old Murdermaw—regardless, you've ventured through Varisia to hunt down famous monsters. While they have all eluded you so far, you made it to Sandpoint to research and restock before heading back out into the wilderness. Because of your training, you gain a +1 trait bonus on attack rolls and weapon damage rolls against aberrations and magical beasts.
Scholar of the Ancients:
Growing up with your nose in books, you've had a great interest in past cultures and ancient history. Furthermore, having grown up in Varisia, you know the monuments dotting the landscape belong to an ancient civilization known as Thassilon. From your life of study and dogged research, you've pieced together the language and partial history of this once-great empire. You gain a +1 trait bonus on Knowledge (arcana) and Knowledge (history) checks, and begin play able to speak and read Thassilonian.
Student of Faith:
While you have personally dedicated your life to a single deity, you study all religions and mortal faiths. Upon hearing that the town of Sandpoint recently completed a cathedral dedicated to the six deities most popular in the area, you had to see the place for yourself, and have arrived in time for the consecration of this holy edifice. Because of your strong faith and broad range of study, you cast all cure spells at +1 caster level, and whenever you channel energy, you gain a +1 trait bonus to the save DC of your channeled energy.