Old run n' gun game from 1998 from one of my favourite developers/publishers Data East. This along with Metroid inspired Turrican so if you've played that alot of the style of the game will be familiar.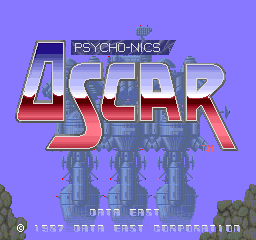 US arcade version, defaults.
Code: Select all


1. 58.800 - Molloy - 3
2.
3.
4.
5.

If you die past the 2nd level you can kiss goodbye any chance of survival. The powerups are absolutely essential.
The power up system isn't entirely understandable at first. Best thing is to go for the gun powerup first. You can only have three missile and grenades powerups in total . The gradius style Options allow you to add another missile, grenade and forward beam. You can have 3 total.