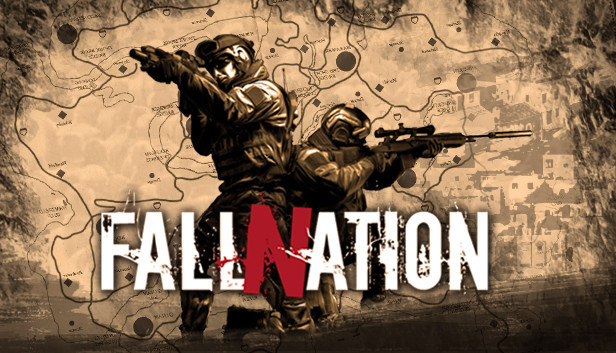 This is a contemporary setting Mount & Blade like
Freeman: Guerrilla Warfare
[
>
], but with zombies. The action looks pretty exciting from the trailer (though I don't see friendly fire, and I'd like to see it), but the production values are quite low, even lower than
Freeman
's, so that's not good. But then again, I guess that's a tradition for the genre going back to the original
Mount & Blade
itself, which looked like dog poop. Nevertheless, this is a cool and underserved genre, so I hope this game does well and eventually motivates someone to make a contemporary setting game with the fidelity of
Bannerlord
[
>
].
A prototype of
FallNation
is already playable on itch.io. I would advise the devs to get an editor to clean up their Steam description, and I would imagine probably also the in-game text.
https://fallnationgame.com/
https://arf-initiative.itch.io/fallnation
https://store.steampowered.com/app/1202920/FallNation/
FivexGames wrote:FallNation is an

Action RPG Adventure

game focused in a post-apocalyptic environment crowded of zombies and enemies.

Lead an army

of soldiers and

explore a big overworld map

full of

FPS battles

.

Enlist the best heroes and soldiers and get ready to fight in different battlefields around the continent. There are lots of

mysteries

,

opportunities

and

quests

waiting for you!

The cities are full of infected hordes, but some humans manage to survive and settle in fortresses. Would you be friendly or would you dominate them with an iron fist?

When entering the fray,

strategy and leadership

will make the difference between the glorious victory and a horrible carnage. That's why you will not only have to be the

hero

, but also the

Master mind

using the

RTT

in conjunction with the

defense building

, commanding your troops and leading them to the victory!

As an ARF operative, are you ready to save Kamau?

About Protocol FallNation

(Worldmap Gameplay)

FallNation is a protocol that must be activated when there is no more hope. It is the last resort, an unknown organization that will try to stop the doomsday before it is too late. As an Agent, you will have access to facilities and emergency resources in a mission to stop the end, you will need to gather an

army

, forge alliances, train your soldiers and them lead them into battle in order to avoid the doomsday. To achieve your goals, there will be

Great Projects

that you must complete in order to succeed. Be wary of the events that are about to come. You have to be capable to manage every situation on your own behalf. And the doomsday clocks are ticking...

About the battlefield

(FPS Gameplay)

You are trained to act as a spec-op soldier, and now you wil have to fight humans and nightmares in order to win the battles that are to come, be prepare, be accurate, be fast and lead your army into the victory using the

Real Time Tactics

. Also you will be able to deploy defenses, traps and weapons to help you. And remeber the humans are dangerous, but the death ones are the real nightmare, avoid them, kill them fast and above all don't let them to rage...

One advice

be stealthy

, they are attracted by the noise... and trust me you don't want to lure the horde, or even worse, the big ones...About the Adventure

(RPG Adventure Gameplay)

Kamau is a vibrant world full of adventures, with people that need helps, armies that wil try to stop you and a lot of others opportunities and hazards, explore it, improve yourself (level-up), get the best gear, research the latest traps, and train your army to be the best of the best!

Main Features

Free-roaming Army Based
Rpg Adventure
Intense First Person Shooter (fps)
Realtime Tactics
Battle simulator, Prepare For It
Realtime Defense Building
World Exploration
Horde Fighting, countless zombies will try to stop you
Forge an army, train them
Achieve the Great projects, the way to save the day
Face the doomsday clocks, they will bring madness
Face the consequences of your decisions

Remember the things are about to get much worse...
Trailer:
https://www.youtube.com/watch?v=3yMXyvNF2TE
TBA 2020.